Visit new page >>>
JOURNEY
How To Book JOURNEY For Your Event!
Journey may be available for your next special event!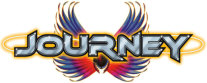 - Hire Journey -
Hits include: "Who's Crying Now",
"Separate Ways (Worlds Apart)",
"When You Love a Woman",
"Be Good to Yourself", "Open Arms",
"The Party's Over (Hopelessly In Love)",
"Only the Young", "After the Fall",
"I'll Be Alright Without You",
"Don't Stop Believin'", "Girl Can't Help It",
"Suzanne", "Faithfully", "Stone In Love",
"Lovin', Touchin', Squeezin'",
"Message of Love", "Still They Ride",
"Any Way You Want It", "All the Way",
"All the Way", "Send Her My Love",
"Can't Tame the Lion",
"If He Should Break Your Heart",
"After All These Years",
"Where Did I Lose Your Love",
"Anything Is Possible".
How to Hire JOURNEY For Your Event!
Popular requests:
BOOKING FEE (booking price, booking cost).
Journey is an American rock band formed in San Francisco in 1973 by former members of Santana, Steve Miller Band, and Frumious Bandersnatch. Guitarist Neal Schon is their only constant member.
Journey was inducted into the Rock and Roll Hall of Fame with the class of 2017.
Founded in 1973 in San Francisco around former Santana members Neal Schon and Gregg Rolie, with the assistance of Ross Valory, George Tickner and Prairie Prince, the legacy of Journey has spanned nearly 30 years with 18 U.S. releases and 50,000,000 in album sales. Their music is artful, intense, melodic rock played with passion and superb musicianship.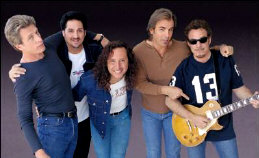 Hire Journey for your festival or concert plans.
The switch to their signature highly sophisticated rock occurred with the recording of their hugely successful album, "Infinity."
"Captured" was a live double album that surprised many critics. The album featured cranked-up guitars and raucous hard rock, eventually peaking at #9 on the US album chart. Founding member Gregg Rolie departed after its release, to be replaced by Jonathan Cain, who had previously played with the Babys.
Cain's arrival was an important landmark in Journey's career, as his songwriting input added a new dimension to the band's sound. The band's next release, "Escape," reached #1 and stayed in the charts for more than a year. It also spawned three US Top 10 hit singles, "Who's Crying Now," "Don't Stop Believin'" and "Open Arms." The follow-up, "Frontiers," was also massively successful, staying at #2 on the Billboard album chart for nine weeks.
Valory and Smith departed the group prior to the release of 1986's "Raised On Radio," which generated another US hit single, "Be Good To Yourself." The band was joined in the studio and subsequent live dates by bass players Randy Jackson and Bob Glaub, drummers, Mike Baird and Nashville veteran Larrie Londin.
In 1996 Perry, Schon, Smith, Cain and Valory reunited to release "Trial By Fire," which entered the US chart at number 3. The following year Deen Castronovo (ex-Bad English) replaced Smith and vocalist Steve Augeri (Tall Stories) replaced Steve Perry after health problems sidelined the singer.
Vocalist Steve Augeri first recorded with Journey for the band's 1998 contribution to the "Armageddon" soundtrack – "Remember Me." The soundtrack, which hit #1 on the Billboard charts, was certified triple platinum.
An "Essential Journey" greatest hits collection arrived in 2001 from Columbia Records, an honor previously bestowed on legends such as Miles Davis, Billy Joel, Neil Diamond, and Barbra Streisand.
The Egyptians regarded the divine scarab beetle as a symbol of self-creative power, rebirth, renewal, transformation and regeneration. The scarab, which has also become the long-time symbol for the legendary rock band Journey, has evolved into an exceptionally fitting symbol for a band that began in 1973 as an experimental rhythm section (formed around guitar prodigy Neal Schon) and eventually sold more than 50 million records and became one of the biggest rock bands in the world.
For Journey, transformation and renewal are an integral part of the creative force that has led the band on their remarkable "journey." Journey's touring and performing continues to delight audiences across the country and around the globe.
Hire Journey for your party or event!
Journey may be available for your next special event!
Book Journey, now!
For other great suggestions for booking music acts, look here.

Genre: Rock 1
Styles:
.Classic Rock. / ClassicRock
.Hard Rock. / HardRock
.Pop/Rock. / PopRock
.Contemporary Pop/Rock. / ContemporaryPopRock
.Arena Rock. / ArenaRock
.Album Rock. / AlbumRock
.Prog-Rock. / ProgRock
.Soft Rock. / SoftRock
.Adult Contemporary. / AdultContemporary


Years active:
x70s, x80s, x90s, x00s, x10s, x20s
1973–1987, 1991, 1995–present

Formed: ..in California / formed nCalifornia
Formed: ..in San Francisco / formed SanFranciscoCA
Formed: in 1973

Based: ..in US
Based: ..in California / based nCalifornia
Based: ..in San Francisco area / based SanFranciscoCA