How To Book JUAN LUIS GUERRA For Your Event!
Juan Luis Guerra and 440 may be available for your next special event!




Hits include: "Palomita Blanca",
"Que Me Des Tu Carino", "Viviré",
"El Costo de la Vida", "La Travesia",
"La Llave De Mi Corazon",
"Las Avispas", "Burbujas de Amor",
"El Niagara en Bicicleta",
"Estrellitas y Duendes",
"Coronita de Flores", "Mal de Amor",
"Mi PC", "Señales de Humo",
"Frio Frio", "Para Ti", "Como Yo".
How to Hire JUAN LUIS GUERRA For Your Event!
Popular requests:
BOOKING FEE (booking price, booking cost).
GRAMMY and LATIN GRAMMY winning Juan Luis Guerra Seijas (born 7 June 1957) is a Dominican musician, singer, composer, and record producer. He has sold more than 30 million records worldwide, making him one of the best-selling Latin music artists. Throughout his career, he has won numerous awards including 23 Latin Grammy Awards, three Grammy Awards, and one Latin Billboard Music Award. Guerra won 3 Latin Grammy Awards in 2010, including Album of the Year. In 2012, he won the Latin Grammy Award for Producer of the Year.
Juan Luis Guerra is one of the most internationally recognized Latin artists of recent decades. His popular style of merengue and Latin fusion has garnered him considerable success throughout Latin America. He is also credited for popularizing bachata music on a global level and is often associated with the genre, although his distinct style of bachata features a more traditional bolero rhythm and aesthetic mixed with bossa-nova influenced melodies and harmony in some of his songs. He does not limit himself to one style of music, instead, his music incorporates a wide arrange of diverse rhythms such as merengue, bachata, bolero, balada, fusion, salsa, cumbia, mambo, cha-cha-cha, pop, rock and roll, reggae, classical, R&B, folk, blues, jazz, funk, soul, rock, hip-hop/rap, son cubano, and religious, amongst many others.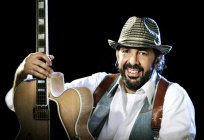 Hire Juan Luis Guerra for your concert plans.
In November 2005, Guerra was awarded with two awards at the 6th Annual Latin Grammy Awards for Best Christian Album (Spanish Language) and Best Tropical Song for "Las Avispas".
In January 2006, Juan Luis Guerra performed at Berklee's 60th anniversary, along with other artists, such as Paul Simon, Herbie Hancock, Michel Camilo and Chiara Civello. That same year, he recorded with Diego Torres in "Abriendo Caminos" (Opening roads) and with Maná in "Bendita Tu Luz" (Blessed Be Your Light). On 6 April 2006, Guerra was honored as a BMI Icon at the 13th annual BMI Latin Awards. Named BMI's 1995 Latin Songwriter of the Year, Guerra's songwriting has garnered 14 BMI Latin Awards.
Juan Luis Guerra set records for the highest-grossing music tour when he opened for The Rolling Stones' A Bigger Bang Tour at their San Juan, Puerto Rico show in February 2006. He was also invited by Sting to sing with him at a concert at Altos de Chavón, La Romana, in the Dominican Republic in 2006.
At the Premio Lo Nuestro awards in 2007, he was given the honorary lifetime achievement award. He also performed the lead single of his new album, "La Llave De Mi Corazón", released in March 2007. Guerra won more than 20 awards with this CD, including 5 Latin Grammy Awards, 6 Premios Casandra awards, 4 billboard Awards, 2 lo nuestro, and one Grammy Award.
In 2007, Juan Luis Guerra was awarded the Excellence Award at the 2007 Lo Nuestro Awards. Guerra was honored at the Latin Grammy Awards in the same year with 5 awards, sweeping each category he was nominated in: Record of the Year, Album of the Year, Song of the Year, Best Tropical Song, and Best Merengue Album. Its engineers, Allan Leschhorn, Luis Mansilla, Ronnie Torres, and Adam Ayan, were also awarded Best Engineered Album. The night before the Latin Grammy Awards, he received the Academy's Person of the Year Award for his contribution to Latin music and for his philanthropy.
In 2012, he collaborated with the Spanish singer Miguel Bosé on his album, Papitwo, in the song "Yo creo en Ti".
His discography includes 14 studio albums, two live albums and forty-eight singles.
Hire Juan Luis Guerra for your party or event!
Juan Luis Guerra may be available for your next special event!
Book Juan Luis Guerra, now!
For other great suggestions for booking music acts, look here.

For more suggestions, proceed to the next page.
Click here --
Latin Music Roster
Or, click on one of the below links --
Music Menu
Fast Index
Entertainers Directory
Home