Visit new page >>>
KASABIAN
How To Book KASABIAN For Your Event!
Kasabian may be available for your next special event!



Hits include: "Club Foot", "Easy",
"L.S.F. (Lost Souls Forever)", "Empire",
"Days Are Forgotten", "Underdog",
"Where Did All The Love Go", "Re-wired",
"Cutt Off", "Goodbye Kiss", "Eez-eh",
"Processed Beats", "Shoot The Runner",
"Vlad the Impaler", "Me Plus One",
"Man of Simple Pleasures", "Stevie",
"Bumblebeee", "Bless the Acid House",
"You're in Love with a Psycho",
"Fire", "III Ray (The King)",
"Bless This Acid House".
How to Hire KASABIAN For Your Event!
Popular requests:
BOOKING FEE (booking price, booking cost)
.
Kasabian are an English rock band formed in Leicester in 1997 by lead vocalist Tom Meighan, guitarist and occasional vocalist Sergio Pizzorno, guitarist Chris Karloff, and bassist Chris Edwards. Drummer Ian Matthews joined in 2004. Karloff left the band in 2006 and founded a new band called Black Onassis. Jay Mehler joined as touring lead guitarist in 2006, leaving for Liam Gallagher's Beady Eye in 2013, to be replaced by Tim Carter, who later became a full-time band member in 2021. Meighan left the band in July 2020, with Pizzorno stepping up as full-time lead vocalist.
Their discography includes seven studio albums, two live albums, six extended plays, 22 singles and 28 music videos.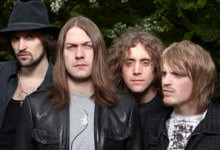 Hire Kasabian for your festival or concert plans!
In 2010 and 2014, Kasabian won the Q Awards for "Best Act in the World Today", while they were also named "Best Live Act" at the 2014 Q Awards and the 2007 and 2018 NME Award.
Kasabian's music has been described as a mix between The Stone Roses and Primal Scream with the swagger of Oasis. Their music has won them several awards and recognition in the media, including a Brit Award in 2010 for Best British Group, and their live performances have received praise, the most notable of which was their appearance as headliners at the 2014 Glastonbury Festival.
On 28 April 2014, the band revealed that their new album would be titled 48:13, and would be released on 9 June 2014. The lead single to promote the album, "Eez-eh", was released on 29 April 2014. "Eez-eh" was performed at Glastonbury Festival 2014 alongside other tracks from 48:13 and previous albums. The show also featured two cover versions – "Crazy", originally recorded by Gnarls Barkley, and "Praise You" by Fatboy Slim, which has been used as an intro to their song "L.S.F.".

At the NME Awards 2015, Kasabian were nominated for 9 awards, beating the 2009 Oasis record (7 nominations).
In 2016, the band played a short tour in May, culminating in two concerts at Leicester City Football Club's ground, the King Power Stadium, to celebrate the club winning the Premier League. At the first of these two concerts, Kasabian debuted a new song, "Put Your Life On It", dedicated to the city and those who are no longer with us to see the city's recent sporting achievements, accompanied by a gospel choir from De Montfort University. They also performed a short set in Leicester's Victoria Park, as part of the LCFC victory parade on 16 May. Numerous inspirations for the sixth album also have been listed, including Nirvana, Bruce Springsteen, David Bowie and Claudio Ranieri.
On 27 October 2021, Kasabian released their first single in more than four years, "Alygatyr".
On 6 May 2022, a second single "Scriptvre" was released, along with a music video and the announcement of their seventh album The Alchemist's Euphoria, which was released on 12 August.
On 3 June 2022, the day that Kasabian played at Knebworth Park as support act for Liam Gallagher, they released the third single "Chemicals" along with a lyric video, and on 20 June 2022, a music video.
Hire Kasabian for your party or event!
Kasabian may be available for your next special event!
Book Kasabian, now!
For other great suggestions for booking music acts,
look here.

For more suggestions, proceed to the next page.
Click here --
Alternative Music Roster
Or, click on one of the below links --
Music Menu
Fast Index
Entertainers Directory
Home