How To Book Entertainment For Your Event
k.d. lang may be available for your next special event!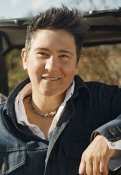 Hits include: "Hallelujah", "If I Were You",
"Rose Garden", "Constant Craving",
"Theme From The Valley Of The Dolls",
"I'm Down To My Last Cigarette",
"Sexuality", "Just Keep Me Moving",
"Summerfling", "Lifted by Love",
"Three Days", "Tune Into My Wave",
"Lock, Stock, and Teardrops",
"Full Moon Full of Love",
"Trail of Broken Hearts"

Booking k.d. lang:
Serious requests only.
For more suggestions, proceed to the next page.
Click here --
Rock Music Roster or Alternative Music Roster or Country Music Roster
Or, click on one of the below links --
Music Menu
Fast Index
Entertainers Directory
Home