How To Book KEITH ANDERSON For Your Event!
Keith Anderson may be available for your next special event!



How to Hire KEITH ANDERSON For Your Event!
Popular requests:
BOOKING FEE (booking price, booking cost).
Keith Anderson is an American country music artist.
Every song Keith Anderson sings sounds like a hit, and that includes "Pickin' Wildflowers," his romping debut single for Arista Nashville. He had already proven himself as an ace songwriter with the Grammy-nominated "Beer Run (B Double E Double Are You In?)," recorded as a duet by Garth Brooks and George Jones, and "The Bed," recorded by the multi-Platinum Gretchen Wilson as a vocal event with Big & Rich. He has a major publishing contract with EMI Music. His energized live performances have brought him a large and rabid fan following. He has contacts with some of the top radio stations in the nation.
Even before joining Arista, Keith Anderson had endorsement deals with Jim Beam, Bud Light, Gibson Guitars, GooGoo Clusters, Jodie Head, Jim Dunlop brand guitar processors, Nady Wireless Systems, and Elixir Strings. He has successfully self-marketed his own CDs and merchandise. Music Row magazine once dubbed him "an industrial-strength hunk" for his physique, blue eyes, and dazzling smile. While still an "unknown," he performed at festivals for crowds of 10,000 and more. To top it all off, he has personality to charm the birds from their trees and an infectious sense of humor.
"I've had a really blessed life," says the Oklahoma native. "Whatever I set my mind to do, I believe I can do."
Indeed. Within four years of forming his band and playing the Nashville nightclubs, it seemed like everybody on Music Row was talking about this new country music sensation. In the wake of "Beer Run," dozens of song publishers courted him. After a series of showcases in 2004, he was lured by five record companies.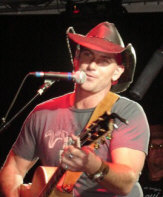 Hire Keith Anderson for your festival or concert plans.
"His sound hits home with the core country music audience, with Middle America," says RCA Label Group A&R Senior VP Renee Bell, who signed him to Arista. "His music has so much energy, and it's so much fun. It makes you feel good."
Just being around him does that. Keith Anderson was raised deeply religious – and there's a sense of decency in him. He was brought up in a small city – and there's an openhearted friendliness about him. He comes from a close-knit, loving family – and there's honest affection in his manner. He is an athlete – and there's a "team player" quality in his relationships.
Keith is a native of Miami, OK, a town of 10,000 or so, near the Arkansas border and its Ozark Mountains. His father LeRoy worked as a mechanic and handyman. His mother Janice ran a dog grooming business from home. When Keith was a boy, the Andersons began taking in foster children.
Hire Keith Anderson for your very special event or occasion.
"They are amazing people," says Keith. "They are just angels on earth. There were always loads of kids around, all kinds of cousins. It's a big, hugging family. I still kiss my parents when I see them. They are very, very affectionate."
Keith, his younger brother Jason and his older brother Brian grew up to be best friends. Jason remained in Oklahoma, where he is a successful accountant. Brian built the computer system for NASA's Mission Control in Houston and developed a self-guided rocket ambulance that can ferry astronauts back to Earth from the space station. Brian's scientific renown is such that he has been featured on the Discovery Channel.
"That's why in my show, I joke and say, 'It really did take a rocket scientist to teach me to play guitar.'"
While gregarious Keith was excelling in sports, quiet Brian was alone in his room, practicing the guitar. At the senior high talent show, Brian sang Dan Fogelberg's "Longer," and the girls screamed. A light bulb went on over 14-year-old Keith's head.
"All these girls were going nuts, and he wasn't the athlete! That's when I got my first taste of how cool music was."
So as a teenager, he began backing his brother on drums at their local church. He bought records by The Eagles and fell in love with harmony singing. He learned the songs of Kenny Rogers, James Taylor, Boston, and Willie Nelson. He made his first attempts at writing his own. Then, it was off to college and academic excellence.
Keith Anderson earned his engineering degree at Oklahoma State, graduating first in his class with a 3.9 GPA and playing baseball well enough to be approached by the Kansas City Royals. A shoulder injury ended his baseball career, but his commitment to physical fitness led to him placing second in the Mr. Oklahoma bodybuilding competition. All the while, he was tinkering with songwriting.
He was hired by a top construction-engineering firm in Dallas. The job paid quite well, but Keith quit it within a year and a half.
"I became obsessed with music. At that time, there were four major clubs in Dallas, and every Thursday, Friday, and Saturday, there was somebody that I wanted to go see. I just started falling in love with music and began to try to write songs again. I went home at Christmas and asked my brother to teach me chords on the guitar."
Back in Dallas, he auditioned for the Grapevine Opry, a show that had been a springboard for LeAnn Rimes and others. After three years as a regular there, Keith earned a performing slot at the Six Flags Over Texas park. He also entertained at the Texas State Fair.
The lifestyle change to making music was financially difficult, but Keith Anderson was so happy doing what he loved that he didn't care whether he had health insurance or a house. By day, he worked as a landscaper and became certified as a personal trainer. With an eye still on education, he took pre-med courses and was accepted for the rigorous Physical Therapy program at the University of Texas Southwestern Medical Center in Dallas.
"The month before I started, I thought, 'Wait a minute. This is going to be a whole bunch of commitment. If I'm ever going to do music, I need to go for it 100%. NOW. Physical therapy will always be there, and my engineering degree will always be there.'
"But I was still looking for ways to make money. A girlfriend got me into modeling. Not a lot of fashion. Mostly catalogs for sports stuff, J.C. Penney's, Dr. Pepper, and some others. I never really was a big, successful model. I didn't get a lot of jobs. I was just being a ham and listening and learning. And doing just enough to where it helped teach me to do what I do now.
"Me and Rusty Gaston, my friend from the Six Flags show, were talking one day. 'We're out of money.' 'What can we do?' 'Well, we know every country love song on the charts. Let's start a country singing-telegram business.' Valentine's Day was two weeks away. We became the Romeo Cowboys. And that's what got me in with radio."
Desperate to publicize the venture, Keith called a friend from the gym who worked at a Dallas radio station. The Romeo Cowboys went on the air the next morning, and business exploded. Eventually, Keith wrote ad jingles for local radio. He also noted that several of his fellow Grapevine performers had their own CDs to promote to disc jockeys. He scraped together some money, traveled to Nashville, hired the band Western Flyer to back him in the studio, and recorded six of his songs. He took the result around to stations in Texas, Oklahoma, and Kansas, trying to make friends wherever he could.
"I just built a reputation. I started calling as many radio stations as I could think of that I could go into, interview, play live or play my CD, and just get them to like what I did enough to write a little letter of recommendation. And that's what I came to town with – a card that had my 'head shot' photo, those letters of recommendation, and my little CD."
Keith Anderson arrived in Nashville in the spring of 1998 with a terminally ill car and $2,000 he'd saved. He took a job as a waiter at a restaurant on Music Row.
"I was a terrible waiter. I never figured out the computer system. I was messing up every day. But fortunately, they liked me enough to keep me on. I met a lot of music industry people there just by trying to be a fun waiter and making them laugh. And I always had my demo CD ready if somebody asked for it."
When he was in Nashville making his six-song record in 1996, Keith had played in a flag football game where one of his fellow players was songwriter George Ducas. He invited Keith to call him if he returned to town. They played softball together in the summer of '98, became friends, and began co-writing in the fall. That gave the newcomer an entry into the Nashville songwriting community. If he was good enough for George, he was good enough for Jeffrey Steele, John Rich, Kim Williams, Craig Wiseman, Victoria Shaw, Bob DiPiero, and the rest of his top-tier collaborators.
"I was able to say, 'I write with so-and-so,' and that would make other people want to hear your stuff. It makes you legitimate. And you can go from there. It just kinda snowballed. Pretty soon, I had a good little catalog, and I didn't even have a [song publishing] deal." He was also appearing at nightclub songwriter shows with his better-known co-writers.
"The Nashville audiences would know them, but they didn't know me. But that's how I started building a following. I built up a big e-mail base to invite people to my shows. Then, in 2000, I put together a band."
In 2002, Keith Anderson's group won the Jim Beam Country Band Search. The company's sponsorship led to opening a concert for Montgomery Gentry, other endorsements, and a host of nightclub opportunities. Within months, his high-octane performances and genuine love of people were drawing standing room only crowds. That enthusiasm led to his Arista contract.
"The fans are great, and I try to treat them right. Look around you at the CMA Music Festival. That's my family. Those are the people I come from. I am one of them."
Hit songs include --
Every time I Hear Your Name
Pickin' Wildflowers
XXL
Podunk
I Still Miss You
Sunday Morning In America
Somebody Needs A Hug
She Could've Been Mine
Hire Keith Anderson for your party or event!
Keith Anderson may be available for your next special event!
Book Keith Anderson, now!
For other great suggestions for booking music acts, look here.

Genre: Country
Styles:
.Country-Rock. / CountryRock
.Contemporary Country. / ContemporaryCountry


Years active:
x00s, x10s, x20s
2001-present

Born: ..in Oklahoma / born nOklahoma
Born: ..in Miami / born MiamiOK
Born: Jan 12, 1968

Based: ..in US
Based: ..in Tennessee / based nTennessee
Based: ..in Nashville area / based NashvilleTN