How To Book KENDRICK LAMAR For Your Event!
Kendrick Lamar may be available for your next special event!



- Hire Kendrick Lamar -
Hits include: "Swimming Pools (Drank)",
"Money Trees", "Poetic Justice",
"Humble", "u", "i", "Silent Hill",
"The Art of Peer Pressure", "Good Kid",
"m.A.A.d City", "Wesley's Theory",
"Backseat Freestyle", "The Recipe",
"Momma", "The Blacker The Berry",
"These Walls", "King Kunta",
"Institutionalized", "Hood Politics",
"How Much A Dollar Cost", "Alright",
"Pray For Me", "King's Dead",
"All the Stars", "Love", "Loyalty",
"B**ch, Don't Kill My Vibe",
"Don't Don't Do It", "Pray For Me",
"Family Ties", "N95", "Die Hard".
How to Hire KENDRICK LAMAR For Your Event!
Popular requests:
BOOKING FEE (booking price, booking cost).
GRAMMY AWARD winning Kendrick Lamar Duckworth, professionally known as Kendrick Lamar, was born in Compton, California, on June 17, 1987.
After writing stories as a child, he put to music some lyrics about the rough Compton streets he grew up on. He rapped under the name K-Dot, releasing a series of increasingly popular mix tapes, which brought him to the attention of hip-hop super-producer Dr. Dre.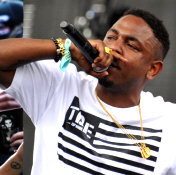 Hire Kendrick Lamar for your festival or concert plans.
Kendrick Lamar's debut major-label recording, good kid, m.A.A.d City, was released to great acclaim and impressive sales for an up-and-coming recording artist.
He continued to receive accolades for his 2015 album, To Pimp a Butterfly, and his 2017 follow-up, DAMN; both won Grammys for Best Rap Album, while DAMN also made history as the first of its genre to earn a Pulitzer Prize.
Kendrick Lamar has stated that Tupac Shakur, The Notorious B.I.G., Jay-Z, Nas, and Eminem are his top five favorite rappers. Tupac Shakur is his biggest influence, and has influenced his music as well as his day-to-day lifestyle. In a 2011 interview with Rolling Stone, Lamar mentioned Mos Def and Snoop Dogg as rappers that he listened to and took influence from during his early years.

Hire Kendrick Lamar for your special event or occasion.
He also cites now late rapper DMX as an influence: "[DMX] really got me started on music," explained Lamar in an interview with Philadelphia's Power 99. "That first album [It's Dark and Hell Is Hot] is classic, so he had an influence on me." He has also stated Eazy-E as an influence in a post by Complex saying: "I Wouldn't Be Here Today If It Wasn't for Eazy-E."
In a September 2012 interview, Kendrick Lamar stated rapper Eminem "influenced a lot of my style" and has since credited Eminem for his own aggression, on records such as "Backseat Freestyle".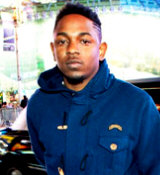 Hire Kendrick Lamar.
Lamar also gave Lil Wayne's work in Hot Boys credit for influencing his style and praised his longevity.
He has said that he also grew up listening to Rakim, Dr. Dre, and Tha Dogg Pound. In January 2013, when asked to name three rappers that have played a role in his style, Lamar said: "It's probably more of a west coast influence. A little bit of Kurupt, [Tupac], with some of the content of Ice Cube." In a November 2013 interview with GQ, when asked "The Four MC's That Made Kendrick Lamar?", he answered Tupac Shakur, Dr. Dre, Snoop Dogg and Mobb Deep, namely Prodigy.
Kendrick Lamar professed to having been influenced by jazz trumpeter Miles Davis and Parliament-Funkadelic during the recording of To Pimp a Butterfly.
Hire Kendrick Lamar for your party or event!
Kendrick Lamar may be available for your next special event!
Book Kendrick Lamar, now!
For other great suggestions for booking music acts, look here.

For more suggestions, proceed to the next page.
Click here --
Rap Music Roster
Or, click on one of the below links --
Music Menu
Fast Index
Entertainers Directory
Home