How To Book KENNY LATTIMORE For Your Event!
Kenny Lattimore may be available for your next special event!



Kenny Lattimore's musical journey began in Washington, D.C., where he was raised on a musical diet of R&B, funk, gospel and jazz. Chaka Khan, whom Kenny met when he was just 8 years-old, was a major influence as were Earth, Wind & Fire, Aretha Franklin and The Winans Family gospel group.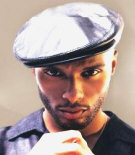 Music eventually became an obsession. Kenny Lattimore studied classical and chamber music in high school, and also learned to sight-read music. Soon after enrolling at Washington's renowned Howard University, he joined a fledgling vocal group called Maniquin. The band landed a major label deal in 1987, but their 1989 debut LP was met with public indifference. However, the experience resulted in countless one-night stand performances, which allowed Kenny to cultivate his remarkable stage abilities.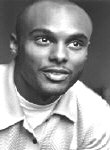 When Kenny Lattimore finally left the band in 1990, he possessed the skills to pursue a solo singing career. Towards that goal, he left the cozy confines of his Washington, D.C., home and relocated to New York City. "It was a big move for me, but I had to do it," Kenny recalls. "I'd come to grips with the fact that I didn't want to be a part of anyone's group or situation, I wanted to be a solo artist. So that's what I worked toward."
Kenny signed with Columbia Records in 1995, and his debut album was greeted enthusiastically by a public starving for intelligent R&B and funk. Though the album won critical accolades and a Grammy nomination, Kenny didn't rest on his laurels. In concert he displayed a jazzman's penchant for spontaneity and improvisation. As the Philadelphia Inquirer noted in a concert review: "Lattimore jumped from octave to octave with his scatting, switching to a more melodic idea only after exhausting the rhythmic possibilities."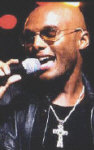 In 1997, Kenny Lattimore displayed his interpretative gifts by teaming with smooth jazz guitarist Peter White, performing a cover of Joni Mitchell's "River" (the resulting track is featured on White's holiday album, "Songs of the Season"). Kenny's matinee idol good looks made him a reluctant sex symbol, and led to an appearance on the nationally syndicated TV program, "Moesha."
However, listeners who focus solely on Kenny's sexy persona do themselves a disservice. Kenny is a musical prophet whose spirit is in full bloom on "From The Soul of Man." Kenny Lattimore courageously embraces and extends the best R&B conventions to create a stylish masterwork all his own.
Kenny Lattimore was married to R&B artist Chante Moore - now divorced.
Hit songs include --
For You
Never Too Busy
Days Like This
If I Lose My Woman
Weekend
Just What It Takes
Find A Way
Kenny Lattimore may be available for your next special event!
Watch videos.
YouTube

Genre: R&B
Styles:
.Contemporary R&B. / ContemporaryR&B
.Adult Contemporary R&B. / AdultContemporaryR&B
.Urban. / xUrban


Years active:
x90s, x00s, x10s, x20s

Born: ..in Washington, DC / born WashingtonDC
Born: Apr 10, 1970

Raised: ..in Washington, DC

Based: ..in US
Based: ..in California / based nCalifornia
Based: ..in Los Angeles / based LosAngelesCA