How To Book THE KILLERS For Your Event!
The Killers may be available for your next special event!



Hits include: "Read My Mind",
"When You Were Young", "Boots",
"Mr. Brightside", "Somebody Told Me",
"All These Things That I've Done",
"Smile Like You Mean It", "Shadowplay",
"Bones", "Tranquilize", "Spaceman",
"A Dustland Fairytale", "Human",
"Runaways", "Miss Atomic Bomb".
How to Hire THE KILLERS For Your Event!
Popular requests:
BOOKING FEE (booking price, booking cost).
The Killers are an American rock band formed in Las Vegas in 2001 by Brandon Flowers (lead vocals, keyboards, bass) and Dave Keuning (lead guitar, backing vocals). After going through a number of short-term bass players and drummers in their early days, both Mark Stoermer (bass, rhythm guitar, backing vocals) and Ronnie Vannucci Jr. (drums, percussion) joined the band in 2002.
The band's name is derived from a logo on the bass drum of a fictitious band portrayed in the music video for the New Order song "Crystal".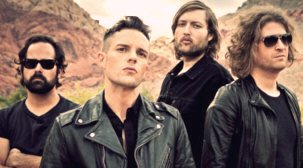 The Killers are considered one of the biggest rock bands of the 21st century, selling more than 28 million records worldwide, including 10.8 million in the US alone. They have performed in more than 50 countries and on six continents, headlining venues such as Madison Square Garden, Wembley Stadium and Glastonbury Festival (2007 and 2019).
The Killers have been grouped with various genres, including alternative rock, indie rock, post-punk revival, new wave, heartland rock, pop rock, synth-pop, pop, glam rock, dance-rock, dance-pop, arena rock, and electronic rock.
Keuning's original newspaper ad sought to assemble a band influenced by Oasis, the Smashing Pumpkins, David Bowie and Radiohead. Band members have also cited influences including Bruce Springsteen, U2, the Cure, the Cars, and the Smiths, along with the electronic bands Duran Duran, Depeche Mode, Pet Shop Boys, New Order and Orchestral Manoeuvres in the Dark (OMD).
Hire The Killers for your party or event!
The Killers may be available for your next special event!
Book The Killers, now!
For other great suggestions for booking music acts, look here.

For more suggestions, proceed to the next page.
Click here --
Alternative Music Roster
Or, click on one of the below links --
Music Menu
Fast Index
Entertainers Directory
Home