How To Book KIM CARNES For Your Event!
Kim Carnes may be available for your next special event!



Hits include: "Bette Davis Eyes",
"Don't Fall in Love With a Dreamer",
"More Love", "You're A Part of Me",
"I Pretend", "Crazy In Love",
"Invitation to Dance",
"Crazy in the Night (Barking at Airplanes)",
"Draw of The Cards", "Voyeur",
"Does It Make You Remember",
"Break The Rules Tonite (Out Of School)",
"It Hurts So Bad", "Mistaken Identity",
"Abadabadango", "Cry Like A Baby",
"Speed of the Sound of Loneliness",
"Divided Hearts", "Invisible Hands".
How to Hire KIM CARNES For Your Event!
Popular requests:
BOOKING FEE (booking price, booking cost).
GRAMMY AWARD winning Kim Carnes is an American singer and songwriter.
Born and raised in Los Angeles, California, she began her career as a songwriter in the 1960s, writing for other artists while performing in local clubs and working as a session background singer with the famed Waters sisters.
Kim Carnes' career started as a member of the influential New Christy Minstrels in 1966. Her naturally raspy voice, rather than being a handicap, became integral to her trademark sound.
After launching a solo career in 1972, Carnes scored her first big hit in 1980 with "Don't Fall in Love with a Dreamer," a duet with long-time friend Kenny Rogers. After charting the Top 10 single "More Love" (originally by The Miracles), she returned with the 1981 album "Mistaken Identity," which featured the No. 1 hit "Bette Davis Eyes," which became her signature song and won a Grammy for "Song of the Year" and "Record of the Year."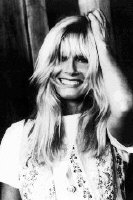 Hire Kim Carnes for your festival or concert plans.
From then on Kim Carnes scored hit after hit with songs like "Does It Make You Remember," "Invisible Hands," "Make No Mistake He's Mine" (a duet with Barbra Streisand), "What About Me," and "Crazy in the Night."
Her cover version of Jackie DeShannon's "Bette Davis Eyes" topped the Billboard singles chart for nine weeks, earning Kim her first RIAA gold record. The LP "Mistaken Identity" topped the US chart for four weeks, earning platinum status from the RIAA for more than one million units sold.
Her second solo album, 1975's "Kim Carnes," brought her critical favour, although she was reaping greater success as a songwriter with her husband Dave Ellington, whom she had met in the New Christy Minstrels. Renowned artists such as Frank Sinatra and Barbra Streisand recorded her songs, as did another old New Christy Minstrels sparring partner, Kenny Rogers, who duetted with her on their US Top 5 hit "Don't Fall In Love With A Dreamer" in 1980.
Follow-up singles "Draw of the Cards" and "Mistaken Identity" peaked, respectively, at #28 and #60. "Bette Davis Eyes" was Billboard's #2 single of 1981, behind Olivia Newton-John's "Physical," which had a then-record 10-week run at the top.
1982 "Bette Davis Eyes" won Record of the Year and Song of the Year at the 24th Annual Grammy Awards. A&M Records issued "The Best of You" to capitalize on Kim Carnes' success with "Mistaken Identity." This collection contains 10 tracks from her mid-'70s albums "Kim Carnes" and "Sailin'." LP "Voyeur" reached #49 as the extracted title cut peaked at #29.
Kim Carnes has penned number one country hits, including "The Heart Won't Lie," a smash duet for Reba McEntire and Vince Gill and "Make No Mistake She's Mine," a duet by Kenny Rogers and Ronnie Milsap.
Co-writing with others, Carnes has had songs covered by Deana Carter, Kevin Sharp, Sawyer Brown, Suzy Bogguss, Pam Tillis and Tanya Tucker. She wrote "You Don't Love Me Anymore," a song on Tim McGraw's album "A Place In The Sun."
Kim Carnes has now proven herself as a successful songwriter in rock, pop and country.
In spite of her busy and productive writing schedule, Kim Carnes continues to perform live. Whether playing concerts with her full band or acoustic in the round shows with such artists as John Hiatt, Michael McDonald, Hal Ketchum, Matraca Berg, Greg Barnhill, Deana Carter and Steve Wariner, Kim's performances continue to overwhelm audiences all over. From corporate events, performing arts centers, and theatres to a 5,000 seat outdoor amphitheater, her live performances are natural, powerful and entertaining. Showing her versatility, she also performs with symphonies.
Hire Kim Carnes for your party or event!
Kim Carnes may be available for your next special event!
Book Kim Carnes, now!
For other great suggestions for booking music acts, look here.

Genre: Rock 1
Styles:
.Adult Contemporary. / AdultContemporary
.Pop/Rock. / PopRock
.Soft Rock. / SoftRock
.Pop. / xPop


Years active:
x60s, x70s, x80s, x90s, x00s, x10s, x20s
1966-present

Born: ..in California / born nCalifornia
Born: ..in Los Angeles / born LosAngelesCA
Born: Jul 20, 1945

Based: ..in US
Based: ..in Tennessee / based nTennessee
Based: ..in Nashville / based NashvilleTN

Tag: FormerMemberOf