How To Book KIM PETRAS For Your Event!
Kim Petras may be available for your next special event!




Hits include: "1,2,3 Dayz Up",
"I Don't Want It at All",
"Feeling of Falling", "Malibu",
"Heart to Break", "Coconuts",
"Future Starts Now", "Unholy".
How to Hire KIM PETRAS For Your Event!
Popular requests:
BOOKING FEE (booking price, booking cost).
GRAMMY AWARD winning Kim Petras is a German singer and songwriter based in Los Angeles.
In 2006, Kim Petras became a worldwide icon for describing her transition on a German media TV show, Stern TV. Kim would later be featured in 2007 on a documentary and a talk show as a push for sex reassignment surgery to be done at 16, as during that time Germany's laws had it at 18.

Hire Kim Petras for your festival or concert plans!
The publicity generated from the 2007 TV appearances resulted in many news articles about her gender transition at age 12 and describing her as the "world's youngest transsexual". This assertion, however, is inaccurate, as gender identity disorder is often diagnosed in early childhood and transition by children under 12, though uncommon, is not unknown. However, Kim Petras may have been one of the youngest people at that time to receive female hormone treatments.
In September 2007, Kim Petras was a model for a nationwide chain of German hair salons. She turned 16 in 2008 and announced in a November 2008 post on her blog that she had recently completed her gender reassignment surgery. The story hit the news media in early February 2009, suggesting that Petras may be the youngest person in the world to have had gender reassignment surgery. In an interview about her surgery she stated, "I was asked if I feel like a woman now – but the truth is I have always felt like a woman – I just ended up in the wrong body".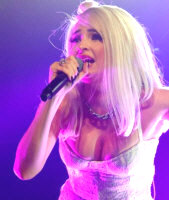 Hire Kim Petras for your special event!
During the end of 2017, Kim Petras was dubbed "most likely to dominate the pop charts" by Paper magazine, and appeared on Charli XCX's mixtape, Pop 2 (2017), for the track "Unlock It" alongside Jay Park.
In November 2018, she was featured on Cheat Codes' song, "Feeling of Falling".
In March 2019, Kim Petras appeared as a headline act at the Sydney Gay and Lesbian Mardi Gras, noted as one of the world's largest pride festivals, which has been headlined by other notable acts including Kylie Minogue, Cher, Dua Lipa, Kesha, Sam Smith, The Veronicas and George Michael.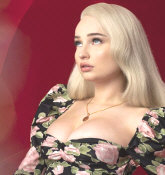 Hire Kim Petras!
Petras is a pop singer who also makes electronic dance music (EDM), dance-pop, electropop and bubblegum pop. She credits the late 1990s and early 2000s pop scene, as well as 1980s Italo disco, as the primary basis for her sound.
Following her early success, Kim Petras released a collection of digital singles which would later comprise her unofficial body of work, known as Era 1.
On 28 June 2019, she released her debut project, Clarity. The record was preceded with a nine-week-long promotional campaign, during which Petras released one single per week with an accompanying visual lyric video. Clarity received acclaim from music critics, reached number seven on the Heatseekers Chart and number 26 on the Independent Albums chart.
In October 2019, Kim Petras released a Halloween-themed album, Turn Off the Light.
In 2020, she saw international chart success with her singles "Malibu" and "Broken Glass", the latter being a collaboration with Kygo.
On 11 February 2020, she released the single, "Reminds Me". That same month, she announced that she would be the supporting act on the European leg of Camila Cabello's The Romance Tour, which was postponed due to the coronavirus pandemic.
On 6 November 2020, Kim Petras was featured on K/DA's EP, All Out, appearing on the song, "Villain", alongside Madison Beer, which charted in New Zealand and on the US World Songs chart.
On June 11, 2022, Petras performed at Los Angeles Pride with Christina Aguilera.
On 22 September 2022, Petras released the song "Unholy", a collaboration with Sam Smith.
Petras' inspirations include Katy Perry, Cher, Lady Gaga, Rihanna, Beyoncé, Britney Spears, Christina Aguilera, Madonna and the Spice Girls, as well as Boy George, Debbie Harry, Queen, Freddie Mercury, Judy Garland, Baby E, Lil Aaron, Liz Y2K, and Kesha.
Here discography includes two studio albums, four extended plays (EPs), 17 singles (including seven as featured artist), fifteen promotional singles and has made guest appearances on three non-single songs.
Hire Kim Petras for your party or event!
Kim Petras may be available for your next special event!
Book Kim Petras, now!
For other great suggestions for booking music acts, look here.

For more suggestions, proceed to the next page.
Click here --
Rock Music Roster or Electronica Music Roster
Or, click on one of the below links --
Music Menu
Fast Index
Entertainers Directory
Home