How To Book KINGS OF LEON For Your Event!
Kings of Leon may be available for your next special event!


Hit songs: "Radioactive", "Notion",
"Use Somebody", "The Bucket",
"The Bandit", "On Call", "Four Kicks",
"Sex On Fire", "Crawl","Revelry",
"Pyro", "Pony Up", "Pickup Truck",
"No Money", "Mi Amigo", "Mary",
"Birthday", "Beach Side", "Fans",
"Back Down South", "Supersoaker",
"Wait for Me", "Temple", "Reverend",
"Beautiful War", "Waste a Moment".
How to Hire KINGS OF LEON For Your Event!
GRAMMY AWARD winning Kings of Leon is an American rock band that formed in Nashville, Tennessee, in 1999. Their discography includes eight studio albums, one live album, two compilation albums, two video album, five extended plays, 26 singles, one promotional single and 26 music videos.
Hire Kings of Leon for your festival or concert plans!

They consist of three brothers - Caleb (lead singer, rhythm guitar), Nathan (drums), and Jared (bass) Followill - plus Matthew Followill (lead guitar), their first cousin. As the music on their "Kings of Leon" EP debut for RCA Records showed, their songs teem with primal emotions and rangy rhythms – noise sensed as sanctuary, friction felt as release, honesty jumped on for all it's worth because it's the only bankable road to salvation.
Kings of Leon - so-called because "Leon" is the name of both the Followills' father and grandfather - is, in general, a hauntingly unusual, yet dead classic band.


Hire Kings of Leon for your company's special event!
Kings of Leon's history is the epitome of a mythological rock & roll story. The Followill brothers are sons of a preacher man who were raised on the road throughout the South, traveling from one Pentecostal church service to the next. They were shattered by a divorce, transformed by illicit substances and the stoner music of Led Zeppelin and rewarded with a Nashville record deal for their grinding garage-boogie sound and raw, Southern gothic lyrics.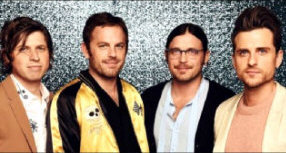 Hire Kings of Leon for your company's special event!

The Followill boys - Nathan (born June 26, 1979), Caleb (born January 14, 1982) and Jared (born November 20, 1986) - grew up watching their father Leon, a Pentecostal preacher, instill the fear of God in parishioners across the heartland. Forbidden to listen to secular music, they spent their early childhoods being home-schooled, watching church choirs and occasionally banging on drums during services. The boys' fates as followers of fundamentalist Christianity seemed sealed until 1997, when Leon Followill resigned from the church and divorced his wife. The divorce rocked the Followills' world, and afterwards, the two eldest brothers moved to Nashville, hoping to break into music. They quickly ran into Nashville songwriter and former new waver Angelo Petraglia, who turned the brothers on to the secular music of The Rolling Stones and Johnny Cash.

Kings of Leon, named for their father, were formed when younger brother Jared and a cousin, Matthew Followill (born September 10, 1984), came into the fold. Nathan and Caleb's musical influences include Thin Lizzy, The Rolling Stones and the Clash. Jared, who briefly attended public schools, learned about the music of The Pixies and Velvet Underground. The boys began woodshedding, and by 2002 Kings of Leon had interest from nine labels. A bidding war ensued, with the band ultimately choosing RCA Records.

The group's debut EP, Holy Roller Novocaine, and album, Youth and Young Manhood - both produced by Petraglia and Ethan Johns (son of Led Zeppelin and Who producer Glyn Johns) - came out in 2003. The band's retro-chic look - long hair, mustaches, Seventies-style clothing - and blend of Southern boogie with gritty garage rock inspired comparisons to both Lynyrd Skynyrd and The Strokes.
Kings of Leon were hailed by the British press as the second coming of rock & roll, being named everything from 2004's "Best New Band" to "the kind of authentic, hairy rebels The Rolling Stones longed to be." But the band failed to make much of an impact in the United States, where reviews were generally lukewarm and the modern rock audience generally disinterested. In the U.S., Youth sold only 100,000 copies compared with the 750,000 copies it moved elsewhere. When Kings embarked on a tour, the band became the cliché of rock & roll excess and the British press went along for the ride. Stories of sex, drugs and sightings with models followed the home-schooled boys, who just a few years earlier hardly knew what sex, drugs and rock & roll meant.
Hire Kings of Leon!

The group's highly anticipated second album, "Aha Shake Heartbreak", came out in 2005, debuting at Number Three on the British charts. Kings added more experimental touches - the angularity of British art-punk band Wire - to their still-very-raw aesthetic. The album reached Number 55 on the Billboard 200. The band garnered accolades from several of their rock peers, including Elvis Costello, and also toured with U2, Bob Dylan and Pearl Jam during 2005 and 2006.
On January 31, 2010, Kings of Leon took home the Grammy Award for Record of the Year, Best Rock Performance by a Duo or Group with Vocal and Best Rock Song for "Use Somebody" at the 52nd Annual Grammy Awards.
In 2021, the band was also selected to play as part of the festivities of the NFL Draft at the Rock and Roll Hall of Fame in Cleveland, Ohio.

Hire Kings of Leon for your party or event!
Kings of Leon may be available for your next special event!
Book Kings of Leon, now!
For other great suggestions for booking music acts, look here.

Genre: Rock 3
Styles:
.Alternative Pop/Rock. / AlternativePopRock
.American Trad Rock. / AmericanTradRock
.Southern Rock. / SouthernRock
.Alternative Country-Rock. / AlternativeCountryRock
.Alternative/Indie Rock. / AlternativeIndieRock
Garage Rock / GarageRock
Arena Rock / ArenaRock


Years active:
x00s, x10s, x20s
1999-present

Formed: ..in Tennessee / formed nTennessee
Formed: ..in Nashville / formed NashvilleTN
Formed: in 1999

Based: ..in US
Based: ..in Tennessee / based nTennessee