How To Book KIRK FRANKLIN For Your Event!
Kirk Franklin may be available for your next special event!


How to Hire KIRK FRANKLIN For Your Event!
Popular requests:
BOOKING FEE (booking price, booking cost).
Grammy Award winning Kirk Dewayne Franklin (born January 26, 1970) is an American songwriter, choir director, gospel singer, and rapper. He is best known for leading urban contemporary gospel ensembles such as The Family, God's Property, and One Nation Crew (1NC) among many others.
Kirk Franklin has won numerous awards, including 19 Grammy Awards. VARIETY dubbed Franklin as a "Reigning King of Urban Gospel", and is one of the inaugural inductees into the Black Music & Entertainment Walk of Fame.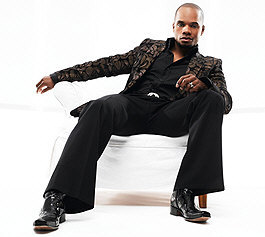 Hire Kirk Franklin for your festival or concert plans.
At the forefront of today's gospel music, Kirk Franklin, best known for his platinum success with "The Family," has broken down many musical barriers since he exploded on the international scene. In the process, he's achieved unprecedented success and become gospel's #1 renaissance man. His first album, "Kirk Franklin and the Family," was certified platinum, a gospel milestone. His critically acclaimed follow-up CD, 1996's "Whatcha Lookin' 4," sold more than 900,000 (and counting) copies. As astute in business as well as music, Franklin's Fo Yo Soul company banner has a multi-year production deal with B-Rite Records.
Hire Kirk Franklin for your very special event or occasion.
Founded in 1992 by Linda Searight, the God's Property organization centers around high moral standards with emphasis on education and achievement through artistic expression and performance. Ranging in age from 16 to 26, and under the brilliant direction of Robert Searight from its inception, the choir (often at-risk, inner-city based young people) is accompanied by an incredible five piece band. Their repertoire ranges from spirituals to praise song, to traditional and contemporary gospel. Franklin, of course, has expanded their voices and vision.
The God's Property/Kirk Franklin relationship goes way back, and beyond the recording studio, where he often works out new material with the choir. He's appeared with God's Property on The Late Show with David Letterman, while the choir itself performed with mega-pop star, Celine Dion, at the encore of the media acclaimed "Call The Man/Power of the Dream" concert in Dallas and on The 10th Annual Essence Awards with Stevie Wonder.
In 1996, Franklin's song "Joy" was recorded by Whitney Houston and the Georgia Mass Choir. With production by Houston and Mervyn Warren, the composition was included on the best-selling gospel album of all time, soundtrack to The Preacher's Wife.
In 2001, he produced the soundtrack for the film Kingdom Come. The soundtrack included gospel artists Mary Mary, Trin-i-tee 5:7, Crystal Lewis, and Franklin's group 1NC, as well as mainstream artists Az Yet, Jill Scott, Tamar Braxton, Shawn Stockman of Boyz II Men and others.
The Rebirth of Kirk Franklin was released in February 2002 after being delayed. It topped the Gospel Albums chart for 29 weeks, was No. 1 on the Hot R&B/Hip-Hop Albums chart and was certified Platinum. The album featured collaborations with Bishop T.D. Jakes, Shirley Caesar, Willie Neal Johnson, TobyMac, Crystal Lewis, Jaci Velasquez, Papa San, Alvin Slaughter, and Yolanda Adams.
In January 2010, after Haiti had a devastating earthquake, Kirk Franklin got an ensemble of gospel artists together to sing the song he wrote, called "Are You Listening". They included Yolanda Adams, Jeremy Camp, Shirley Caesar, Dorinda Clark-Cole, Natalie Grant, Fred Hammond, Tamela Mann, David Mann, Mary Mary, Donnie McClurkin, Bishop Paul S. Morton, J. Moss, Smokie Norful, Marvin Sapp, Karen Clark-Sheard, Kierra Sheard, BeBe Winans, CeCe Winans, and Marvin Winans.
Franklin's 11th studio album called Hello Fear was released on March 22, 2011. The album features Marvin Sapp, Mali Music, Marvin Winans, John P. Kee, and Rance Allen. The first single, "I Smile", peaked at No. 85 on the Billboard Hot 100, making it his first appearance on that chart in six years.
Kirk Franklin has, without a doubt, changed modern music more than any other artist in the last decade. He has been called the architect for a new American musical genre. This minister has incorporated contemporary hip-hop music with traditional gospel choir arrangements to reach our youth with a positive and uplifting message. The viability of his music ministry has prompted every major label to institute a Gospel Music division.
Kirk Franklin was taunted and teased as a child, but his faith and his remarkable musical talent helped him overcome the odds. "What motivates me," he says, "is the knowledge that God has redeemed me from the pain and the hurts and the sin of my past and given me a new joy I can't even explain. It's not just for show," he says, "It's the truth, and that's what I want to express."
Hits include:
Looking For You
Lean On Me
Declaration (This Is It!)
Imagine Me
Revolution
September
Brighter Day
Jesus
Help Me Believe
Are You Listening
A God Like You
I Smile
Before I Die
Wanna Be Happy?
123 Victory
My World Needs You
Love Theory
Just For Me
OK
All Things
Hire Kirk Franklin for your party or event!
Kirk Franklin may be available for your next special event!
Book Kirk Franklin, now!
For other great suggestions for booking music acts, look here.

Genre: Gospel
Styles:
.Contemporary Gospel. / ContemporaryGospel
.Black Gospel. / BlackGospel
.Urban. / xUrban
.Christian Hip Hop. / ChristianHipHop


Years active:
x90s, x00s, x10s, x20s
1992-present

Born: ..in Texas / born nTexas
Born: ..in Fort Worth / born FortWorthTX
Born: Jan 26, 1970

Based: ..in US
Based: ..in Texas / based nTexas
Based: ..in Arlington / based ArlingtonTX