Richard De La Font Agency, Inc.
Legendary 5-Star Service and Reputation
Providing Excellence in Entertainment Since 1970

Booking Kirk Whalum - book jazz music artists
Book Kirk Whalum
Smooth Jazz, Jazz-Pop, Contemporary Jazz,
Crossover Jazz, Saxophonist

Booking Information
About This Company
Jazz Music Roster | Music Menu
Fast Index | Home | Search
Printable Page
---
How To Book KIRK WHALUM For Your Event!
Kirk Whalum may be available for your next special event!



One has to speak in superlatives when describing Kirk Whalum. He is one of the most influential contemporary saxophonists of his generation.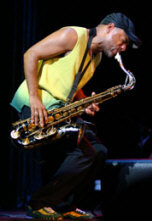 Highlights in his career include a Grammy nomination for his collaboration with Bob James, "Joined At The Hip", Kirk Whalum has also captured three No. 1 album slots on the Billboard Jazz Charts, and has had several albums chart in the Jazz Top 10. As for his romantic interpretive ability, his is the standout sax solo on Whitney Houston's worldwide smash hit "I Will Always Love You." His trademark saxophone stylings have been heard on stage and on hundreds of recordings with the preeminent pop, jazz, R&B and gospel musicians of our time, including Babyface, Take 6, Nancy Wilson, Kevin Mahogany, George Benson, Yolanda Adams, BeBe Winans, CeCe Winans, Barbra Streisand, Edwin Hawkins, Rev. Al Green, Luther Vandross and Quincy Jones. A seasoned veteran of the studio and the road, a catalogue of Kirk's featured session work would fill a Who's Who of modern music.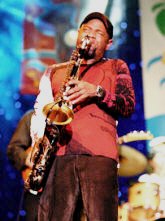 Kirk Whalum started on the road that would lead him to jazz distinction in Memphis, where he played in his father's church choir. Raised on gospel music, R&B and Memphis blues, Whalum ultimately discovered jazz during high school. He received a music scholarship from Texas Southern University in Houston, where he formed his own band, playing original compositions on the Texas club circuit. After opening for Bob James in Houston one night, Kirk Whalum was invited to New York by the pianist to appear on his album "12". Bob James, in recalling that night, said, "He [Kirk Whalum] was opening for a concert I played in Houston. I was actually able to watch part of his show - unlike most of the time when I don't get to hear the opening act. I just loved him."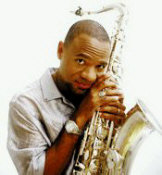 Kirk Whalum signed to Columbia shortly thereafter, and released five albums for the label: "Floppy Disk", "And You Know That!", "The Promise", "Cache" and "In This Life" (three of which were produced by Bob James). Next came the Grammy-nominated "Joined At The Hip" with Bob James in '96 on Warner Bros. Records.
In 1997, Kirk signed with Warner Bros. Records and released his solo debut for the label and his sixth solo project, "Colors." A most inclusive endeavor, the album paid tribute to musical and cultural diversity, a theme reflected in Kirk's association with Hearts Against Racism & Prejudice (H.A.R.P) for which he serves as president.
Next came his "Gospel According to Jazz, Chapter 1" release which ascended both the gospel and jazz charts, followed by his monster hit "For You", an album that relentlessly occupies the rarified atmosphere at the top of the jazz charts, two years after its release.
Kirk Whalum is also part of the all star lineup on Warner Bros. Records "Casino Lights '99", featuring Bob James, Boney James, Mark Turner, Kenny Garrett, Larry Carlton, Fourplay, George Duke, Kevin Mahogany, Rick Braun and Gabriela Anders. Recorded live in Montreux, it captures the collaborative magic of that city and its world-renowned jazz festival.
Kirk released a second gospel album on his Top Drawer label, entitled "Hymns: In The Garden", and has produced a collection of classics for his uncle, Hugh "Peanuts" Whalum, whose magical, smooth voice has wowed his fans now for more than 50 years.
Undoubtedly, one of the most prominent and prolific jazz saxophonists of our time, Kirk Whalum celebrates every opportunity to create music.
Whether Kirk Whalum is interpreting the melodies of others or spinning his own inspired beauty, he is an artist of infinite variation. The cross-pollination of influences and personal history enriches his performance and expression.
While his musical accomplishments have brought him professional and critical acclaim with a total of seven Grammy Nominations and one Stellar Award (Best Gospel Instrumental Album), it is his benevolent spirit and charitable efforts that truly define him. Kirk Whalum has hosted numerous benefit concerts on behalf of many organizations including the Boys and Girls Club of Pasadena (CA), the Tennessee YMCA and he fulfilled a ten year benefit commitment for the Houston Leukemia/Lymphoma Society.

Impressive would, indeed, sum up his career, but if you asked him, Kirk Whalum would simply say, "It's grace."
Hit songs include --
The Wave
All I Do
Whip Appeal
Give Me The Reason
I'll Make Love To You
Love Is A Losing Game
He's Been Just That Good
Valdez In The Country
Love, Love, Love
Spend My Life With You
Sunday's Best
Other notable songs include --
Unconditional
In This Life
The Promise
Don't Even Look
Don't Look at Me
Give Me Your Love
Glow
Out-A-Hand
Waltz For David
Kirk Whalum may be available for your next special event!

Genre: Jazz
Styles:
.Smooth Jazz. / SmoothJazz
.Jazz-Pop. / JazzPop
.Contemporary Jazz. / ContemporaryJazz
.Crossover Jazz. / CrossoverJazz
.Saxophonist. / xSaxophonist


Years active:
x80s, x90s, x00s, x10s, x20s
1985-present

Born: ..in Tennessee / born nTennessee
Born: ..in Memphis / born MemphisTN
Born: Jul 11, 1958

Based: ..in US
Based: ..in Tennessee / based nTennessee
Based: ..in Memphis / based MemphisTN
---
Concert Schedule – by Ticketmaster
Concert Schedule – by Live Nation

---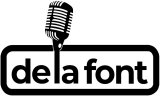 Booking Information
Music Menu
Fast Index | Home | Search
Frequently Asked Questions About How To Hire KIRK WHALUM for a private party or special event.
HOW TO BOOK KIRK WHALUM?
(i.e., how to hire KIRK WHALUM for an event)
You are currently on the official site of De La Font Agency. For more than 50 years, we have successfully helped official talent buyers around the world secure quality talent.
We welcome the opportunity to be of service to you. Let's do this the right way! Let's save you time and frustration!
Simply click on the "Let's Get Started!" link found on this page. Then, send us your request for booking information.
Include information about your plans for your event and how taking steps to hire KIRK WHALUM (or someone similar) might be of special interest.
If you decide you want to look at other names, simply include your talent-fee budget range and indicate that you want to see who else you might be able to afford with such a budget. We can send you a list of names that are affordable and in the style of music you prefer. We hope to save you time and frustration!
HOW MUCH DOES IT COST TO BOOK/HIRE KIRK WHALUM?
(i.e., what is the booking fee to hire KIRK WHALUM for an event?)
(i.e., what is KIRK WHALUM booking fee to perform at an event?)
Official booking fees for KIRK WHALUM, or any other celebrity, are determined based on a number of factors and may change at anytime without prior notice.

Factors influencing pricing vary and may include date, location, type of event, whether a private party or a public concert, the artist's calendar, whether the artist is on tour or not, how well tickets are selling at the artist's concerts, the current demand for the artist's music, market activity, etc.

As you might expect, the more in-demand the artist is, the more buyers are prepared to pay. Of course, this causes the artist's price to increase as the artist becomes more popular or decrease when becoming less popular.

Exclusive agents with exclusive representation frequently quote a range instead of a specific price, since changes can occur at anytime. Generally, the artist's manager has a role in the decision to accept any particular offer from a talent buyer.

To learn the most current artist's pricing, or the estimated artist's fee for your particular event, simply click on the "Let's Get Started!" link found on this page. Then, send us your request for booking information.
IS KIRK WHALUM AVAILABLE TO WORK MY EVENT?
(i.e., what is KIRK WHALUM's availability?)
To learn the artist's current availability for your special event, simply click on the "Let's Get Started!" link found on this page. Then, send us your request for booking information.

Once we have your event/party information, we will be better able to assist you with putting your entertainment talent booking plans in place as your entertainment consultant. Let's get this done right! We look forward to working with you!
---
Do you need to print copies?
For a special page designed for printing or e-mailing,
click HERE.

This company has been providing excellence in entertainment and customer service since 1970.
We can assist you regarding any of the following --
booking entertainment, such as major name entertainers or celebrities, booking Kirk Whalum, booking information on Kirk Whalum, or hiring Kirk Whalum for your special event, or to book or hire Kirk Whalum, or if you are seeking the Kirk Whalum booking agent for corporate entertainment or for a private party.
Consider the opportunity to book Kirk Whalum or other entertainers for a wedding, birthday, anniversary, business meeting or convention.
If you are not a talent buyer, we are unable to provide Kirk Whalum manager or management contact information.
This is the official website of Richard De La Font Agency, Inc.
Contact us to book a celebrity entertainer for your private party, birthday, or wedding, or for your corporate event!
Consider this your official Kirk Whalum booking agency web site – The booking agent who works for you!

This company acts as an entertainment consultant or broker/producer and does not claim or represent itself as the exclusive agent, representative or management of Kirk Whalum.
This is the month of June update of this page. Cost, fee and pricing are available.
Questions submitted to us include -
what is the booking fee or price of KIRK WHALUM
what is the cost of KIRK WHALUM
is KIRK WHALUM available for my event
how do I hire KIRK WHALUM for a corporate event or private party
how do i book KIRK WHALUM for a corporate event or private party
how do I contact KIRK WHALUM
who is the manager of KIRK WHALUM
how do I contact the official agent of KIRK WHALUM
how do i contact the manager of KIRK WHALUM
who is the official manager of KIRK WHALUM
who is the direct agent of KIRK WHALUM
who is the official agent of KIRK WHALUM
who is the responsible agent of KIRK WHALUM
who is the booking agent of KIRK WHALUM
how do i contact KIRK WHALUM
how do i contact management of KIRK WHALUM
looking for direct contact information for KIRK WHALUM
This site uses a fast and efficient internal search engine to help you find what you need. The following tags help it do its job --
Incorrect or alternate spelling: booking kirk whalum, kirk whalem, kirk walem, kirk wallem, kirk walhum, kirk walum, kirk whallum, kirk waylom, kirk walam, kirk waylam, kirk walan, kirk waland, kirk waylond, kirk waylon, kirk waylom, kirk waylin, kirk waylind, kirk whaluam, kirk whalaum, Kirk Whaylum, Kirt Whalum, curt whalum, kurt whalum, kurk whalum, kikr whalum, kir, kirk w, kirk wh, kirk wha, kirk whal, kirk whalu, kirk whalun, kirk whaland, kirk whalam, kirk whalim, kirk wallum, kirk walum, kurk walem, kirk walim, kirk walimm, kirk whalim, kirk wayland, kirk waylan, kirk waylun, kirk waylund, kirk waylum, kirk-whalum, kirkwhalum
Booking price. Booking fee. How much does it cost to book Kirk Whalum jazz music artist booking Kirk Whalum booking agent contact information official web site manager home page website management concert bookings, biography
Kirk Whalum, jazz music artist - booking agent. KIRK WHALUM may be available for your event. Book him if you can. You will have the time of your life!