How To Book LALAH HATHAWAY For Your Event!
Lalah Hathaway may be available for your next special event!



Hits include: "Heaven Knows",
"Baby Dont' Cry", "It's Somethin'",
"Forever, For Always, For Love",
"Let Me Love You", "Let Go",
"I'm Coming Back", "If You Want To",
"Angel", "Show Me Your Soul",
"I Can't Wait", "Better and Better",
"You Were Meant For Me".
How to Hire LALAH HATHAWAY For Your Event!
Popular requests:
Booking fee, booking price, or booking cost.
GRAMMY AWARD winning Eulaulah Donyll "Lalah" Hathaway is an American singer. In 1990, Lalah was responsible for an acclaimed debut album, eponymously titled and compliments of Virgin Records. Words like "smoky" and "confident" were used to describe it.
In 1994, came the album A Moment, also on Virgin. Again, glowing reviews. Lalah Hathaway was said to be the possessor of "torchy elegance" and to have made a "solid" and "independent step" in contemporary Rhythm and Blues. She has come to the table with a group of songs that reveals an even greater maturity and a darkly original approach to production.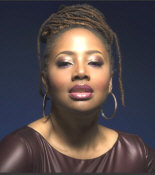 Hire Lalah Hathaway for your festival or concert plans.
This may be stated without danger of hyperbole: Lalah Hathaway, as the older daughter of classic soul music artist Donny and classically trained vocalist Eulaulah, is the poster child for genetic coding. Given such auspicious DNA, one is not surprised to discover her a gifted, even brilliant, singer. Not shocked in the least.
And of course, these types of assumptions are not necessarily just but, talent is expected. It is considered birthright ... the scheme of the stars ... the design of a divine hand.
Yes, Lalah Hathaway having the ability to open her mouth and liberate sheer tonal grandeur is a no-brainer. Here, however, is the revelation - that while Lalah (lay'-lah) has been imbued with and influenced by her begetters' faculties, she is, ultimately, her own artist. She is an individual voice. She seeks a singular aesthetic and pursues it arduously, painstakingly and sans compromise.
In a music business world gone bad where scores resort to sampling not merely as adornment but in an effort to disguise that aptitude and virtuosity have eluded them, Lalah Hathaway is a rarity, a welcome and refreshing one, at that. In this age when a large number of us have questioned the fate of popular music - and, more specifically, R&B - she is Noah's rainbow, the quintessential vestige of hope.
We listen to her sing, feel the nakedness of her songs, sense the verity of emotion and, for the first time in what feels like forever, we exhale. This is a woman who flies in the face of the widely embraced axiom that artfulness is doomed to always be at odds with commercial accessibility.
Hire Lalah Hathaway for your very special event or occasion.
This is an artist who manages that thing that all great artists do - to borrow from existing color only to create new pastiche. To be, at once, familiar and foreign, a most riveting combination.
Donny and Eulaulah's girl is all grown up and not within that false, oversexed oeuvre that we have been force-fed by far too many pop singers coming of age. Lalah Hathaway's work is sophisticated, emotive, sinewy. Perhaps it is her love of jazz that has imparted to her a bewitching spell common to the best of that genre, putting the thinking person in touch with his or her visceral self. It is impossible to hear Lalah and not feel.

Hire Lalah Hathaway.
Throughout her career she has collaborated with numerous artists including Mary J. Blige, Marcus Miller, Take 6, St. Victor, Nona Hendryx, Earth, Wind & Fire, Gerald Albright and Chaka Khan.
Hathaway received an honorary doctorate from Berklee College of Music in 2022.
Hire Lalah Hathaway for your party or event!
Lalah Hathaway may be available for your next special event!
Book Lalah Hathaway, now!
For other great suggestions for booking music acts, look here.

For more suggestions, proceed to the next page.
Click here --
R&B Music Roster

Or, click on one of the below links --
Music Menu
Fast Index
Entertainers Directory
Home

Genre: R&B
Styles:
.Adult Contemporary. / AdultContemporary
.Urban. / xUrban
.Contemporary R&B. / ContemporaryR&B
.Neo-Soul. / NeoSoul
.Soul. / xSoul
.Adult Contemporary R&B. / AdultContemporaryR&B


Years active:
x90s, x00s, x10s, x20s
1989-present

Born: ..in Illinois / born nIllinois
Born: ..in Chicago / born ChicagoIL
Born: Dec 16, 1968

Based: ..in US
Based: ..in California / based nCalifornia
Based: ..in Los Angeles / based LosAngelesCA