How To Book THE GATLINS For Your Event!
Larry, Steve & Rudy: The Gatlins may be available for your next special event!



Grand Ole Opry Member
-- since 1976
Over the course of a four decade career that has taken the Gatlin Brothers from dusty Texas stages to White House performances, from Broadway encores to Grammy Awards to the top of the country charts, there has been one unifying element, music.
Larry, Steve, and Rudy Gatlin love to sing together with every fiber of their being. They first began letting audiences in on it with guest appearances on the Slim Willet radio and TV shows in Abilene, Texas, as very young boys. Because there's no music quite as pure a harmony by people who are blood kin, "Gatlin harmonies spin with high and light precision and their music bleeds and screams of love and a lot of living."
Part of that living has been the other unifying element: Golf.
Golf ate up many dead hours during the years on the road. The brothers golfed with other celebrities, world leaders, and empire builders from Augusta to Pebble Beach, especially in Dallas where for the past two decades they have played to raise money for MDA.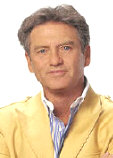 Larry Gatlin completed an autobiography, "All the Gold in California" and travels throughout the country talking about drug recovery. One of his appearances was on the 700 club with Rev. Pat Robertson.
Rudy Gatlin works on special projects for them, mainly the Gatlin/Ewing Buick Metro PGA Assistants Celebrity Golf Tournament for MDA. "My natural tendency is to take care of business," says Steve, whose dressing room doubles as an office. "I run the office day-to-day and produce our shows." Steve is also co-host of "Cheyenne Country," a weekly hour of positive country television, a role that has landed him on the other side of the interviewing desk. But don't worry, assures Steve, some things are sacred. "The three of us still play golf about three times a week."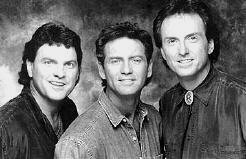 Golf-bonding aside, all of this separate activity should prove without a doubt that the Gatlin Bothers are not a six-legged show biz beast, although some fans have trouble getting it.

"People think since we sing together we're together 24 hours a day," Larry says, "I'll go to the store and buy milk and someone will come up and say, "Where are your brothers?"

That may be the case on contemporary Gatlin milk runs, but back in the mid-fifties the only people who were saying, "Where are your brothers?" were the boy's mom and dad. That's when the trio first appeared on stage, at the Cavalcade of Talent at Hardin Simmons University in Abilene.

"I was four, Larry was six, almost seven, and Rudy was two and a half," recalls Steve. "But Rudy couldn't really sing at that time, he just stood there and mumbled. We dressed him in a cowboy suit and he looked real cute."

While Rudy's talents have since blossomed far beyond mumbling and looking cute, he and his two brothers still maintain their passion for the gospel music they were reared on. "Gospel music was our first love, " he admits. "It always has been and it always will be. It is where we learned to sing the old southern gospel style of groups like The Blackwood Brothers and Statesmen Quartet." The Gatlins paid tribute to their roots with the release of "Gatlin Brothers Gospel," an album of six standards and six originals penned by Larry. "Do you like the title?" deadpans Steve. "It took me hours to come up with that."

The early '70's found Steve and Rudy in college while Larry, aided by country legend Dottie West, was in Nashville writing songs that would be recorded by names like Johnny Cash, Kris Kristofferson, Barbra Streisand, Tom Jones, and yes, Elvis.

"Larry was in Nashville beating on some doors and trying to get his foot in and he became successful as a singer and a songwriter," offers Steve, "but it wasn't really until we joined that we won a Grammy and our career really took off. It took a while – it took some leg work."

At mid-decade Steve, Rudy and their sister LaDonna were performing with Tammy Wynette, which led to the three brothers joining forces for good in June of 1976. The group's Grammy came with "Broken Lady," followed by hits like "All the Gold in California," "Statues Without Hearts," "Love is just a Game," "Houston," and "Somebody's Baby."

"We are in the record and entertainment business and there is a big difference. I don't mean to be sour grapes, but country radio isn't playing people over 40 years old. There are a lot of acts in the same boat."
"Right now on stage we do a lot of comedy. There's a lot of Broadway because Larry went to New York and starred in 'Will Rogers Follies' for a year, Rudy went to Branson and had the lead in productions of 'Oklahoma' and 'Annie Get Your Gun,' and I did two solo projects including a gospel album called 'Love Can Carry,' so the show is a fast-paced variety. George Bush introduces us by film for every show."

At this stage, the Gatlins have had the best of both worlds, families, fans, plenty of work as individuals and together. "A long time ago we decided to make music for our fans and people who come to our shows." Says Larry. "And I know that Steve and Rudy and Larry are going to stand up and try to sing in tune, every night."

And, during the day, play as much golf as possible.
Hit songs include --
All the Gold in California
Houston (Means I'm One Day Closer To You)
I Just Wish You Were Someone I Love
Night Time Magic
She Used to be Somebody's Baby
I Don't Wanna Cry
Love Is Just A Game
The Lady Takes the Cowboy Everytime
Talkin' to the Moon
What Are We Doin' Lonesome
Broken Lady
Statues Without Hearts
Sure Feels Like Love
Take Me To Your Lovin' Place
Denver
Larry Gatlin & the Gatlin Brothers may be available for your next special event!
Watch videos:
YouTube

Genre: Country
Styles:
.Urban Cowboy. / UrbanCowboy
.Neo-Traditionalist Country. / NeoTraditionalistCountry
.Country-Pop. / CountryPop


Years active:
x70s, x80s, x90s, x00s, x10s, x20s
1979-present

Formed: in 1979

Larry Gatlin:
Born: ..in Texas / born nTexas
Born: ..in Seminole / born SeminoleTX
Born: in May 2, 1948
Based: ..in US
Based: ..in Texas / based nTexas
Based: ..in Austin / based AustinTX

Steve Gatlin:
Born: in 1951
Based: ..in Tennessee / based nTennessee
Based: ..in Nashville area / based NashvilleTN
Based: ..in Brentwood / based BrentwoodTN

Rudy Gatlin:
Born: in 1952
Based: ..in Texas / based nTexas