How To Book LENNY KRAVITZ For Your Event!
Lenny Kravitz may be available for your next special event!


How to Hire LENNY KRAVITZ For Your Event!
GRAMMY AWARD winning Lenny Kravitz is an American singer-songwriter, record producer, multi-instrumentalist, and actor. His style incorporates elements of rock, blues, soul, R&B, funk, jazz, reggae, hard rock, psychedelic, pop and folk.
Lenny Kravitz was born in New York the son of Jewish Hollywood producer Sy Kravitz and Bahamian actress Roxie Roker (of The Jeffersons); Lenny grew up in wealth.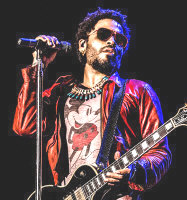 Hire Lenny Kravitz for your festival or concert plans!
When he began attending grade school, Lenny quickly realized that his parents were of different races, but it didn't seem to affect him in the least - even though some students weren't as fair minded.
Even as a child, Lenny Kravitz had a strong desire for music; he would surround himself with his mom's pots and pans and pound on them as though they were drums. Considering his parents were both in the entertainment industry, they encouraged their then 8-year-old son to delve into his desire to play music.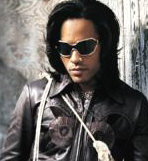 Hire Lenny Kravitz for your very special event or occasion.
By age ten, Lenny had already seen performances by Sarah Vaughn, James Brown, the Jackson 5, and Duke Ellington. In 1974, the Kravitz family relocated to Los Angeles because of Lenny's mom's role on The Jeffersons.
At his mother's urging, he joined the California Boys Choir for three years, where he performed a classical repertoire, and sang with the Metropolitan Opera. It was in Los Angeles that Kravitz was introduced to rock music, listening to The Beatles, The Rolling Stones, Led Zeppelin, Jimi Hendrix, the Grateful Dead, Aerosmith, Black Sabbath, Creedence Clearwater Revival, Kiss, Pink Floyd, and the Who, and he said he was "attracted to the cool style, the girls, the rock 'n' roll lifestyle."
Determined to make it as a musician, Lenny Kravitz began acquainting himself with different musical instruments. He taught himself bass, piano, guitar, and drums at an early age and developed his singing voice in the California Boys Choir and the Metropolitan Opera. By 1978, Lenny was playing so well that he was accepted into the music program at Beverly Hills High School. There, he was classmates with Maria McKee, Nicolas Cage, and Slash.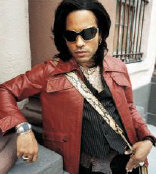 Hire Lenny Kravitz.
A year later, however, Lenny came upon Prince's music and was heavily influenced by Prince. Soon after that, his academic standing began to suffer. Lenny renamed himself "Romeo Blue" and began displaying somewhat eccentric behavior.
Luckily, Lenny did graduate from high school in 1982, but nevertheless, music had become his life and nothing was going to stop him from realizing his dream. His parents were friends with jazz greats Duke Ellington, Sarah Vaughan, Count Basie, Ella Fitzgerald, Bobby Short and Miles Davis, so he grew up in a musical household, although he would pursue a career in rock rather than jazz. His father, Sy, agreed to finance Lenny's musical attempts.
Hire Lenny Kravitz.
Things weren't easy at first, since many record companies were complaining to Lenny that his music was not "black" enough. Determined not to change his musical integrity, Lenny continued to shop around for a record deal for three years. By 1985, Lenny's parents decided to get a divorce and although this affected Lenny very much, it seemed that his career, as well as his love life, were on the up and up.
In the late 1980's, Lenny Kravitz returned to New York to pursue a musical career. In New York, he would broaden his influences beyond Prince to classic rock and soul artists, such as Hendrix, the Beatles, Led Zeppelin, Stevie Wonder, Curtis Mayfield and Bob Marley.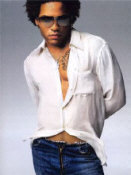 Hire Lenny Kravitz.
Lenny ended up meeting Lisa Bonet at a New Edition concert. Lisa played Denise Huxtable on The Cosby Show. Although they were both involved in other relationships, they become good friends and, ultimately, lovers sharing a house.
In November 1987, Lenny and Lisa trekked off to Las Vegas and got married. One year later, their daughter, Zoe, was born. While Lisa continued working on The Cosby Show, Lenny met Henry Hirsch, a recording engineer who liked Lenny's musical ingenuity. The two ended up working on his debut album, "Let Love Rule," together. Lenny met and signed with the executives at Virgin Records. Soon after, Lenny dropped the "Romeo Blue" name and reverted back to his real name.
The album was released in autumn 1989, and although critics ridiculed it, the public embraced Lenny with open arms and found his diverse blend of rock and soul refreshing. As is the case with most musicians, Lenny Kravitz began living the fast life and rumors about his infidelities began to fly.
After he produced Madonna's video for "Justify My Love," word had it that the two were involved in a heated love affair. Ultimately, Lisa couldn't bear the infidelity and the couple split up in 1991. In 1993, the divorce was finalized.
Lenny's second album, "Mama Said," released in 1991, was much more reflective and became a platinum-selling hit almost overnight, thanks to his top ten hit "It Ain't Over 'Til It's Over."
It wasn't until his third album, "Are You Gonna Go My Way," that critics and reviewers began giving Lenny Kravitz any critical acclaim. Released in 1993, the title track ended up earning Lenny an MTV Video Award for Best Male Video.
He soon learned that his mother, Roxie, had terminal cancer. As he already began working on his next album, "Circus," Lenny's emotions poured into his music and the album was completed and released in the summer of 1995. Unfortunately, his mother died on December 2, 1995.
Deciding to retreat to the Bahamas with his daughter and grandmother, Lenny needed some time to deal with his emotions and decide where he wanted to head next in his musical career.
Lenny's album, simply entitled "5," includes hit singles "Fly Away" (which earned him a 1999 Grammy for Best Male Rock Vocal Performance), "Thinking Of You" (written for his mother), and "Little Girl's Eyes" (written for his daughter).
In 1999, Lenny Kravitz decided to tour Europe over the summer, giving fans a taste of his diverse and eccentric performances. Because of the amazing success that Lenny's album incurred, later editions were marketed with two bonus tracks including a remake of "American Woman," which also appears on the Austin Powers: The Spy Who Shagged Me soundtrack.
His discography includes 11 studio albums, one greatest hits compilation album, four box set compilation albums, two extended plays, 58 singles, and eight video albums, including three live albums.
Hit songs include --
I'll Be Waiting
Again
Are You Gonna Go My Way
Fly Away
Lady
American Woman
Rock and Roll Is Dead
Let Love Rule
Dig In
Always on the Run
Believe
It Ain't Over 'Til It's Over
Where Are We Runnin'?
Stillness of Heart
Deuce
I Belong To You
Is There Any Love in Your Heart
I'll Be Waiting
Bring It On
I Build This Garden for Us
Stand
Rock Star City Life
Superlove
The Chamber
Dirty White Boots
Low
Hire Lenny Kravitz for your party or event!
Lenny Kravitz may be available for your next special event!
Book Lenny Kravitz, now!
For other great suggestions for booking music acts, look here.
Listen to music:
YouTube Music | Spotify

Genre: Rock 1
Genre: Rock 3
Styles:
.Funk Rock. / FunkRock
.Alternative/Indie Rock. / AlternativeIndieRock
.Contemporary Pop/Rock. / ContemporaryPopRock
.Neo-Psychedelia. / NeoPsychedelia
.American Trad Rock. / AmericanTradRock
.Progressive Soul. / ProgressiveSoul
.Album Rock. / AlbumRock


Years active:
x80s, x90s, x00s, x10s, x20s
1981-present

Born: ..in New York / born nNewYork
Born: ..in New York City / born NewYorkNY
Born: May 26, 1964

Based: ..in US

Tag: Jewish Musical Artists, xJewish