How To Book LES CLAYPOOL For Your Event!
Les Claypool may be available for your next special event!
(member of Primus)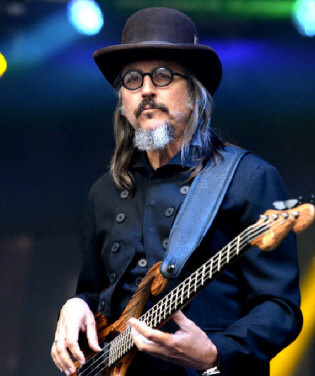 How to Hire LES CLAYPOOL For Your Event!
Popular requests:
BOOKING FEE (booking price, booking cost).
Les Claypool is an American musician, singer, songwriter, record producer, filmmaker, and author. He is best known as the founder, lead singer, bassist, and primary songwriter of the band Primus since its formation in 1984. Frequently considered to be one of the greatest bassists of all time, his playing style is well known for mixing tapping, flamenco-like strumming, whammy bar bends, and slapping.
Les Claypool has proven to be an innovative and exciting solo artist. A veteran of the acclaimed Bonnaroo Music Festival, Les Claypool puts on a thrilling live show that features classics from solo albums like "Of Whales and Woe".

Claypool has also been involved in a number of side projects, including supergroups such as Oysterhead (with Trey Anastasio and Stewart Copeland) and Colonel Claypool's Bucket of Bernie Brains (with Buckethead, Bryan Mantia, and Bernie Worrell). He also fronted the experimental rock projects Colonel Les Claypool's Fearless Flying Frog Brigade and Les Claypool's Fancy Band. He has self-produced and engineered several solo releases from his own studio, Rancho Relaxo, in California.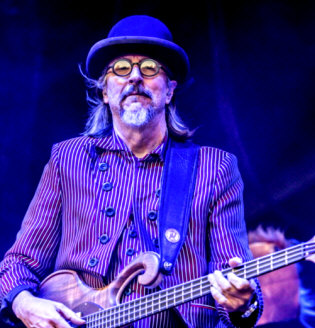 Hire Les Claypool for your festival or concert plans!
In 2006, he wrote and directed the mockumentary Electric Apricot and released his debut novel South of the Pumphouse. More recently, he has formed musical duos such as Duo de Twang (with Bryan Kehoe) and The Claypool Lennon Delirium (with Sean Lennon).

On March 17, 2009, Claypool's second solo album, Of Fungi and Foe, was released. The album consists of expanded material of the music from the Mushroom Men game, as well as the Pig Hunt motion picture, and features a guest appearance by Gogol Bordello's Eugene Hutz.

In 2009, Claypool toured with Matisyahu, performing as a 'double-feature' set, as well as appearing together on stage.
On September 25, 2013, it was announced Jay Lane had left Primus to rejoin the Bob Weir group, RatDog. His replacement was declared to be Tim Alexander. Claypool and Dean Ween worked together for a reality TV show called Musishermen.

Hire Les Claypool for your very special event or occasion.

In 2016, Claypool formed a group with Sean Lennon of The Ghost of a Saber Tooth Tiger, Paulo Baldi of Cake, and João Nogueira of Stone Giant. Les met Sean in 2015 when he was on tour with Primus, The Ghost of a Saber Tooth Tiger, and Dinosaur Jr. Les stayed in touch with Sean and the group released their first album The Monolith Of Phobos in 2016. On their first tour they switched out their keyboardist Money Mark of Beastie Boys for Pete Drungle.

On June 12, 2018, "Les Claypool Day" was declared in Cincinnati by mayor John Cranley. The declaration was presented to Claypool during Primus' show that night at the Riverbend Music Center by members of the Cincinnati USA Music Heritage Foundation alongside Claypool's friend, influence, and Cincinnati native Bootsy Collins.

Claypool has cited Larry Graham, Chris Squire, Tony Levin, Roger Waters, Geddy Lee, Paul McCartney, Geezer Butler, Bootsy Collins, Stanley Clarke, John Paul Jones, and the Residents as his musical influences.
Hire Les Claypool for your party or event!
Les Claypool may be available for your next special event!
Book Les Claypool, now!
For other great suggestions for booking music acts, look here.

For more suggestions, proceed to the next page.
Click here --
Metal Music Roster or Alternative Music Roster
Or, click on one of the below links --
Music Menu
Fast Index
Entertainers Directory
Home