How To Book LIAM GALLAGHER For Your Event!
Liam Gallagher may be available for your next special event!
(former member of Oasis and Beady Eye)



Hits include: "Chinatown",
"For What It's Worth", "Better Days",
"Wall of Glass", "I've All I Need",
"Greedy Soul", "Come Back to Me",
"Shockwave", "The River", "Once",
"Now That I've Found You",
"Diamond In The Dark",
"Everything's Electric", "One of Us",
"All You're Dreaming Of".
How to Hire LIAM GALLAGHER For Your Event!
Popular requests:
BOOKING FEE (booking price, booking cost).
William John Paul Gallagher, professionally known as Liam Gallagher, is an English singer and songwriter.
He achieved fame as the lead vocalist and part time songwriter of the rock band Oasis from 1991 to 2009, and later fronted the rock band Beady Eye from 2009 to 2014, before starting a successful solo career in 2017. Oasis had various line-up changes, though Gallagher and his older brother Noel Gallagher remained the only staple members. One of the most recognizable figures in British rock music, Gallagher is noted for his distinctive vocal style and outspoken, brash, and abrasive personality.
Gallagher notes influences including Beatles, the Stone Roses, the La's, the Who, the Kinks, the Jam, and T. Rex. He stated that had it not been for pop singer Madonna, he would have never entered the music industry. Recalling a childhood anecdote, he said he was "blown away" the first time he heard her song "Like a Virgin".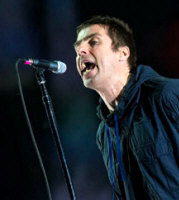 Hire Liam Gallagher for your festival or concert plans!
In 2000, his reputation and confrontational persona saw him feature in a Channel 4 documentary Hellraisers along with actors Peter O'Toole, Oliver Reed and Richard Harris and musicians Keith Moon and Ozzy Osbourne.
In March 2015, Gallagher appeared alongside Stephen Fry in a short film for Comic Relief titled National Treasures. In June, he played in a charity football match at the Juventus Stadium in Turin and performed on a special episode of TFI Friday. For the latter, he performed "My Generation" by the Who as part of a supergroup which included Paul Arthurs, Roger Daltrey, Jay Mehler, and Zak Starkey.
In 2017, Liam Gallagher began his solo career with the release of his debut solo album, As You Were (2017), which proved to be a critical and commercial success. It topped the UK Albums Chart and was the ninth fastest-selling debut album of the 2010s in the UK, with more than 103,000 units sold in its first week.
On 4 June 2017, Gallagher made a surprise appearance at the One Love Manchester benefit concert, where he played "Rock 'N' Roll Star", "Wall of Glass", and "Live Forever" alongside Coldplay's Chris Martin and Jonny Buckland.
In February 2018, Gallagher performed "Live Forever" at the Brit Awards as a tribute to the victims of the 2017 Manchester Arena attack, after Ariana Grande (whose show was the target of the attack) could not perform due to illness. In April, it was confirmed that he would support the Rolling Stones at The London Stadium on 22 May.
On 30 June 2018, it was also confirmed that Gallagher would be a headline act at the TRNSMT Festival in Glasgow Green and that he would be a headline act at the 2018 Isle of Wight Festival alongside Depeche Mode, the Killers, and Kasabian.
In 2019, he received the MTV Europe Music Award for "Rock Icon".
Liam Gallagher's voice has been compared to a blend of John Lennon and Johnny Rotten. He has stated he has no clear influence other than Lennon and "music" itself, though he has been known to incorporate many different forms such as punk, indie, new wave, and jazz.
Hire Liam Gallagher for your party or event!
Liam Gallagher may be available for your next special event!
Book Liam Gallagher, now!
For other great suggestions for booking music acts, look here.

For more suggestions, proceed to the next page.
Click here --
Alternative Music Roster
Or, click on one of the below links --
Music Menu
Fast Index
Entertainers Directory
Home