Visit new page >>>
LIL DURK
How To Book LIL DURK For Your Event!
Lil Durk may be available for your next special event!



Hit songs include: "Like Me",
"My Beyoncé", "Pissed Me Off",
"Green Light", "Viral Moment",
"3 Headed Goat", "The Voice",
"Stay Down", "Did Shit To Me",
"Voice of the Heroes", "All Love",
"Lion Eyes", "Broadway Girls",
"Ahhh Ha", "Golden Child",
"Computer Murderers", "Backdoor".
How to Hire LIL DURK For Your Event!
Popular requests:
BOOKING FEE (booking price, booking cost).
Durk Derrick Banks (born October 19, 1992), known professionally as Lil Durk, is an American rapper and singer.
He is the lead member and founder of the collective and record label Only the Family (OTF).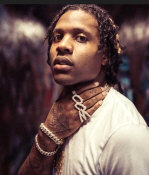 Hire Lil Durk for your festival or concert plans.
In 2011, Lil Durk started taking music seriously as a career. After plans to sign with Chief Keef and French Montana's labels fell through, he considered rapping as "a full-time career" after the releases of his two singles, "Sneak Dissin'" and "I'ma Hitta", each of which received generally positive feedback.
On October 19, 2012, Durk released his third mixtape, Life Ain't No Joke. In December 2012, Lil Durk released the track, called "L's Anthem", which was remixed, featuring French Montana, as a re-release.
Lil Durk garnered a cult following with the release of his Signed to the Streets mixtape series (2013–2014), leading to a record deal with Def Jam Recordings.
His discography includes eight studio albums (including one collaborative album), four compilation albums, one live album, one extended play, thirteen mixtapes, and 149 singles (including 81 as a featured artist).
Hire Lil Durk for your party or event!
Lil Durk may be available for your next special event!
Book Lil Durk, now!
For other great suggestions for booking music acts, look here.
Listen to music:
YouTube Music | Spotify

For more suggestions, proceed to the next page.
Click here --
Rap Music Roster
Or, click on one of the below links --
Music Menu
Fast Index
Entertainers Directory
Home