Visit new page >>>
LIL JON
How To Book LIL JON For Your Event!
Lil Jon may be available for your next special event!



Hit songs include: "Jumpin'",
"Lovers & Friends", "Ms. Chocolate",
"Nothins Free", "Play No Games",
"Real N***a Roll Call", "Rep Yo City",
"Right Thurr", "Who U Wit", "Shots",
"Bia' Bia'", "Get Crunk", "Get Loose",
"Put Yo Hood Up", "Outta Your Mind",
"What U Gon' Do", "Bend Ova",
"Naggin'", "Hey", "Get Low",
"I Like Dem Girlz".
How to Hire LIL JON For Your Event!
Popular requests:
BOOKING FEE (booking price, booking cost).
GRAMMY AWARD winning Jonathan H. Smith (born January 17, 1971), known professionally as Lil Jon, is an American rapper and the former frontman of the rap group Lil Jon & the East Side Boyz. He was instrumental in the emergence of the hip-hop subgenre crunk and is credited with bringing the genre into mainstream success.
In 2013, Lil Jon collaborated with producer DJ Snake and released "Turn Down for What", an EDM single that, as of 2023, has gone 8× multi-platinum in the United States. The song went on to win the Billboard Music Award for Top Dance/Electronic Song. The accompanying music video was nominated for a Grammy Award for Best Music Video and passed the milestone of 1 billion views on YouTube seven years after it was released.
Listed as one of the Top Billboard Music Award Winners of All Time in 2016, Lil Jon achieved his 8th number 1 on Billboard's Rhythmic Chart as a songwriter on "My Type", a song by California rapper Saweetie and was also a songwriter on the rapper's single "Tap In", which reached number 2 on the same chart.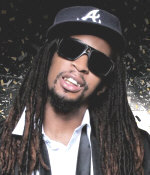 Hire Lil Jon for your festival or concert plans.
In 2009, Lil Jon was featured on Jay Sean's double platinum single, "Do You Remember", that was featured in the film remake of The Karate Kid.
On February 16, 2010, Lil Jon released a song with Pitbull's artist, Jamie Drastik, called "How Many Girls" which is a track to Jamie Drastik's mixtape, The Magnet. On June 8, 2010, Lil Jon release his first solo album, Crunk Rock, through Universal Republic Records. It featured artists such as LMFAO, Ying Yang Twins, Pitbull, 3OH3, Ice Cube, Waka Flocka Flame, Stephen Marley, Damian Marley and more. The album peaked at No. 8 on the Billboard R&B/Hip Hop Albums chart and reached No. 5 on the Billboard Rap Albums chart. The single "Hey" featuring 3OH3 was also featured on MTV's Jersey Shore Soundtrack with the entire cast appearing in the music video.
On May 14, 2011, alongside Steve Aoki & Laidback Luke, he released the song "Turbulence". It was released as a digital download in the United Kingdom. On July 17, 2011, it was released as an EP.
In 2013, Lil Jon collaborated with DJ Snake and released "Turn Down for What" on Columbia Records. The song reached No. 1 on Billboard's Rhythmic and Hot Dance/Electronic Songs charts, No. 2 on the Dance/Mix Show Airplay chart, No. 4 on the Hot 100, and No. 5 on the Mainstream Top 40.
On January 29, 2019, a Pepsi Super Bowl commercial featuring Lil Jon, rapper Cardi B and actor Steve Carell was released.
Lil Jon was specifically influenced by 2 Live Crew, 8Ball & MJG, Three 6 Mafia, OutKast, Geto Boys, UGK, N.W.A, Dr. Dre, and Sir Mix-A-Lot.
Alex Henderson, of AllMusic, contrasted Lil Jon's style of "rowdy, in-your-face, profanity-filled party music" with other Southern rappers, those who "have a gangsta/thug life agenda" and those who convey "serious sociopolitical messages". Lil Jon has also found influence in rock music, having worked with Rick Rubin and KoRn. He expresses this influence in his aggressive delivery and 'yelling' style of rap.
His discography includes 7 studio albums and 15 singles. Lil Jon was the lead vocalist for the group Lil Jon & the East Side Boyz from 1997 to 2004.
Hire Lil Jon for your party or event!
Lil Jon may be available for your next special event!
Book Lil Jon, now!
For other great suggestions for booking music acts, look here.
Watch videos:
YouTube | Vimeo

Listen to music:
YouTube Music | Spotify

For more suggestions, proceed to the next page.
Click here --
Rap Music Roster
Or, click on one of the below links --
Music Menu
Fast Index
Entertainers Directory
Home