Visit new page >>>
LIL KIM
How To Book LIL KIM For Your Event!
Lil' Kim may be available for your next special event!




How to Hire LIL KIM For Your Event!
Popular requests:
BOOKING FEE (booking price, booking cost).
Kimberly Denise Jones (born July 11, 1974), better known by her stage name Lil' Kim, is an American rapper. She was born and raised in New York City and lived much of her adolescent life on the streets after being expelled from home. In her teens, she would freestyle rap, influenced by fellow female hip-hop artists like MC Lyte and the Lady of Rage.
She became the first female rapper to have three consecutive number ones on the Billboard Hot Rap Tracks chart.
In August 2011, Lil' Kim performed four dates in Australia as part of the WinterBeatz Festival alongside Fabolous, Mario, 50 Cent and G-Unit.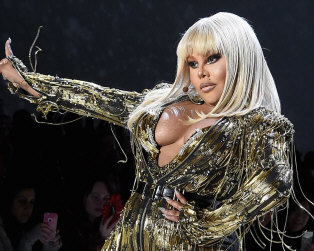 Hire Lil Kim for your festival or concert plans!
On July 26, 2013, Lil' Kim announced and released the cover art for a new mixtape, Hard Core 2K13, which would also serve as a sequel to her critically acclaimed debut album, Hard Core. Lil' Kim released the singles "Dead Gal Walking" and "Kimmy Blanco" to the public, along with the track list. The track list revealed collaborations with French Montana, Miley Cyrus, Jadakiss, and Yo Gotti.
In 2016, her fourth mixtape, Lil Kim Season, was released. On the mixtape, she freestyles over several popular beats, Drake's "Summer Sixteen," Rihanna's "Work," and Desiigner's "Panda."
Singer Faith Evans featured her on the song, "Lovin You for Life", on the album, The King & I, released on May 19, 2017. That same month, Lil' Kim, along with Eve and Trina, was featured on the remix of "I'm Better" by Missy Elliott. In November, Lil' Kim released a promotional single, "Took Us a Break," and was featured on the song, "Wake Me Up", by rapper Remy Ma.
In March 2018, Lil' Kim released another promotional single, "Spicy," featuring rapper Fabolous.

Hire Lil Kim for your special event!
Lil' Kim cited as her rap influences MC Lyte, Salt-N-Pepa and Roxanne Shanté. She was also influenced by Slick Rick, The Notorious B.I.G., Eric B. & Rakim, Queen Latifah and Mary J. Blige. Lil' Kim also cited Madonna as an influence, saying she modeled her own career on Madonna's, and labeling herself as the "Black Madonna."
Several media outlets have referred to Lil' Kim as the "Queen of Rap," and by the alias she uses, "Queen Bee." Newsweek has called her the "First Lady of Rap."
Some artists who have named Kim as influence include Rihanna, Cardi B, Megan Thee Stallion, Kash Doll, Bree Runway, Teyana Taylor, Doja Cat, Rosalía, Hitmaka, Casanova, Spice, Zaytoven, Stefflon Don, Flo Milli, Nicki Minaj, Ivorian Doll, Cupcakke, Saweetie, Ice Spice, Miley Cyrus, Iggy Azalea, Ms Banks, Jhené Aiko, City Girls and Erica Banks.
In 2016, VH1 honored Lil' Kim with VH1 Hip-Hop Honors and WEEN Award honored Kim with Icon Award because of her contribution to hip hop.
In 2019, Lil' Kim was honored by BET Hip Hop Awards with the I Am Hip-Hop Award.
Her discography includes five studio albums, one remix album, four mixtapes, forty-two singles (including twenty-five as a featured artist), and thirteen promotional singles.
Hit songs include --
Magic Stick
No Time
Not Tonight
No Matter What They Say
The Jump Off
How Many Licks?
Lighters Up
In The Air Tonite
Whoa
Thug Luv
Shut Up
Download
Hire Lil Kim for your party or event!
Lil Kim may be available for your next special event!
Book Lil Kim, now!
For other great suggestions for booking music acts, look here.
Listen to music:
YouTube Music | Spotify

Genre: Rap
Styles:
.East Coast Rap. / EastCoastRap
.Pop-Rap. / PopRap
.Gangsta Rap. / GangstaRap
.Dirty Rap. / DirtyRap
.Hardcore Rap. / HardcoreRap


Years active:
x90s, x00s, x10s, x20s
1994-present

Born: ..in New York / born nNewYork
Born: ..in New York City / born NewYorkNY
Born: ..in Brooklyn / born BrooklynNY
Born: Jul 11, 1975

Based: ..in US