How To Book LIL UZI VERT For Your Event!
Lil Uzi Vert may be available for your next special event!



Hits include: "Money Longer",
"Sanguine Paradise", "New Patek",
"Erase Your Social", "Ps & Qs",
"Go Off", "XO Tour Llif3", "7am",
"The Way Life Goes", "Sauce It Up",
"You Was Right", "That's a Rack",
"Futsal Shuffle 2020", "Myron",
"Baby Pluto", "Yessirskiii", "Dolly",
"P2", "That Way", "Lotus", "Heavy",
"Over Your Head", "His & Hers",
"Demon High", "Just Wanna Rock",
"Watch This".
How to Hire LIL UZI VERT For Your Event!
Popular requests:
BOOKING FEE (booking price, booking cost)
.
Symere Bysil Woods (born July 31, 1995), known professionally as Lil Uzi Vert, is an American rapper, singer, and songwriter. He is characterized by his facial tattoos, facial piercings, eccentric hairstyles and androgynous fashion, and imagery built on a melodic approach to trap.
In 2016, Lil Uzi Vert attracted mainstream attention following the release of his debut single, "Money Longer". The song would act as the lead single for the subsequent mixtape, Lil Uzi Vert vs. the World, which also contained the song, "You Was Right". Lil Uzi Vert was featured on the Billboard Hot 100 chart-topping Migos' single, "Bad and Boujee". He later secured his first top ten single with XO Tour Llif3, which won the MTV Video Music Award for Song of Summer.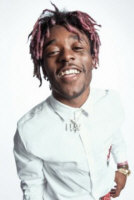 Hire Lil Uzi Vert for your festival or concert plans.
At the 2018 Grammy Awards, Lil Uzi Vert was nominated for Best New Artist. His second studio album, Eternal Atake, was among the most anticipated albums in contemporary trap and rap when it was finally released following years' worth of delays. Eternal Atake, like Luv Is Rage 2, debuted at number one on the Billboard 200.
In 2019, Lil Uzi Vert was featured on Lil Pump's album, Harverd Dropout, along with others such as Kanye West, Lil Wayne, Offset, Quavo, Smokepurpp, 2 Chainz, and YG. The album peaked at number 7 on the US Billboard 200.
Lil Uzi Vert calls Marilyn Manson his "greatest inspiration". He is also a fan of the band, Paramore, specifically citing front woman Hayley Williams as an influence. In an interview with Complex, Lil Uzi Vert cited ASAP Rocky, Pharrell Williams (with whom he collaborated on "Neon Guts"), Kanye West (with whom he featured on "Watch"), Simple Plan, Young Thug, Wiz Khalifa, Lil Wayne, and the Ying Yang Twins as influences.
His discography includes two studio albums, four extended plays (EPs), five mixtapes and fifty-four singles (including thirty-two as a featured artist).
Hire Lil Uzi Vert for your party or event!
Lil Uzi Vert may be available for your next special event!
Book Lil Uzi Vert, now!
For other great suggestions for booking music acts, look here.
Listen to music:
YouTube Music | Spotify

For more suggestions, proceed to the next page.
Click here --
Rap Music Roster
Or, click on one of the below links --
Music Menu
Fast Index
Entertainers Directory
Home