How To Book LIMP BIZKIT For Your Event!
Limp Bizkit may be available for your next special event!



Limp Bizkit is an American rap rock band from Jacksonville, Florida. The band has been nominated for three Grammy Awards, sold 40 million records worldwide, and won several other awards.
Led by self-confessed "freak" Fred Durst, the son of a policeman, hard rock/hip-hop fusion band Limp Bizkit were formed in 1994 in Jacksonville, Florida. Completed by bass player Sam Rivers and drummer John Otto, the band was further augmented in 1996 by the services of DJ Lethal when his former employers, House Of Pain, ran aground.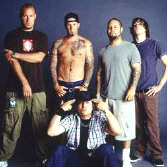 Hire Limp Bizkit for your festival or concert plans.
The connection was made originally when Limp Bizkit supported House Of Pain on their final tour. On his move from hip-hop to an (admittedly eclectic) rock sound, he commented: "80% of the drums in rap come from old rock records. People who talk shit about me being white and doing hip-hop better check who the f**k they're sampling!" The band made its debut with "Three Dollar Bill, Y'all$" in 1997, a record that went on to notch up sales in excess of 1.5 million, as it was adopted by a new generation of MTV rock fans. The band's striking live shows, complete with break dancers and garish backdrops, also earned them high-profile slots on the Ozzfest, Warped and Family Values tours.
They got their name when Fred Durst was talking to his friend (and now roadie) when he said that "his brain was like a limp biscuit." Fred liked it, so he named their band after it.
Durst continued to court celebrity and self-publicity, making guest appearances on albums by KoRn and Soulfly during this period. He also became an A&R executive for his record label, Flip, fellow Jacksonville band Cold being his first signing.
Limp Bizkit returned in July 1999 with "Significant Other," with production work by DJ Premier and a guest rap from Method Man affirming the band's hip-hop credentials. The album debuted at number 1 on the US album chart, confirming the band as one of the leading alternative acts in America.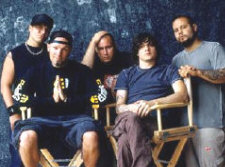 Hire Limp Bizkit for your very special event or occasion.
The following year they achieved a big transatlantic hit with "Take A Look Around," the theme song for the Tom Cruise movie "Mission: Impossible 2." They capitalized on their high profile with the release of "Chocolate Starfish And The Hot Dog Flavored Water," which went straight to number 1 on the US charts. The band also spearheaded the "nu-metal" breakthrough in Europe, with "Rollin'" topping the UK singles chart for two weeks in January 2001. Borland, who had earlier recorded an album with his side-project, Big Dumb Face, left the band in October.
Limp Bizkit's influences include, the Jesus Lizard, Tomahawk, Dave Matthews Band, Portishead, Mr. Bungle, Sepultura, Ministry, Tool, Primus, Urban Dance Squad, Rage Against the Machine, Korn, Deftones, Jane's Addiction, and John Zorn.
Their discography includes six studio albums, three compilation albums, one remix album, one live album, one extended play, 26 singles, three promotional singles, 28 music videos and two video albums.
Hits include:
Re-Arranged
My Way
Nookie
Rollin' (Air Raid Vehicle)
N 2 Gether Now
Take A Look Around
Behind Blue Eyes
Break Stuff
Eat You Alive
My Generation
Faith
Boiler
Crushed
Almost Over
Home Sweet Home/Bittersweet Symphony
Shotgun
Ready to Go
Dad Vibes
Hire Limp Bizkit for your party or event!
Limp Bizkit may be available for your next special event!
Book Limp Bizkit, now!
For other great suggestions for booking music acts, look here.
Listen to music:
YouTube Music | Spotify

Genre: Rock 2
Genre: Rap
Styles:
.Heavy Metal. / HeavyMetal
.Post-Grunge. / PostGrunge
.Rap-Rock. / RapRock
.Rap-Metal. / RapMetal
.Alternative Metal. / AlternativeMetal
.Funk Metal. / FunkMetal
.Hard Rock. / HardRock
.Nu Metal. / NuMetal

Years active:
x90s, x00s, x10s, x20s
1994-present

Formed: ..in Florida / formed nFlorida
Formed: ..in Jacksonville / formed JacksonvilleFL
Formed: in 1994

Based: ..in US