How To Book LIONEL RICHIE For Your Event!
Lionel Richie may be available for your next special event!



GRAMMY AWARD winning Lionel Richie is an American singer, songwriter, musician, record producer, and television judge.
He rose to fame in the 1970s as a songwriter and the co-lead singer of funk band, the Commodores; writing and recording the hit singles "Easy", "Sail On", "Three Times a Lady" and "Still", with the group before his departure.
Nearly 60 million albums sold, five Grammy's, twenty two top ten hits, an Oscar for best song, a golden globe, a treasure chest of People's choice and American Music Awards too numerous to count, and a discography of albums and singles navigate an emotional landscape that only few writer/performers have ever truly captured.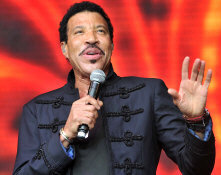 Hire Lionel Richie for your festival or concert plans!
Like the legends he admires, from Sinatra to Santana, Lionel Richie knows what it's like to hear a door close. He has survived the rollercoaster ride of the music business by refusing to let others define him. The Lionel Richie story has always been about making that leap of faith with no net.
Lionel Richie has achieved his amazing run by relating simply and honestly to the people who now celebrate his records as quintessential moments in their lives.
Hire Lionel Richie for your very special event or occasion!
When he left the Commodores in 1981 to pursue a solo career, his fans rolled with him. They watched Lionel become one of the most successful artists of the '80's, earning a string of 13 top ten hits between 1981 and 1987, including five number 1 singles "Endless Love," "Truly," "All Night Long (All Night)," "Hello," and "Say You (Say Me)."
His 1982 self-titled album established a run of platinum plus discs throughout the 80's. "Can't Slow Down" (released in 1983) sold 20 million units worldwide and 1986's "Dancing On The Ceiling" became a pop and R&B classic (and included the Oscar nominated song "Say You Say Me"). Lionel Richie also, somehow found time to co-write with Michael Jackson what eventually would become pop's most famous anthem, the Live-Aid tune "We Are The World."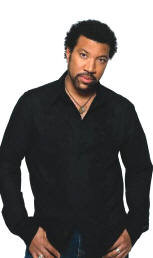 Hire Lionel Richie!
1996 saw him emerge with the critically acclaimed "Louder Than Words," which Lionel says "revealed another level of maturity in my work because of what I went through."
He followed that up with 1998's "Time." Inspired by a new family, Lionel began work on the disc soon after "Louder Than Words."
"I didn't tour after 'Louder Than Words,' which was unusual for me. That album cleared the air a lot. It got rid of a lot of baggage. 'Time' was a healing record."
Hit songs include --
I Call It Love
All Night Long (All Night)
Ballerina Girl
Do It To Me
Endless Love
Hello
Love Will Conquer All
My Love
Penny Lover
Say You, Say Me
Stuck On You
Truly
You Are
Dancing On The Ceiling
Don't Wanna Lose You
Se La
All Around The World
Just For You
Running With The Night
My Destiny
Hire Lionel Richie for your party or event!
Lionel Richie may be available for your next special event!
Book Lionel Richie, now!
For other great suggestions for booking music acts, look here.

Genre: R&B
Styles:
.Adult Contemporary. / AdultContemporary
.Urban. / xUrban
.Soft Rock. / SoftRock
.Quiet Storm. / QuietStorm
.Pianist. / xPianist


Years active:
x70s, x80s, x90s, x00s, x10s, x20s
1968-present

Born: ..in Alabama / born nAlabama
Born: ..in Tuskegee / born TuskegeeAL
Born: Jun 20, 1949

Raised: ..in Alabama
Raised: ..in Tuskegee

Based: ..in US

Tag: FormerMemberOf