How To Book LIVE, the band, For Your Event!
The band, Live, may be available for your next special event!



Hits include: "Operation Spirit",
"White, Discussion", "Forever",
"Lightning Crashes", "Turn My Head",
"I Alone", "The Dolphin's Cry",
"Lakini's Juice", "Selling The Drama",
"Run To The Water", "Simple Creed",
"Overcome", "We Deal In Dreams",
"Run Away", "Heaven", "All Over You",
"Pain Lies on the Riverside", "Freaks",
"Forever May Not Be Long Enough",
"Sweet Release", "Rattlesnake",
"We Deal in Dreams", "The River",
"They Stood Up For Love".
LIVE is an American rock band formed in York, Pennsylvania, in 1984, consisting of Ed Kowalczyk (lead vocals, rhythm guitar), Chad Taylor (lead guitar, backing vocals), Patrick Dahlheimer (bass), and Chad Gracey (drums).

The band started to gain attention following their single "Operation Spirit (The Tyranny of Tradition)", the video for which got regular airplay on MTV, and the moderate success of their second album, Mental Jewelry.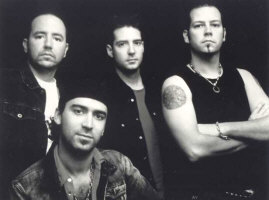 Their biggest success came in 1994, with their third album, Throwing Copper, which sold eight million copies in the U.S. The band had a string of hit singles in the mid-1990s, including "Lightning Crashes", which stayed at the top of the Billboard Hot Mainstream Rock Tracks chart for ten consecutive weeks and the Modern Rock Tracks (now Alternative Songs) chart for nine weeks from February 25 to April 22, 1995.
The release of the platinum-selling The Distance to Here (1999) turned LIVE into an international powerhouse and moved the band from arenas into stadiums. LIVE has been and remains today a global concert juggernaut.
The band has sold more than twenty million albums worldwide.
Hire LIVE for your party or event!
LIVE may be available for your next special event!
Book LIVE, now!
For other great suggestions for booking music acts,
look here.
Watch videos
YouTube

For more suggestions, proceed to the next page.
Click here --
Alternative Music Roster
Or, click on one of the below links --
Music Menu
Fast Index
Entertainers Directory
Home