How To Book Entertainment For Your Event
The band, Live, may be available for your next special event!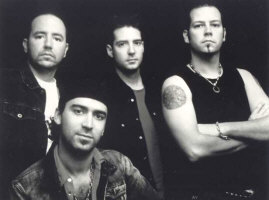 Hits include: "Operation Spirit",
"White, Discussion", "Forever",
"Lightning Crashes", "Turn My Head",
"I Alone", "The Dolphin's Cry",
"Lakini's Juice", "Selling The Drama",
"Run To The Water", "Simple Creed",
"Overcome", "We Deal In Dreams",
"Run Away", "Heaven", "All Over You",
"Pain Lies on the Riverside", "Freaks",
"Forever May Not Be Long Enough",
"Sweet Release", "Rattlesnake",
"We Deal in Dreams", "The River",
"They Stood Up For Love".

Booking Live:
Serious requests only.
For more suggestions, proceed to the next page.
Click here --
Alternative Music Roster
Or, click on one of the below links --
Music Menu
Fast Index
Entertainers Directory
Home