How To Book LL COOL J For Your Event!
LL Cool J may be available for your next special event!



Believe it or not, there was once a time when even industry insiders assumed that an artist would never find longevity in the world of hip-hop. Yet, with almost two decades of hits, LL Cool J (Ladies Love Cool James) has proven the naysayers wrong.
Releasing his first single "I Can't Live Without My Radio" in 1985 when he was just 17 years old, LL Cool J initially was a hard-hitting, street-wise B-Boy with spare beats and ballistic rhymes.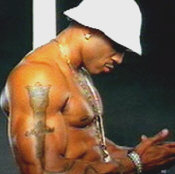 As one of the few commercially viable artists one can truly call a veteran, LL has come a long way from his origins in St. Albans, Queens. From his early days of rapping in front of the mirror in his bedroom while The Sugar Hill Gang boomed from his radio, LL has always been determined to be a winner in the game. "I sent my demo to many different companies, but it was Def Jam where I found my home," says LL.
LL Cool J has received two Grammy Awards, penned his autobiography "I Make My Own Rules" and is the first rap artist to amass six consecutive platinum-plus selling albums and six gold singles.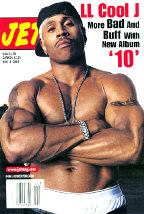 Beginning his career with the masterful 1985 debut album "Radio," which was the first Def Jam disc ever released, LL Cool J has refused to slow his roll. In addition to his music, he has also made forays into the world of film and television. Yet, while he has appeared in seventeen films and one hit television series (the currently in syndication "In the House"), LL insists, "Doing films will never stop me from treating my music with the utmost respect. Just because people see me in films, doesn't mean that I'm not still trying to create hot joints in the studio."
While over the years LL Cool J has worked with a wide array of producers including Rick Rubin, Marley Marl and Puffy, he says, "Part of working with great producers, whether it's Trackmasters or The Neptunes, is finding people who can help me execute my vision as an artist."
Although LL is constantly writing rhymes in various notebooks, he confesses, "I do most of writing for record in the studio. I like being in the moment, writing in the zone as the beat bangs in my ears. From there, I just let the words fall where they fall."
Speaking from the executive suite, Def Jam President Kevin Liles says, "Throughout his career he has reinvented himself, while still staying true to who he is. When he raps he is still thinking about the girls who has his picture on the wall and the cats that know he has been through it all. He's not trying to be what he's not and he is what he is."
As LL Cool J proclaimed on his release, "The G.O.A.T.," he is still the Greatest of All Time. "As an artist, I feel I am constantly growing. It's not about money or power anymore. There's just a special feeling you get when you complete a project and present it to the world." One is sure the world will still embrace the powers and prowess of LL Cool J.
Hit songs include --
Control Myself
Hush
Around The Way Girl
Father
Hey Lover
How I'm Coming
I'm That Type of Guy
I Need Love
Loungin'
Luv U Better
Mama Said Knock You Out
The Boomin' System
Ain't Nobody
Headsprung
I'm Bad
4,3,2,1
Jingling Baby
6 Minutes of Pleasure
Baby
No More
LL Cool J may be available for your next special event!
Watch videos
YouTube

Genre: Rap
Styles:
.Golden Age. / GoldenAge
.Pop Rap. / PopRap
.East Coast Rap. / EastCoastRap


Years active:
x80s, x90s, x00s, x10s, x20s
1984-present

Born: ..in New York / born nNewYork
Born: ..in New York City / born NewYorkNY
Born: ..in Queens / born QueensNY
Born: Jan 14, 1968

Raised: ..in New York
Raised: ..in New York City
Raised: ..in Queens

Based: ..in US