How To Book LLOYD BANKS For Your Event!
Lloyd Banks may be available for your next special event!



Lloyd Banks was born Christopher Lloyd and raised in Jamaica, Queens. "My mom is Puerto Rican, my pops is black," he says. "It was kinda like when I was with my mother's side of the family I was the bad seed. I was the one who was most unlikely to succeed. And then when I was with the black side of the family, I was the angel, because all my uncles are career felons."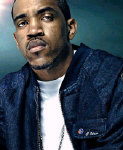 His parents were young and never married. His father, who chose to pursue tax-free income on the streets, spent more time behind bars than he did with his son. That left his mother to raise a young man who was close to 6 feet tall by the 6th grade and who started sprouting facial hair in his early teens. "My mother showed me everything," Banks says. Like many kids in the inner city his age, Banks sought to escape the poverty and death of his environment.
Early on he took to writing various musings - ghetto poetry, loose narratives, nothing quite structured, though he was influenced by rap gods like Big Daddy Kane and Slick Rick. "I listened to Big Daddy Kane a lot, cause that's what my pops listened to," he says. Banks' favorite songs were Rick's "Young World" and Kane's "Smooth Operator" and "Ain't No Half-Steppin'."
High school didn't agree with Lloyd Banks, so he dropped out before his 16th birthday. The free-writing he had been doing had morphed into full-fledged rhymes, but that was a secret. "I never let nobody know I did it," he says. But he soon got his courage up. "I started rhyming outside and everybody started telling me, 'You should shop your material.' This is before I even got in the studio."
Lloyd Banks appeared on local mixtapes, becoming one of the neighborhood's best unsigned rappers. His only competition was a childhood friend named Tony Yayo. One day, Tony, along with another childhood friend who rapped under the name 50 Cent, approached Banks with the idea of becoming a group. If Banks wanted to be down, he could be part of the crew that they were calling G-Unit. Banks was down. "I always felt like if I was to get into doing rap professionally, I wanted to get into it with somebody who was from my neighborhood," he says. "Who better than people who I've known my whole life?"
Fronted by 50 Cent, G-Unit quickly redefined the urban music industry. They produced a series of street albums with original numbers and high-quality artwork, making the discs something more than a bootleg, but not quite an independent release. 50 Cent was soon signed to Shady/Aftermath/Interscope Records and released the instantly classic, record-breaking "Get Rich Or Die Tryin'," on which Lloyd Banks was featured. Then came G-Unit's "Beg For Mercy," which was still riding high in the top 20 of the Billboard 200 after four months on the shelves.
Though these successes allowed Lloyd Banks to tour the world multiple times over, one accomplishment means a bit more than all the rest: Banks was anointed as 2003's Mixtape Artist Of The Year due to his appearance on G-Unit mixtapes as well as his own "Money In The Bank" series.
"I take pride in that, 'cause I'm not qualified for an MTV Award or a Vibe Award or a Grammys or any of that yet," says Banks. "I got my name through the mixtapes. That's why people know Lloyd Banks today. That's where it built from. I skipped what a lot of rappers have to go through to get put on. I skipped "Making The Band," I skipped [106 & Park's] 'Freestyle Fridays,' the Lyricist Lounge - I skipped all that. I made my name on the mixtapes, on the streets. And that's the hardest thing to get right there."
Despite so many things going his way, Lloyd Banks is not prepared to take it easy. "People will tell me all the time, 'Look at your setup. You're guaranteed to make it.' I get upset when I hear that. Ain't nobody guaranteed nothing. I feel like they're looking at the situation wrong, 'cause I don't take advantage of nobody. I don't work less because you're working harder. I work real, real hard even though I know 50's there. He's there, he supports me 110 percent, but I don't want to put no extra pressure on him when I can do it. At the end of the day, I find myself working twice as hard."
Working twice as hard and still hungry.
He says "I'm the hungry young nigga in the crew. So, if anyone has something to say about g-unit as a group or 50 Cent as an artist, he's the one who will respond." He knows they are hot right now and only want to get hotter.
Hit songs include --
On Fire
Karma
Hands Up
I'm So Fly
Southside
Help
I Don't Deserve You
Start It Up
Beamer, Benz, or Bentley
Any Girl
I Don't Deserve You
Lloyd Banks may be available for your next special event!
Watch videos:
YouTube

Genre: Rap
Styles:
.Hardcore Rap. / HardcoreRap
.East Coast Rap. / EastCoastRap
.Gangsta Rap. / GangstaRap


Years active:
x00s, x10s, x20s

Born: ..in Maryland / born nMaryland
Born: ..in Baltimore / born BaltimoreMD
Born: Apr 30, 1982

Raised: ..in New York
Raised: ..in New York City
Raised: ..in Queens / QueensNY

Based: ..in US
Based: ..in New York / based nNewYork
Based: ..in New York City / based NewYorkNY