Visit new page >>>
LONESTAR
How To Book LONESTAR For Your Event!
Lonestar may be available for your next special event!



How to Hire LONESTAR For Your Event!
Popular requests:
BOOKING FEE (booking price, booking cost)
.
Lonestar (formerly known as Texassee) is an American country music group from Nashville, Tennessee.
Lonestar has charted more than 20 singles on the Hot Country Songs chart, including 9 that reached No. 1: "No News", "Come Cryin' to Me", "Amazed", "Smile", "What About Now", "Tell Her", "I'm Already There", "My Front Porch Looking In", and "Mr. Mom". "Amazed" also charted at No. 1 on the Billboard Hot 100, becoming the first country song to do so since "Islands in the Stream" in 1983.

Lonestar's first Christmas album, This Christmas Time, was released in September 2000. It featured seven traditional Christmas songs, plus three original compositions: "If Every Day Could Be Christmas", "Reason for the Season", and the title track.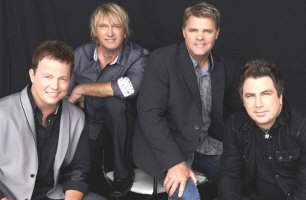 Hire Lonestar for your festival or concert plans!

In 2001, the band won the Country Music Association's award for Vocal Group of the Year.
Taking different routes to the same destination, Lonestar first came together in 1992 in Nashville. All four original members (Richie McDonald, Dean Sams, Keech Rainwater, Michael Britt) grew up in Texas, and though none received any substantial musical training, each made their way through a series of garage bands in high school. Everyone went on to college or day jobs, though they continued to play in bands at night, with the exception of Keech Rainwater, who devoted himself to the pursuit of a music career.

Hire Lonestar for your organization's special event!
All of their paths eventually crossed in Texas. Keech Rainwater and Michael Britt both wound up in a band known as Canyon. Richie McDonald, living and working for Coca-Cola in Dallas, singing jingles and in clubs, opened one night for Canyon, and met Keech and Michael backstage. At an audition for Nashville's Opryland theme park held in Arlington, Richie met Dean Sams; Dean got the gig and moved to Nashville. A year later, Richie packed his bags and headed to Music City; he spotted Dean one night at a show, and the two hooked up with the idea of forming a duo. Dean suggested a band, and a call was placed to Michael Britt, who had also moved to Nashville by then. They got a drummer and a steel player, and called themselves Texassee, "one of the worst names in the history of country music," says Dean with a laugh.
They hit the road in a Jeep Cherokee hauling a trailer, and in 1993-94, performed more than 500 shows. Knowing they needed to stick closer to town if they were going to get the attention of label executives, they nabbed a gig as the house band for Opryland's new Wildhorse Saloon, a huge club the entertainment company opened in downtown Nashville. It was then that Keech came to Nashville to join the band.
In that formation, they started making the rounds at many recording labels, and after some rejection, were signed by BNA Records.
Their first two records for BNA – "Lonestar" released in 1995, and their sophomore effort "Crazy Nights" in 1997 – were co-produced by industry veterans Don Cook and Wally Wilson.
"Don and Wally had a definite idea of what our sound should be and on the first album, and the next, they took the lead in A&R and song selection," explains Richie. "They did a great job."
The numbers seemed to prove it. Their debut single "Tequila Talkin'" went to #4 and "No News" stayed at #1 for three weeks, and helped bring their first album to Gold. They were named the Academy of Country Music's Top New Vocal Group in 1996. Their second album also reached Gold status producing two #1 singles, "Come Cryin' To Me" and "Everything's Changed."
During preparation for their third album they began questioning the process, and were clearly searching for an identity. Though they never had doubts about their abilities or their goals and strengths as a band, the decision was made to include a new producer in that quest.
That was when they met Dann Huff, best known as one of Nashville's hottest guitar players. "Dann came to a rehearsal one night" says Michael. "We sat down to talk and he told us that he wanted to make us sonically correct. After that meeting we knew that Dann had a good sense of the direction we wanted to proceed. He had been a member of a band himself so he had that band mentality, which was really important to us, and he thought he could make a band work."
According to Huff, it was excellent timing for producer and band. "I was at the front end of my producing career and they were ready to try something new, so it was good timing," he reflects. "Our first challenge was to find material that seemed relevant to their sound, and secondly, to find hits. I thought the band was tight. Their sound sort of developed as we went along, and we were blessed with some great material and great work on that record."
"We came together as a band in the studio with Dann," says Dean. "We gained more confidence. He recognized what we wanted to do. We had to establish a sound as a band. The songs we chose helped affirm that new sound and that new sound helped us find ourselves. That album, 'Lonely Grill,' was definitely the birth of Lonestar as we are today."
After signing with BNA, ten Top Ten singles, a triple platinum and two gold albums later, Lonestar now is a band on a mission, comfortable with themselves and sure in their work.
In late March 2001, Lonestar embarked on the 16-city George Strait Country Music Festival, one of the most successful arena and stadium tours of the last several years.
Clearly, Lonestar is a band who, while proud of their undeniable success, is not resting on their laurels. They spent the early years together, going through hard times, working hard, learning and developing as a band. They are in a great place right now, and that allows them to offer their very best.
Cody Collins replaced former lead vocalist Richie McDonald, who left in November 2007 for a solo career. Lonestar made its debut on the Billboard country music charts in 1995 with the Top 10 single "Tequila Talkin'". Since then, they have amassed a total of twenty-seven singles on the country charts, with nine of those singles reaching Number One. Their biggest crossover hit was 1999's "Amazed", a crossover hit that reached Number One on both the country charts and the Billboard Hot 100, becoming the first single to do so since Kenny Rogers and Dolly Parton's "Islands in the Stream" in 1983.
To date, the group has also recorded eight studio albums and a Greatest Hits compilation; three of their albums have been certified gold, while three more have been certified platinum or higher.
Awards include --
2001 CMA - Vocal Group of the Year
1999 ACM - Single of the Year
1999 ACM - Song of the Year
Hit songs include --
Amazed
Come Cryin' to Me
I'm Already There
Mr. Mom
My Front Porch Looking In
No News
Smile
Tell Her
What About Now
Everything's Changed
Not a Day Goes By
Let's Be Us Again
Runnin' Away With My Heart
Tequila Talkin'
You're Like Comin' Home
Walking in Memphis
Mountains
With Me
Unusually Unusual
You Walked In
Say When
Heartbroke Every Day
What About Now
Hire Lonestar for your party or event!
Lonestar may be available for your next special event!
Book Lonestar, now!
For other great suggestions for booking music acts, look here.

Genre: Country
Styles:
.Neo-Traditionalist Country. / NeoTraditionalistCountry
.Contemporary Country. / ContemporaryCountry
.Country-Pop. / CountryPop
.Country-Rock. / CountryRock


Years active:
x90s, x00s, x10s, x20s
1992-present

Formed: ..in Tennessee / formed nTennessee
Formed: ..in Nashville / formed NashvilleTN
Formed: in 1992

Based: ..in US
Based: ..in Tennessee / based nTennessee
Based: ..in Nashville / based NashvilleTN