Hits include: "Tennis Court",
"Royals", "Love Bug", "400 Lux",
"A World Alone", "Glory And Gore",
"Ribs", "Team", "The Love Club",
"White Teeth Teens", "Bravado",
"Million Dollar Bills", "Still Sane",
"Yellow Flicker Beat", "Green Light",
"Perfect Places", "Solar Power",
"Stoned at the Nail Salon",
"Mood Ring".
How to Hire LORDE For Your Event!
Popular requests:
Booking fee, booking price, or booking cost.
GRAMMY AWARD winning Ella Marija Lani Yelich-O'Connor, known professionally as Lorde, is a New Zealand singer-songwriter. Her discography includes three studio albums, four extended plays, 11 singles and nine music videos.

Taking inspiration from aristocracy for her stage name, Lorde is known for her unconventional musical styles and introspective songwriting. Her music is primarily electropop with elements of dream pop and indie-electro.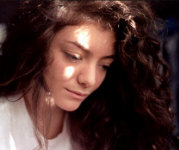 Hire Lorde for your festival or concert plans!
Lorde's accolades include two Grammy Awards, two Brit Awards, and a Golden Globe nomination. She appeared in Time's list of the most influential teenagers in 2013 and 2014, and the 2014 edition of Forbes 30 Under 30. In addition to her solo work, she has co-written songs for other artists, including Broods and Bleachers.

Lorde grew up listening to American jazz and soul musicians Billie Holiday, Sam Cooke, Etta James, and Otis Redding, whose music she admires for "harvesting their suffering." She also listened to her parents' favorite records by the likes of Cat Stevens, Neil Young, and Fleetwood Mac in her early years.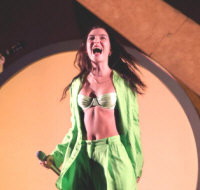 Hire Lorde for your company's special event!

Lyrically, Lorde cited her mother, a poet, as the primary influence for her songwriting. She also named several authors, including Kurt Vonnegut, Raymond Carver, Wells Tower, Tobias Wolff, Claire Vaye Watkins, Sylvia Plath, Walt Whitman, and T. S. Eliot as lyrical inspirations, particularly noting their sentence structures.
When writing her second album, Melodrama, Lorde took inspiration from the melodic styles of a variety of musicians, including Phil Collins, Don Henley, Rihanna, Florence + the Machine, Tom Petty, Joni Mitchell, Leonard Cohen, and Robyn.
During the recording process, Lorde stated that Frank Ocean's 2016 album, Blonde, inspired her to eschew "traditional song structures." She frequently listened to Paul Simon's 1986 album, Graceland, while riding subways in New York City and on taxi rides on the way home from parties in her hometown of Auckland. She cited the 1950 science fiction short story "There Will Come Soft Rains" by Ray Bradbury as inspiration for much of Melodrama's story, relating it to her own realities she faced.
During production of Pure Heroine, Lorde cited influences from electronic music producers, including SBTRKT, Grimes, and Sleigh Bells, impressed by "their vocals in a really interesting way, whether it might be chopping up a vocal part or really lash or layering a vocal." Lorde also stated that she was inspired by the initially hidden identities of Burial and the Weeknd, explaining, "I feel like mystery is more interesting." Other inspirations include Grace Jones, James Blake, Yeasayer, Animal Collective, Bon Iver, the Smiths, Arcade Fire, Laurie Anderson, Kanye West, Prince, and David Bowie.
Her work has influenced several contemporary artists, including Billie Eilish, Olivia Rodrigo, Sabrina Carpenter, Conan Gray, and Troye Sivan.

Lorde is noted for her unconventional pop sound and introspective songwriting.
In May 2009, Lorde and her friend Louis McDonald won the Belmont Intermediate School annual talent show as a duo. In August that year, Lorde and McDonald made a guest appearance on Jim Mora's Afternoons show on Radio New Zealand. There, they performed covers of Pixie Lott's "Mama Do (Uh Oh, Uh Oh)" and Kings of Leon's "Use Somebody". McDonald's father then sent his recordings of the duo covering "Mama Do" and Duffy's "Warwick Avenue" to Universal Music Group (UMG)'s A&R executive Scott Maclachlan. Maclachlan subsequently signed her to UMG for development.
In November 2013, Lorde signed a publishing deal with Songs Music Publishing, worth a reported US $2.5 million, after a bidding war between companies, including Sony Music Entertainment and her label UMG. The agreement gave the publisher the right to license Lorde's music for films and advertising. Later that month, Lorde was featured on the soundtrack for the 2013 film The Hunger Games: Catching Fire, performing a cover of Tears for Fears' 1985 song "Everybody Wants to Rule the World".

After her breakthrough, Lorde won four New Zealand Music Awards at the 2013 ceremony. The single "Royals" earned the APRA Silver Scroll Award, and two Grammy Awards for Best Pop Solo Performance and Song of the Year. In 2015, she received a Golden Globe nomination for Best Original Song as a songwriter for "Yellow Flicker Beat". Her second studio album, Melodrama, received a Grammy nomination for Album of the Year at the 60th ceremony.
Lorde has received two Brit Awards for International Female Solo Artist. The singer has also won two Billboard Music Awards, one MTV Video Music Award and three World Music Awards. As of June 2017, she had sold more than five million albums worldwide and 15 million certified single units in the United States.
Hire Lorde for your party or event!
Lorde may be available for your next special event!
Book Lorde, now!
For other great suggestions for booking music acts,
look here.