How To Book Los Rieleros Del Norte For Your Event
Los Rieleros Del Norte may be available for your next special event!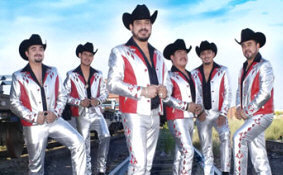 Hits include: "Delirando",
"Lagrimas De Mi Barrio",
"Como Tu Decidas", "Voy A Dejarte",
"A Punto De Llorar", "Aventura Pasada",
"Ni El Diablo Te Va A Querer",
"Y Ahora Que?", "Dime Quien Es",
"Te Quiero Mucho", "Un Juego",
"Aqui En Cortito", "Capricho Maldito",
"A Medias Parejo", "Aventura Mortal",
"Mia", "Chaparrita de Mi Vida",
"El Invencible", "Por La Misma Ingrata",
"Ni Por Capricho", "Prieta Orgullosa",
"Que El Mundo Ruede", "Mentirosa",
"Una Mujer Como Tú", "La Equivocación".

For more suggestions, proceed to the next page.
Click here --
Latin Music Roster
Or, click on one of the below links --
Music Menu
Fast Index
Entertainers Directory
Home