How To Book LOU BEGA For Your Event!
Lou Bega may be available for your next special event!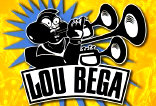 Ah, women ...! Women are pivotal to nearly everything in Lou Bega's life. As this charmer muses, "Females have always been there at the center of my life; my mother, who raised me with so much love and then my first girlfriend..... There were women who made me laugh and those who made me sad; real friends with whom I could talk about everything and women who made me fall head over heels in love." The Monicas, Ericas and Ritas of this world, to whom Lou Bega sings in his first Number One hit, Mambo No. 5, all played a role in his amazing success story.
Lou Bega is a rising star whose debut album underlined his fascination for the fairer sex. "With this album I can express fully my philosophy of life, summed up simply as: Never lose your "joie de vivre"; there is more beauty around us than we can possibly imagine; you just have to look a bit deeper to see how wonderful this world is. And most important of all, there is nothing more beautiful in all of God's creation than women!" These ideas are best expressed on "I Got a Girl," a song from the album "Little Bit of Mambo," where it all starts out with a woman.
"Some time ago, I had a girlfriend from Miami who was Cuban. Whenever she danced, it was like a brilliant firework display. I couldn't take my eyes off her. It was as if she became one with the music." Lou Bega's dreamy expression tells all!
It was actually this dancing beauty that brought him to Mambo. Nothing is better than the combination of fun and music – certainly not for Lou Bega. The singer and dancer has found his own particular way of combining the two and the musical result is very convincing.
Just as in Lou Bega's day-to-day life: "The sun shines again after the rain," says Lou, a true master of the art of living and a die-hard optimist. "This is my motto in life, and I have always tried to live my life accordingly which has helped me overcome quite a few sticky situations."
Lou Bega is the perfect incarnation of the Latin-American love of life, so his choice of music comes as no surprise. He discovered black and south-American rhythms very early on, listening to Soul and Reggae until, aged 18, he went to Miami and heard the Mambo classics. Since then, the Afro-Cuban sound of Mambo has held sway. "I got to know the songs of the Mambo Kings without ever imagining I would become one myself.
"Mambo No. 5: is a huge success, having sold in excess of one million units in Germany alone.
Lou Bega's personality is stamped not only on his music but also on his image. White pin-stripe suit, little polka-dot handkerchief, elegant spats and Borsalino hat complete the look, in perfect homage to the '30s and '40s. He has started a fashion trend with fans all over the world copying the "Lou Bega style" and is bringing back the concept of the "true gentleman" in the best sense of the word !
It seems that Mambo and this born entertainer were made for each other – "As a kid I was always singing and dancing to the music being played at home." In fact, Mambo's dynamic rhythms are synonymous with Lou Bega's background. He carries a piece of Africa in him from his Ugandan father and inherited his Sicilian-born mother's fiery temperament. Afro-Cuban rhythms, Swing, Soul and Rap are mixed by Lou Bega to create his very own musical style. With his passion for singing, melody and rhythm, the King of Mambo has taken his audiences by storm. If his big idol, Perez Prado, the Cuban Mambo King, could hear A Little Bit of Mambo today – he would definitely be proud of Lou Bega.
Lou has touched a nerve in everyone, young and old, who loves to dance. "There is nothing better than to go out and dance the Mambo," he enthuses. "With the right partner at your side, the fire is alite!" And as for the music – don't worry – Lou Bega is in charge!
Hit songs include --
Mambo No. 5 (A Little Bit of...)
Tricky Tricky
Other notable songs include --
Baby Keep Smiling
Disney Mambo #5 (A Little Bit Of...)
I Got a Girl
1 + 1 = 2
Mambo Mambo
Beauty on the TV-Screen
Most Expensive Girl in the World
Lou Bega may be available for your next special event!
Watch videos.
YouTube

Genre: Latin
Styles:
.Adult Alternative Pop/Rock. / AdultAlternativePopRock
.Mambo. / xMambo
.Latin Pop. / LatinPop
.Club/Dance. / ClubDance


Years active:
x90s, x00s, x10s, x20s

Born: ..in Germany
Born: ..in Munich
Born: Apr 13, 1975

Based: ..in Germany
Based: ..in Berlin