Visit new page >>>
LUDACRIS
How To Book LUDACRIS For Your Event!
Ludacris may be available for your next special event!



Grammy Award winning Christopher Brian Bridges, known professionally as Ludacris, is an American rapper, actor, and record executive. He has won three Grammy Awards, a Screen Actors Guild Award, a Critic's Choice Award and an MTV Video Music Award.
Ludacris grew up with old-school music influences that fueled his desire to pursue a career behind the mic. At age 12, he signed up with a Chicago-based outfit called the Loudmouth Hooligans. As a member of this auspiciously named group, Ludacris honed his rhyming skills and live performances. He took part in every open mic session he could get his hand on.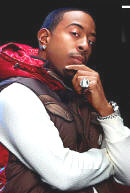 Hire Ludacris for your festival or concert plans.
After having the chance to produce a hip-hop show at a local radio station, Ludacris saved enough money to release an independent album titled "Incognegro" in his label called Disturbing the Peace Entertainment. The single "What's Your Fantasy" caught the eye of Def Jam South, to which the rapper was signed on by the president, Scarface.
"Back For The First Time" saw an early 2000 release with the artist sinking his teeth into success. The album has been certified platinum.
The singles "Southern Hospitality" (featuring Pharrell) and "What's Your Fantasy" (featuring Shawnna), became top 40 hits on the Billboard Hot 100 chart. He then released the albums Word of Mouf (2001), Chicken-n-Beer (2003) and The Red Light District (2004), all of which were certified multi-platinum by the Recording Industry Association of America (RIAA). His next two albums Release Therapy (2006) and Theater of the Mind (2008), explored more serious content than its predecessors.
In 2010, he was featured on Justin Bieber's single "Baby", which became one of the highest-certified singles of all time in the US and a defining song in modern-day popular music. His seventh album, Battle of the Sexes (2010), featured a return to the more lighthearted tone of his previous albums.
On March 31, 2017, Ludacris released a new single called "Vitamin D" featuring Ty Dolla $ign. That same year, Ludacris hosted YouTube's Best.Cover.Ever show.

Hire Ludacris for your very special event or occasion.
In 2018, he was featured on country singer Carrie Underwood's single "The Champion". The song peaked at number 47 on the Billboard Hot 100 and was the opening song for Super Bowl LII and 2018 Winter Olympics. On May 8, 2018, Ludacris received three nominations and one win at the 2018 CMT Music Awards.
In December 2022, it was announced that Ludacris would headline Janet Jackson's Together Again Tour.
His discography includes eight studio albums, two compilation albums, one extended play (EP), six mixtapes, 89 singles (including 51 as a featured artist) and nine promotional singles.
Hit songs include --
Money Maker
Runaway Love
Stand Up
Pimpin' All Over The World
Splash Waterfalls
Move B***h
Rollout (My Business)
Saturday (Oooh Oooh!)
Get Back
Southern Hospitality
What's Your Fantasy
Fatty Girl
Number One Spot
Act A Fool
Area Codes
Georgia
Slap
Diamond In The Back
Blow It Out
Grew Up A Screw Up
Sex Room
My Chick Bad
Representin
Rest of My Life
Helluva Night
Party Girls
Good Lovin'

Hire Ludacris for your party or event!
Ludacris may be available for your next special event!
Book Ludacris, now!
For other great suggestions for booking music acts, look here.
Listen to music:
YouTube Music | Spotify

Genre: Rap
Styles:
.Dirty South. / DirtySouth
.Southern Rap. / SouthernRap
.Hardcore Rap. / HardcoreRap


Years active:
x90s, x00s, x10s, x20s
1998-present

Born: ..in Illinois / born nIllinois
Born: ..in Champaign / born ChampaignIL
Born: Sep 11, 1977

Raised: ..in Georgia
Raised: ..in Atlanta

Based: ..in US
Based: ..in Georgia / based nGeorgia
Based: ..in Atlanta / based AtlantaGA