How To Book LUIS FONSI For Your Event!
Luis Fonsi may be available for your next special event!



Hits include: "Abrazar la Vida",
"Aqui Estoy Yo", "Imaginame Sin Ti",
"Nada Es Para Siempre", "Me Iré",
"No Me Doy Por Vencido", "Tu Amor",
"Quisiera Poder Olvidarme de Ti",
"¿Quién Te Dijo Eso?", "Perdóname",
"Si Tu Quisieras", "Por Una Mujer",
"Estoy Perdido", "Abrazar la Vida",
"Mi Sueño", "Dime Como", "Te Vas",
"Llueve Por Dentro", "Respira",
"Gritar", "Aunque Estés Con El",
"Nunca Digas Siempre", "Claridad",
"Llegaste Tú", "Corazón En La Maleta",
"Sola", "Imposible", "Échame la Culpa",
"Calypso", "Que Quieres de Mí",
"Perfecta", "Tanto", "Date La Vuelta",
"Bésame", "Yo No Te Olvido".
How to Hire LUIS FONSI For Your Event!
Popular requests:
BOOKING FEE (booking price, booking cost).
LATIN GRAMMY award winning Luis Alfonso Rodríguez López-Cepero (born April 15, 1978), known by his stage name, Luis Fonsi, is a Puerto Rican singer. He is known for his soulful and dance-oriented songs, most notably 2017's "Despacito".
"Despacito" became Fonsi's biggest success, winning four Latin Grammy Awards, seven Billboard Latin Music Awards, five Billboard Music Awards and three Grammy Awards nominations. He also won one Latin American Music Award for "Échame la Culpa" with Demi Lovato.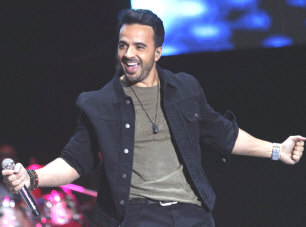 Hire Luis Fonsi for your festival or concert plans.
Fonsi recorded a duet with Christina Aguilera for her 2000 Spanish-language album, Mi Reflejo.
In 2002, Luis Fonsi was the opening act for Britney Spears' Dream Within a Dream Tour in the US and Mexico. His sixth CD, Paso a Paso, debuted at number one and sent him into international markets. "Nada Es Para Siempre" also reached number one on the music charts and was a nominee for the Latin Grammy Awards.
In November 2009, Luis Fonsi was awarded a Latin Grammy Award for "Song of the Year" for his composition, "Aquí Estoy Yo".
On December 11, 2009, Fonsi performed at the Nobel Peace Prize Concert in Oslo, honoring recipient, President Barack Obama.
On August 15, 2017, Luis Fonsi was named the tourism ambassador of Puerto Rico.
As of 2018, Fonsi has broken six Guinness World Records and sold more than 11 million records with "Despacito", whose music video was the most-watched YouTube video of all time until November 2020, with more than 8 billion views.
In June 2018, Luis Fonsi released the single, "Calypso", with Stefflon Don. The song peaked at number 11 on the Hot Latin chart. On November 2, 2018, he collaborated on the track, "Baby", by Clean Bandit from their second studio album. The song peaked at number 13 on the Billboard Hot Dance/Electronic Songs chart and at number 15 on the UK Singles Chart.
In October 2018, he collaborated with Italian singer Eros Ramazzotti for the song "Per le strade una canzone", from the album, Vita ce n'è.
On January 13, 2019, Luis Fonsi joined with Wisin, Alejandra Guzmán and Carlos Vives as coaches of the first Spanish season of La Voz by Telemundo.
In 2019, Fonsi performed "Right Where I'm Supposed to Be" as the official song of the 2019 Special Olympics World Summer Games in Abu Dhabi, United Arab Emirates in collaboration with Ryan Tedder, Avril Lavigne, Hussain Al Jassmi, Assala Nasri and Tamer Hosny.
His discography includes ten studio albums, two compilation albums, 49 singles and two DVDs.

Hire Luis Fonsi for your party or event!
Luis Fonsi may be available for your next special event!
Book Luis Fonsi, now!
For other great suggestions for booking music acts, look here.

For more suggestions, proceed to the next page.
Click here --
Latin Music Roster
Or, click on one of the below links --
Music Menu
Fast Index
Entertainers Directory
Home