Visit new page >>> LYNYRD SKYNYRD
How To Book LYNYRD SKYNYRD For Your Event!
Lynyrd Skynyrd may be available for your next special event!



How to Hire LYNYRD SKYNYRD For Your Event!
Popular requests:
BOOKING FEE (booking price, booking cost).
Lynyrd Skynyrd (linn-nerd skin-nerd) is an American rock band formed in Jacksonville, Florida.
By 1970, Lynyrd Skynyrd had become a top band in Jacksonville, headlining at some local concerts, and opening for several national acts.
The band spent five years touring small venues under various names and with several lineup changes before deciding on "Lynyrd Skynyrd" in 1969. The band released its first album in 1973.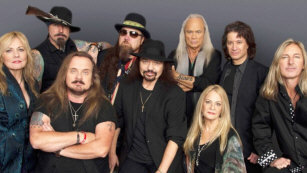 Hire Lynyrd Skynyrd for your festival or concert plans!
The band continued to perform throughout the South in the early 1970s, further developing their hard-driving blues rock sound and image, and experimenting with recording their sound in a studio. Skynyrd crafted this distinctively "southern" sound through a creative blend of country, blues, and a slight British rock influence.
In 2004, Rolling Stone magazine ranked Lynyrd Skynyrd No. 95 on their list of the "100 Greatest Artists of All Time". Lynyrd Skynyrd was inducted into the Rock and Roll Hall of Fame on March 13, 2006. To date, the band has sold more than 28 million records in the United States.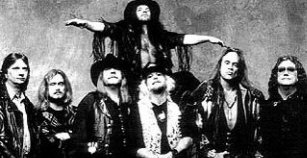 Hire Lynyrd Skynyrd for your company's special event!
Lynyrd Skynyrd has endured, despite all odds, through death and disaster, as the signature rock group of America's working people. It is no accident that any popular contemporary band that uses electric guitars owes a huge debt to Skynyrd, a debt almost always freely acknowledged. Musicians as diverse as Kid Rock, Metallica and Travis Tritt pledge allegiance to the Skynyrd sound, and a new wave of hard rocking youngsters values Lynyrd Skynyrd above all else.
Skynyrd's ability to constantly rekindle its creative fires following tragedy is a testament to the indomitable spirit that has surrounded the band since its inception, and has largely defined Lynyrd Skynyrd over the years. The legendary singer/songwriter Ronnie Van Zant, guitarist Steve Gaines and vocalist Cassie Gaines died in the infamous 1977 plane crash that ended the band's initial run. Guitarist Allen Collins survived the plane crash only to suffer paralysis and, eventually, death in a tragic car accident. And most recently the band lost bassist Leon Wilkeson, who died during the making of "Vicious Cycle." Yet once again Lynyrd Skynyrd found the determination to continue working, as well as a way to perpetuate its greatness.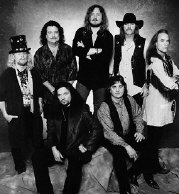 Hire Lynyrd Skynyrd!
Having taken over the duty of lead vocalist in 1987, Ronnie's younger brother, Johnny Van Zant, has grown into the role of fronting the band so well that Lynyrd Skynyrd has truly become the central part of his identity.
"We've hit on a combination of old style Skynyrd, with new style Skynyrd, with commercial Skynyrd," Johnny said with a laugh. "We've got that hard rockin' country thing going full blast on this one."
Lynyrd Skynyrd has always been an arsenal of determination, articulation, personality and, above all else, guitar prowess. Lynyrd Skynyrd's stellar guitar lineup features Blackfoot's Rickey Medlocke and The Outlaws' Hughie Thomasson. Keyboardist Billy Powell contributes melodic touches that add a stark beauty to the band's sound. Drummer Michael Cartellone gives the rhythm section a thunderous kick.
Having come full circle through all the hardships – death, illness, departure, disagreements, exhaustion – that Lynyrd Skynyrd knows so well, they channeled their life experiences into powerful and emotive songs.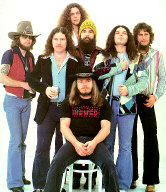 Hire Lynyrd Skynyrd.
Not only focusing on tragedy and controversy, Lynyrd Skynyrd also draws on their blue collar roots for musical inspiration. They've always been known as one of the hardest working bands in history, having exploded onto the scene in the 1970's and playing approximately 300 dates each year. Lynyrd Skynyrd doesn't know how to take it easy – through any and all lumps life has offered Lynyrd Skynyrd, they have not given up or even slowed down.
Few bands have made as spectacular an entrance as did Skynyrd in 1973, and aside from their music, another distinguishing factor was Skynyrd's audience. While virtually all of the band's contemporaries were writing to a suburban people, Lynyrd Skynyrd fiercely promoted the values of its heritage, the values of America's workers. The band's hometown of Jacksonville truly was a blue collar town, and Ronnie, Donnie and Johnny Van Zant learned the value of hard work from family patriarch Lacy Van Zant. Ronnie was a master at articulating these values in Skynyrd's songs and Johnny has grown into the role so well that he's actually brought the group to another level.
"Our fans are country folks, they like the basics," Johnny explained. "They're not afraid of dirt, they know how to work with their hands. If you've got a good car and a good woman you can be happy. Life has gotten so complicated that a lot of people have lost sight of the fact that the simple things are the best things. We came from a basic family. Our father was a working man. Our mother was a housewife. We didn't live the high life. Sure, these days we buy our own cars, but we still live a basic life."
Skynyrd has always managed to balance its kickass party anthems with messages that offer solace against life's troubles and hope for a better future.
"I hope we can help some people through their bad times with our music," said Johnny. "That's what music's all about anyway."
Hit songs include --
Smokestack Lightning
Good Lovin's Hard to Find
Sweet Home Alabama
Keeping the Faith
Truck Drivin' Man
What's Your Name
Workin' for MCA
Swamp Music
Free Bird
Preacher Man
Red White and Blue
Saturday Night Special
Bring It On
Born To Run
You Got That Right
Double Trouble
Travelin' Man
Still Unbroken
Hire Lynyrd Skynyrd for your party or event!
Lynyrd Skynyrd may be available for your next special event!
Book Lynyrd Skynyrd, now!
For other great suggestions for booking music acts, look here.

Genre: Rock 1
Styles:
.Rock & Roll. / RockNRoll
.Classic Rock. / ClassicRock
.Southern Rock. / SouthernRock
.Country-Rock. / CountryRock
.Blues-Rock. / BluesRock
.Album Rock. / AlbumRock
.Boogie Rock. / BoogieRock
.Arena Rock. / ArenaRock
.Hard Rock. / HardRock


Years active:
x60s, x70s, x80s, x90s, x00s, x10s, x20s
1964–1977, 1979, 1987–present

Formed: ..in Florida / formed nFlorida
Formed: ..in Jacksonville / formed JacksonvilleFL
Formed: in 1965

Based: ..in US
Based: ..in Florida / based nFlorida
Based: ..in Jacksonville / based JacksonvilleFL