Visit new page >>>
MACY GRAY
How To Book MACY GRAY For Your Event!
Macy Gray may be available for your next special event!



GRAMMY AWARD winning Natalie Renée McIntyre, known by her stage name Macy Gray, is an American R&B and soul singer and actress.
The voice of Macy Gray is a wondrous thing. It can be as intimate as the wee small hours or as exciting as a packed nightclub; disarmingly sweet on one song, harsh and raspy on another. The obvious comparison is to the post-war Billie Holiday, but there are traces of other singers both legendary and little-known: Abbey Lincoln, Betty Davis, Nina Simone, Karen Dalton, Tina Turner. Yet in the end, Macy Gray sounds like no one but herself.
Hire Macy Gray for your festival or concert plans.
Macy creates a musical mélange of old-school soul, hip-hop, R&B, funk, and rock. She seems to shrug off format, genre, and market.
At the center of this cross-cultural melting pot is Macy Gray. On stage as on record, she cuts a commanding figure among a dozen players, belting out her personal vignettes with smoky passion.
Macy Gray's music grew out of countless jams and listening sessions in living rooms, studios, rehearsal spaces.
The unique blend of straight-up soul and modern hip-hop is a product of Macy's own upbringing. Born and raised in Canton, Ohio, she grew up on her parents' record collection: Sly Stone and James Brown, Marvin Gaye and Stevie Wonder ("I just loved Stevie Wonder"), Aretha Franklin and Patti LaBelle.
Hire Macy Gray for your very special event or occasion.
Her junior high years brought the first wave of hip-hop. Then, during two years at a nearly all-white boarding school, Macy acquired a taste for rock, "because that's all they listened to, and I didn't have my own radio. I was fortunate in that I was open to everything. I just developed a real appreciation for all kinds of music just by being exposed to it."
Macy loved music and had seven years of classical piano training, yet it was years before she ever sang a note in public. In fact, she barely spoke. "When I was little, I had this real funny voice. Every time I talked, the kids would make fun of me – so I stopped talking. Everybody thought I was shy. But really, I was self-conscious of my voice. It never occurred to me that I could sing."
Macy moved to Los Angeles to enroll in the screenwriting program of the USC Film School. Eventually she hooked up with a few musician friends, who asked her to help them write lyrics. When it came time to record one of the tunes for which she'd penned the words, the singer didn't show - and Macy was asked to fill in.
When the tape began to circulate, it was Macy's voice that prompted calls. The leader of a jazz band playing the L.A. hotel circuit asked her to join. "I thought he was out of his mind, but I did it because I thought it was good money," she admits. "Sing old jazz standards and Sinatra songs for an hour for a hundred bucks!"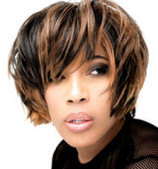 Hire Macy Gray.
Macy Gray began singing on demo sessions more frequently, making a local name for herself almost by accident. "I really thought these people were all lying to me and that they didn't know what they were talking about, because I was still thinking about the girl who didn't talk! I really didn't think much of it, it was something to do. It became serious when we started doing shows around L.A. at regular venues."
Macy Gray was signed to Epic Records in April, 1998. In 2001, she won the Grammy Award for Best Female Pop Vocal Performance for "I Try", which was also nominated for "song of the year" and "record of the year". She then collaborated with Fatboy Slim, the Black Eyed Peas, and Slick Rick (on the song "The World Is Yours", from the Rush Hour 2 soundtrack), as well as acting for the first time, in the thriller Training Day.
Macy Gray has performed over 600 concerts throughout her career. In September 2022, she performed at Rock in Rio IX along with others, including Dua Lipa, Coldplay, Green Day, Justin Bieber, Post Malone, Camila Cabello, Måneskin, Demi Lovato, Avril Lavigne, Bastille and Billy Idol.
Her discography includes 10 studio albums, one live album, three compilation albums, 32 singles (including seven as a featured artist), seven promotional singles, and 21 music videos.
Hit songs include --
I Try
Sweet Baby
Why Didn't You Call Me
Still
Do Something
Shoo Be Doo (No Words)
What I Gotta Do
Sexual Revolution
When I See You
Lately
Beauty In The World
Sugar Daddy

Hire Macy Gray for your party or event!
Macy Gray may be available for your next special event!
Book Macy Gray, now!
For other great suggestions for booking music acts, look here.

Genre: R&B
Styles:
.Contemporary R&B. / ContemporaryR&B
.Adult Contemporary R&B. / AdultContemporaryR&B
.Neo-Soul. / NeoSoul
.Urban. / xUrban
.Adult Alternative Pop/Rock. / AdultAlternativePopRock


Years active:
x90s, x00s, x10s, x20s
1990-present

Born: ..in Ohio / born nOhio
Born: ..in Canton / born CantonOH
Born: Sep 6, 1967

Based: ..in US
Based: ..in California / based nCalifornia
Based: ..in Los Angeles / based LosAngelesCA