Visit new page >>>
MANU CHAO
How To Book MANU CHAO For Your Event!
Manu Chao may be available for your next special event!



Hits include: "Politik Kills",
"Me Gustas Tu", "Bongo Bong",
"Merry Blues", "Mr. Bobby",
"Rainin In Paradize",
"La Vida Tómbola".
How to Hire MANU CHAO For Your Event!
Popular requests:
BOOKING FEE (booking price, booking cost)
.
Manu Chao, born José-Manuel Thomas Arthur Chao, is a French-Spanish singer.
He sings in French, Spanish, English, Italian, Arabic, Catalan, Galician, Portuguese, Greek, Wolof, and occasionally in other languages. Chao began his musical career in Paris, busking and playing with groups such as Hot Pants and Los Carayos, which combined a variety of languages and musical styles.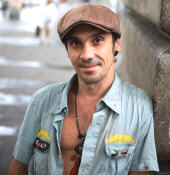 Hire Manu Chao for your festival or concert plans!
With friends and his brother, Antoine Chao, he founded the band Mano Negra in 1987, achieving considerable success, particularly in Europe. He became a solo artist after its breakup in 1995 and since then tours regularly with his live band, Radio Bemba.

Manu Chao often mixes several languages in the same song. His music has many influences, such as punk, rock, French chanson, Iberoamerican salsa, reggae, ska, and Algerian raï. These influences were obtained from immigrants in France, his Iberian connections, and foremost his travels in Mesoamerica as a nomad following the disbanding of Mano Negra.
While Mano Negra called their style patchanka (literally "patchwork"), Manu Chao speaks of música mestiza, a musical style which may also incorporate elements of rap, flamenco, Afro-Cuban music, samba and cumbia.
Chao's lyrics provoke his audience to think about immigration, love, living in ghettos, drugs, and often carry a left-wing message. This reflects Chao's own political leanings—he is very close to the Zapatistas and their public spokesman, Subcomandante Marcos. He has many followers among the European left, the Latin American left and the anti-globalisation and anti-capitalist movements.
Chao is a founding member of ATTAC. Punk and reggae historian Vivien Goldman commented of his work, "I was writing about Good Charlotte and The Police. They adopted the trappings of punk. They aren't bad groups, but the punk aspect is more manifested by somebody like Manu Chao. He's one of the punkiest artists out there I can think of. It's an inclusionary spirit that is punk."
Heavily influenced by the UK rock scene, particularly The Clash, The Jam and Dr. Feelgood, Manu Chao and other musicians formed the Spanish/English rockabilly group Hot Pants in the mid-1980s.
Manu Chao was featured on the album True Love by Toots and the Maytals, which won the Grammy Award in 2004 for Best Reggae Album, and showcased many notable musicians including Willie Nelson, Eric Clapton, Jeff Beck, Trey Anastasio, Gwen Stefani / No Doubt, Ben Harper, Bonnie Raitt, The Roots, Ryan Adams, Keith Richards, Toots Hibbert, Paul Douglas, Jackie Jackson, Ken Boothe, and The Skatalites.
Mano Negra's sound is mostly characterized by energetic, lively rhythms, symbolized by the title of their first album, Patchanka, derived from the word pachanga (which is a colloquial term for "party"), and a distinct informality which allows the audience to get involved and feel close to their sound. Mixed music genres are present throughout their albums. Manu Chao is friends with Gogol Bordello and that group has covered Mano Negra's song "Mala Vida" on their own and with Chao beginning in 2006.
On 23, June 2007, Manu Chao also appeared at Merriweather Post Pavilion in Columbia, Maryland, to a sellout crowd. This was a semi-spontaneous endeavour between Thievery Corporation and Manu Chao facilitated by a new-found friendship developed during Lollapalooza 2006. He was one of the headlining acts at the 2008 Austin City Limits Music Festival and the Outside Lands Music Festival in Golden Gate Park.
In January 2012, he was the headline act at the opening night of Sydney Festival, marking his first concert in Australia.
Hire Manu Chao for your party or event!
Manu Chao may be available for your next special event!
Book Manu Chao, now!
For other great suggestions for booking music acts,
look here.

For more suggestions, proceed to the next page.
Click here --
Latin Music Roster or Alternative Music Roster or World Music Roster
Or, click on one of the below links --
Music Menu
Fast Index
Entertainers Directory
Home