Visit new page >>>
MARINA
How To Book MARINA For Your Event!
Marina may be available for your next special event!




Hits include: "Hollywood",
"I Am Not A Robot",
"Mowgli's Road", "Primadonna",
"How to Be a Heartbreaker",
"Power and Control", "Disconnect",
"Handmade Heaven".
How to Hire MARINA For Your Event!
Popular requests:
BOOKING FEE (booking price, booking cost).
Marina Diamandis known mononymously as Marina, and previously by the stage name Marina and the Diamonds, is a Welsh singer and songwriter. She has a musical style consisting of indie pop, art pop, electropop, synth-pop, experimental pop, bubblegum pop, and disco-pop. She is known for her mezzo-soprano vocal abilities.
As a child, she would take inspiration from the differing musical tastes of her parents – Dolly Parton, Enya and George Michael from her mother, and Haris Alexiou from her father – while also admiring pop acts of the era including the Spice Girls, Britney Spears and S Club 7.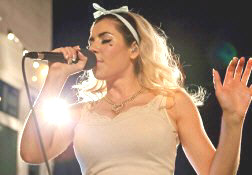 Hire Marina for your festival or concert plans!
Diamandis has said that "Madonna was the reason I wanted to be a pop star from the age of 15"; however, she also stated that she did not listen to music "properly" until the age of 19, when she took influence from acts including PJ Harvey, Fiona Apple and the Distillers.
In early 2015, it was announced that Marina would perform at Lollapalooza Brazil, Coachella Valley Music and Arts Festival and the Boston Calling Music Festival that March, April and May respectively. From October 2015 to the following October, she embarked on the Neon Nature Tour across Europe and the Americas.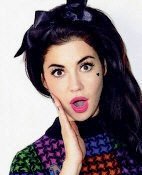 Hire Marina for your special event!
In April 2016, she performed at Coachella with artists such as LCD Soundsystem, Ellie Goulding, The Kills, Of Monsters and Men, Guns N' Roses, Ice Cube, CHVRCHES, Sia, Major Lazer, Flume, The 1975 and Rancid.
In June 2016, Marina had begun writing new material for upcoming songs. In December 2016, electronic group Clean Bandit confirmed that "Disconnect", would be released on their new album. It was released as a single in June 2017, and she performed it with them at Glastonbury.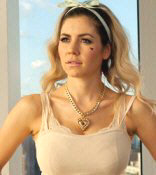 Hire Marina!
Her discography includes has released five studio albums, seven extended plays, 26 singles (including two as a featured artist), five promotional singles and 34 music videos.
Hire Marina for your party or event!
Marina may be available for your next special event!
Book Marina, now!
For other great suggestions for booking music acts, look here.

For more suggestions, proceed to the next page.
Click here --
Alternative Music Roster
Or, click on one of the below links --
Music Menu
Fast Index
Entertainers Directory
Home