Visit new page >>>
MAROON 5
How To Book MAROON 5 For Your Event!
Maroon 5 may be available for your next special event!



How to Hire MAROON 5 For Your Event!
Popular requests:
BOOKING FEE (booking price, booking cost).
GRAMMY AWARD winning Maroon 5 is an American pop rock band from Los Angeles, California.
Schoolmates since junior high school, Maroon 5 (formerly known as Kara's Flowers) played their first show at The Whisky in Los Angeles on September 16, 1995. Hundreds gathered to see their eclectic mix of pop, punk and rock music. It was their energy onstage that made the audience take notice.
By summer of 1997, Kara's Flowers had released "The Fourth World," their critically acclaimed debut album on Reprise Records, and the band immediately set out on the road playing with bands like Reel Big Fish and Goldfinger. Kara's Flowers left Reprise Records in 1999 to start a new musical direction.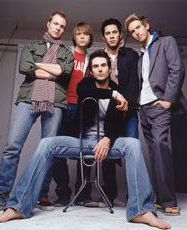 Hire Maroon 5 for your festival or concert plans!
In June 2002, they released their debut album Songs About Jane. Aided by the hit singles "Harder to Breathe", "This Love" and "She Will Be Loved", the album peaked at number six on the Billboard 200 chart and went quadruple platinum in 2005. In the same year, the band won the Grammy Award for Best New Artist.
The band's second album, It Won't Be Soon Before Long, was released in May 2007. It debuted at number one on the US Billboard 200 chart and the lead single "Makes Me Wonder", became the band's first number-one single on the Billboard Hot 100. In 2010, the band released the third album, Hands All Over, to favorable reviews, re-releasing a year later to include the single "Moves like Jagger", which topped the Billboard Hot 100.
After performing showcases for senior executives at many major labels, Maroon 5 ultimately chose to sign with newly founded New York City based independent label, Octone Records. The band recorded "Songs About Jane" in Los Angeles with producer/mixer Matt Wallace (Train, Blues Traveler, Third Eye Blind, Faith No More) at Rumbo Recorders, the same studio where such seminal artists as Guns N' Roses, Stone Temple Pilots, Tom Petty and the Heartbreakers, The Smashing Pumpkins and John Mellencamp have recorded some of their best work.
Starting in 2004, the band toured virtually non-stop for three years, including visits to seventeen countries. During this time, the band toured with Michelle Branch, Graham Colton, and the Rolling Stones. Other acts the band toured alongside included Gavin DeGraw, Matchbox Twenty, Sugar Ray, Counting Crows, Phantom Planet, the Hives, Dashboard Confessional, Simon Dawes, the Thrills, Thirsty Merc, Marc Broussard, the Donnas, the RedWest, Michael Tolcher, and Guster.
In late 2007, the band headlined the It Won't Be Soon Before Long Tour. The tour began September 29 in Detroit touring in 28 cities in North America and concluded November 10, 2007 in Las Vegas. The Hives, as the tour's special guest, performed on all of the dates while Sara Bareilles, Kevin Michael and Phantom Planet each performed in a portion of the tour. It toured with Dashboard Confessional in their world tour and on March 28, 2008, it began touring with OneRepublic, Brandi Carlile, and Ry Cuming.
During the band's time touring along with artists, groups are served as opening acts for the Back to School Tour in November, with Kate Earl and Fitz and the Tantrums and the Palm Trees & Power Lines Tour in 2010, with OneRepublic, Bruno Mars, Kris Allen, Ry Cuming, VV Brown, and Owl City.
In November 2011, Maroon 5 performed "Moves Like Jagger" and "Stereo Hearts" with Travie McCoy on Saturday Night Live on November 5. On November 20, the band also performed the same songs along with Christina Aguilera and Gym Class Heroes at the 2011 American Music Awards, where the band won their first AMA for Favorite Pop Band/Duo/Group.
Later, the band played "Moves Like Jagger" at the 2011 Victoria's Secret Fashion Show. The next year, the band also won the 2012 People's Choice Award for Favorite Band, beating Linkin Park and Coldplay. On February 12, 2012, the group performed at the 54th Grammy Awards, alongside Foster the People and the Beach Boys in a medley of the Beach Boys songs to celebrate their 50th anniversary.
Maroon 5's musical style has generally been regarded as pop, pop/rock, funk rock, dance-pop, blue-eyed soul, neo soul, soft rock, and indie rock.
The band has cited Michael Jackson, The Beatles, The Police, Justin Timberlake, Stevie Wonder, the Bee Gees, Tonic, Prince, Tupac Shakur and Marvin Gaye as influences. Levine has also cited Billy Joel as an influence. Furthermore, guitarist James Valentine said he was influenced by guitarists like Pat Metheny, Bill Frisell and John Scofield, as well as the rock band, Queens of the Stone Age.
Maroon 5 has sold more than 135 million records, making them one of the world's best-selling music artists.

Hit songs include --
If I Never See Your Face Again
Makes Me Wonder
Wake Up Call
Won't Go Home Without You
She Will Be Loved
This Love
Sunday Morning
Harder to Breathe
Misery
Not Falling Apart
Never Gonna Leave This Bed
Give a Little More
Stutter
Out of Goodbyes
One More Night
Payphone
Wipe Your Eyes
Moves Like Jagger
Daylight
Come Away To The Water
Daylight
Love Somebody
Maps
Animals
Sugar
Don't Wanna Know
Cold
What Lovers Do
Wait
Girls Like You
Memories
Nobody's Love
Beautiful Mistakes
Lost
Hire Maroon 5 for your party or event!
Maroon 5 may be available for your next special event!
Book Maroon 5, now!
For other great suggestions for booking music acts, look here.

Genre: Rock 1
Styles:
.Adult Alternative Pop/Rock. / AdultAlternativePopRock
.Contemporary Pop/Rock. / ContemporaryPopRock
.Alternative/Indie Rock. / AlternativeIndieRock
.Funk Rock. / FunkRock
.Pop. / xPop


Years active:
x00s, x10s, x20s
1999-present

Formed: ..in California / formed nCalifornia
Formed: ..in Los Angeles / formed LosAngelesCA
Formed: in 1999

Based: ..in US
Based: ..in California / based nCalifornia
Based: ..in Los Angeles / based LosAngelesCA