How To Book MARTIN SEXTON For Your Event!
Martin Sexton may be available for your next special event!



Armed with little more than a guitar, a suitcase full of heartfelt songs, and one of music's most truly stunning voices, Martin Sexton spent the Nineties winning over fans across the land and doing it the old-fashioned way. His breathtaking live performances have already been hailed by critics across America, including the New York Times' Jon Pareles, who declared that the singer/songwriter "jumps beyond standard folk far on the strength of his voice, a blue-eyed soul man's supple instrument," adding that "his unpretentious heartiness...helps him focus on every soul singer's goal: to amplify the sound of the ordinary heart."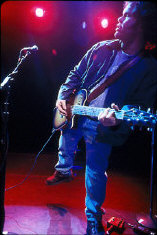 Martin Sexton is an uninhibited performer, troubadour, ardent storyteller, and genuinely original singer and guitarist. He has renowned vocal pyrotechnics and equally impressive guitar work, whether bashing out acoustic power chords or letting fly with cool jazz swing.
"Whether it's boogie-woogie jazz or the blues, soul or rock 'n' roll or folk, it's all American music," Sexton says.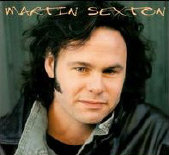 A native of Syracuse, New York, Martin Sexton absorbed the classic sounds of Seventies radio, from the Beatles to Stevie Wonder to Led Zeppelin (who led him toward blues legends like Howlin' Wolf and Willie Dixon). He got his first guitar at 14, a Sears & Roebuck acoustic, and played in a couple of high school bands whose names are best forgotten. The early Eighties saw Martin Sexton crooning Huey Lewis covers in a skinny tie, New Wave-flavored wedding band (shades of Adam Sandler!).
Eventually, he realized it was time to find his own voice, so the 22 year old aspiring rock 'n' roller packed his bags and moved to Boston. Like so many young artists before him, he took the first job that would have him: waiting tables in a cafe. Serving cakes and cappuccinos was not his destiny, however, and it was upon his termination from the coffeehouse that Martin Sexton finally had his epiphany.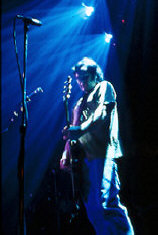 "I had been fantasizing about doing what I had seen other people doing, which was playing music on the subway and out on the streets of Harvard Square," he recalls with a wry laugh. "And so finally I had the incentive to do that 'cause I needed to pay my rent."
Martin began busking the Beantown street corners and passing the hat at innumerable cafes and clubs. He started writing songs at a furious pace and developing his distinctive vocal style. He worked constantly, but the good news was, people were listening.
"It was a pretty slow and steady build," he says. "I'd do subways and then I'd have a gig at a coffeehouse, but I'd be building my mailing list and selling my tapes on the street out of my case."
The steady performing brought Martin Sexton closer to the heart of his music, as he found his artistic persona, both as a songwriter and as a singer/guitarist. Even better, he discovered that he was actually making a living as a working musician.
"That brought me a whole lot of joy," he muses, "the fact that I never had to get up and go to some job ever again. That was such a great feeling."
Those hard-earned bucks would soon come in handy, as Martin Sexton decided it was high time to make a record. He managed to scrape together 800 dollars and some borrowed recording gear, and in November of 1990, he and a few friends gathered in an attic space outside Boston to cut his first CD, "In The Journey." The self-released disc went on to sell more than 25,000 copies, mostly from the stage after one of Sexton's sterling sets. The record, as well as his captivating live performances, cemented Sexton's rep as one of New England's leading musical lights, as proven by his bounty of Boston Music Awards, including Outstanding Male Vocalist and Outstanding Male Songwriter, not to mention the National Academy of Songwriters' 1994 Artist of the Year award.
"You know," Sexton grins, "that was the best 800 bucks I ever spent."
1996 saw Martin Sexton release his first full-fledged studio recording, "Black Sheep," on the Hub-based indie, Eastern Front Records. His increasingly packed gigs began to take on the fiery fervor of an evangelical revival. Acoustic Guitar raved about Sexton's remarkably visceral live shows, calling the singer a "master of dynamics, reducing a room to silence with his blustering baritone, then teasing that silence with a fluttering falsetto... Set lists are out of the question. Spontaneity is the rule of the game."
"I go into a different world on a good night, which is most nights," Sexton says of his on-stage life. "It's almost like I get high. My manager refers to it as 'getting my heaven on.' But you can see it in my eyes by the middle of the show if I'm really into it. It's kind of a blank stare, but yet very much in the present as well.
"It's totally based on energy," he adds, "like the energy coming out of me to the audience and vice versa. When I'm getting that energy back from them, it's almost like sex. It's these two parties engaged in this dance, and one reaction creates another which creates another which creates another, and it becomes this whirling dervish of activity."
Amidst rave reviews, the troubadour took to the highways and byways of North America in his Suburu Justy "loaded with guitars and boxes of records and dirty underwear."
"It was the cheapest car you can get," he laughs, remembering his trusty steed. "It's got a three-cylinder motor in it and gets like, 80-miles-to-the-gallon. I drove it all over the country, through Texas and Tennessee and out to New Mexico and California, and I literally wore the motor down."
"Y' know Johnny Appleseed?," Sexton continues. "Well, it was like the seed-planting mobile. I went out and played for a few people here, a few people there, and planted the seeds. Then when I came back the next time, each time it would grow."
Lyrically, Sexton's potent and poignant stories traverse an American landscape both hear/wrenchingly real and vividly imagined, an America of endless highways and abandoned railroads, of cowboys and Indians, streetwalkers and holy fools, of beautiful women and rock 'n' roll dreams. Amazingly, a great deal of Sexton's finely-etched tales of the heartland are as honest and as true as his music.
Notable songs include -- .
Glory Bound
Love Keep Us Together
Way I Am
Things to Come
Where Did I Go Wrong with You
Elephant's Memory
Casino Foundation
My Maria
Diggin' Me
Candy
Martin Sexton may be available for your next special event!
Watch videos
YouTube

Genre: Folk
Styles:
.Alternative Folk. / AlternativeFolk
.Contemporary Singer/Songwriter. / ContemporarySingerSongwriter
.Contemporary Folk. / ContemporaryFolk
.Acoustic Guitar. / AcousticGuitar


Years active:
x90s, x00s, x10s, x20s

Born: ..in New York / born nNewYork
Born: ..in Syracuse / born SyracuseNY
Born: Mar 2, 1966

Based: ..in US
Based: ..in Massachusetts / based nMassachusetts
Based: ..in Boston

/ based BostonMA