How To Book MARVIN GOLDSTEIN For Your Event!
Marvin Goldstein may be available for your next special event!



Options:
A Celtic Celebration
Celtic Celebration Ensemble
Full orchestra
Marvin Goldstein, a highly acclaimed pianist, arranger and entertainer, began musical training at age 9. When he was 18 years old he was awarded a music scholarship to Tel Aviv University School of Music, Tel Aviv, Israel. His studies continued at the famed "Mozarteum" of Salzburg, Austria. He completed a Bachelor and Master of Music degrees at Florida State University in Tallahassee, Florida. Marvin's performance degrees were earned on the French Horn.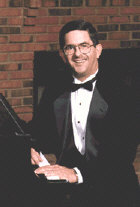 Marvin Goldstein has many honors to his credit, including being listed in Who's Who in Music in Europe, Cambridge, England. He has also been awarded the Listeners Choice Award from the LDS Booksellers Association as the favorite instrumentalist four years. Additionally, Marvin is a National Keyboard Artist with the Kawai America Corporation.
Marvin travels extensively sharing his gift of music. He has been a guest lecturer at Education Week on the Brigham Young University campuses in Provo (Utah), Hawaii and Idaho. He continues to perform regularly at the Brigham Young University Jerusalem Center in Israel. Additionally, Marvin Goldstein performed in Jerusalem with the noted Israeli singer Gali Atari. Marvin also performed in the Mormon Tabernacle on Temple Square, Salt Lake City, Utah on New Year's eve 1999, ushering in the new millennium and performed "First Night" in the Tabernacle on December 31, 2001.
Marvin Goldstein converted from Judaism to The Church of Jesus Christ of Latter-Day Saints on June 2, 1985 at the age of 35. He has served as a Home Teacher, Ward Mission Leader, Executive Secretary to the Stake Mission Presidency, Stake Missionary, First Councilor in the Tallahassee 5th Ward Bishopric, Stake High Councilor, Stake Music Chairman, Primary Teacher, Primary Pianist, Cub Master, Assistant Scout Master, and Webelos Leader
Marvin Goldstein has recorded more than 30 cassettes and compact discs, many on his own label. Eight productions have been recorded with full orchestra. Also, he has arranged 14 piano solo arrangement books, including many sacred hymns.
Marvin Goldstein has the unique ability to translate his ideas and emotions through his abilities and love of music. In presenting a mood that may be happy or sad, the piano comes alive under his direction.
What others say --
AMG REVIEW - Marvin Goldstein, Pianist, Vol. 1: This first in a three-volume set of popular love songs and show tunes should please the easy listener. The album is a departure from his usual faith-centered interpretations, and the gamble pays off. In his characteristic style, Marvin proves his astounding talent without sounding pompous or flashy. He manipulates the keys to add a personal dose to each song. The pianist tackles mega-hits and blockbusters including "Unchained Melody," "Music of the Night," "Somewhere Out There," "The Greatest Love of All," "Memory" and others. Marvin doesn't need any accompaniment; he can do it all himself. – Jared Johnson


AMG REVIEW - Marvin Goldstein, Pianist, Vol. 3: Marvin Goldstein proves his virtuosity by enhancing well-known pop hits in this collection. Although he attracts listeners across the demographic spectrum, this series offers particular appeal to those who hold a special place in their hearts for soft rock and theme music of the '70s through early '90s. The number of adult contemporary hits come from film scores and TV series with a personalized touch. Goldstein must concoct medleys in his sleep; he blends songs with such ease. His style is only flashy in its lightning speed, which he combines with adequate resting places. "Volume 3" goes well with a quiet evening and candlelight dinner. – Jared Johnson
Marvin Goldstein may be available for your next special event!

Genre: Rock 1
Styles:
.Pianist. / xPianist
.Pop/Rock. / PopRock
.Show Tunes. / ShowTunes
.Soft Rock. / SoftRock
.Celtic. / xCeltic

Years active:
x90s, x00s, x10s, x20s

Born: in 1950

Based: ..in US
Based: ..in Florida / based nFlorida
Based: ..in Tallahassee / based TallahasseeFL

Tag: .Orchestra charts available. / OrchestraCharts