How To Book MARVIN SAPP For Your Event!
Marvin Sapp may be available for your next special event!



It's not exactly a split personality - it's just two sides of the same guy. Both sides are passionate, powerful, and committed to sharing the goodness of the Lord Jesus Christ with all who hear. Both sides need to be heard, experienced. When you listen to Marvin Sapp - the artist emerging as one of the most versatile, dynamic voices in gospel music - you'll also see the unmistakable evidence of Marvin Sapp the fiery, compassionate, Spirit-filled preacher, who continues to serve faithfully as an associate and youth pastor.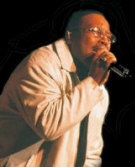 Although he has achieved great success as both a solo artist and respected pastor, for Marvin Sapp, the man of priorities, there is no question about which comes first. "I am not a singer who happens to preach," he says. "I am a preacher - called of God - who happens to sing."
That's why when Marvin sings, he sings with the same power and conviction that mark his preaching. After spending six years with the multi-award winning group Commissioned and Fred Hammond, Marvin has since established himself as a contemporary gospel mainstay in his own right. His self-titled solo debut and his follow up, "Grace and Mercy," received overwhelming critical acclaim.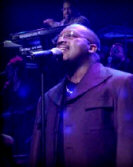 In 1998, Marvin Sapp toured with the largest and most extensive gospel tour ever, "Walt Baby Love's Power '98" Tour. Featuring Hezekiah Walker and Love Fellowship, Fred Hammond and Radical for Christ, Dottie Peoples and others, the tour drew more than a half million people in 70 cities.
"God has really shown me that family has to come first," Sapp says. "For our kids' sakes, we've got to come out of our churches and do more than just pray on Sundays. We've got to get out and make a difference in our communities."
It is this conviction that has led Marvin to invest in a variety of community building and youth oriented service projects that reach back into his own home community in central Michigan. He has developed several scholarships and internships assisting local students who exemplify academic and Christian excellence, as well as programs to provide benefit concerts and school supplies for those living in the economically deprived areas of his home state, all financed from his own pockets.
Marvin Sapp says, "Jesus Christ is the solution to whatever problem you are going through. He is the source. He is the author and the finisher. He'll bring us through and teach us what He wants us to learn from it all. Jesus is His name, and nothing else matters."
Awards and Recognitions include --
1999 Doctorate in Divinity from Eden Bible College, Indianapolis, Indiana
1999 Dove Award nomination
1999 Stellar Award nomination
1999 Giant's Award, awarded by the city of Grand Rapids, Michigan, for Sapp's contributions to the community
1999 Frederick Douglas Award, awarded by the National Association of Negro Business and Professional Women's Club, Inc. for Sapp's philanthropic involvement
1998 Grammy Award nomination
1998 Soul Train Award nomination
1998 Dove Award nomination
1998 Stellar Award nomination
1998 Gold Certification Award for WOW Gospel 98 achieving RIAA Gold sales status, which included the song "Not the Time, Not the Place"
1994 and 1992 Grammy Award nominations for "Contemporary Gospel Artist of the Year" (with Commissioned)
Hit songs include --
Never Would Have Made It
Praise Him In Advance
The Best In Me
Do You Know Him?
Perfect Peace
Changed
He Has His Hand On You
My Testimony
Other notable songs include --
Not The Time, Not The Place
Give Thanks
What About The Children
Power
Over and Over Again
Here's Where I Belong
Rain on Me
In His Presence
Caravan of Love
Use Me
Give Praise (Reprise)
Trust God
Marvin Sapp may be available for your next special event!
Watch videos:
YouTube

Genre: Gospel
Styles:
.Contemporary Gospel. / ContemporaryGospel
.Praise & Worship. / Praise&Worship / Praise and Worship
.CCM. / xCCM
.Inspirational. / xInspirational


Years active:
x90s, x00s, x10s, x20s

Born: ..in Michigan / born nMichigan
Born: ..in Grand Rapids / born GrandRapidsMI
Born: Jan 28, 1967

Marvin Sapp --
Based: ..in US
Based: ..in Michigan / based nMichigan
Based: ..in Grand Rapids / based GrandRapidsMI

Band --
Based: ..in Texas / based nTexas
Based: ..in Houston / based HoustonTX
Based: and
Based: ..in Illinois / based nIllinois
Based: ..in Chicago / based ChicagoIL
Based: and
Based: ..in Michigan / based nMichigan
Based: ..in Detroit / based DetroitMI