How To Book MEGHAN TRAINOR For Your Event!
Meghan Trainor may be available for your next special event!



Hits include: "All About That Bass",
"Dear Future Husband", "I'll Be Home",
"Like I'm Gonna Lose You", "Me Too",
"Better When I'm Dancin'", "Title",
"Close Your Eyes", "Better", "Mom",
"No", "Lips Are Movin'", "No Excuses".
How to Hire MEGHAN TRAINOR For Your Event!
Popular requests:
BOOKING FEE (booking price, booking cost).
GRAMMY AWARD winning Meghan Trainor is an American singer-songwriter and television personality.
She rose to prominence after signing with Epic Records in 2014 and releasing her debut single "All About That Bass", which reached number one on the U.S. Billboard Hot 100 chart and sold 11 million copies worldwide. Trainor has released four studio albums with the label and has received various accolades, including the 2016 Grammy Award for Best New Artist.
Womanhood, body image, and personal empowerment are frequently occurring lyrical themes in Trainor's music, which is influenced by the popular music of the 1950s, and blends the genres pop, R&B, doo-wop and blue-eyed soul. Trainor's accolades include a Grammy Award, four ASCAP Pop Music Awards, and two Billboard Music Awards.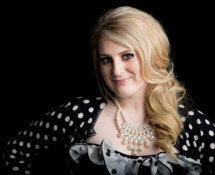 Hire Meghan Trainor for festival or concert plans!
She grew up listening to soca and Caribbean music, and credits 1950s music, soca, and the music of Frank Sinatra for influencing her blend of hip-hop and pop music. As a songwriter, she has been influenced by Sinatra's repertoire, saying, "No one writes like that anymore, because it's hard". She has described Stevie Wonder and Phil Collins as inspirations, and has cited Bruno Mars as one of her biggest influences.
Meghan Trainor considers doo-wop the "catchiest stuff" and has stated that she wants to write a song in the vein of The Chordettes' "Lollipop" (1958). She has credited Beyoncé as "the one performer [she] stud[ies] a lot".
Trainor has cited artists like Ariana Grande, Jason Mraz, and T-Pain as influences on the "upbeat and happy" nature of her music. Aretha Franklin and Elvis Presley influenced Thank You, whereas its lead single "No" draws inspiration from Britney Spears, Christina Aguilera, Destiny's Child, and NSYNC.
Meghan Trainor is a singer-songwriter. Her music has been described as pop, R&B, doo-wop, and blue-eyed soul.
Trainor plays a variety of instruments: bass, guitar, ukulele, keyboard, trumpet, percussion, and piano. According to Trainor, a song's melody is more important than its lyrics. Other genres in which she composes include country, hip-hop, reggae and soca, but she prefers doo-wop and reggae.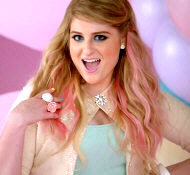 Hire Meghan Trainor for your very special event or occasion.
Meghan Trainor has won four ASCAP Pop Music Awards, two Billboard Music Awards, a People's Choice Award, and a Grammy Award. Trainor was awarded Best Female Artist at the 2009 International Acoustic Music Awards and the Grand Prize at the 2010 New Orleans Songwriter's Festival; she has also won the 2011 Tennessee Concerts Song Contest and the John Lennon Love Song Songwriting Contest. She was named the "Breakthrough Artist of the Year" by the Music Business Association in 2014.
Among her achievements, Meghan Trainor became the 21st female artist whose debut single peaked at the top of the Billboard Hot 100, and the fifth female artist to follow up her chart-topping debut single with another top-five release. On the Billboard Year-End charts for 2015, Trainor was listed seventh on Top Artists and second on Top Female Artists. Billboard ranked her at number 40 on their list of the top artists of the 2010s. Title was placed 98th on the magazine's "Greatest of All Time Billboard 200 Albums by Women" list, with "All About That Bass" ranking at number 69 on the all inclusive list for singles. As of October 2015, "All About That Bass" was the only debut single by any artist to accumulate a billion views on YouTube.
Hire Meghan Trainor for your party or event!
Meghan Trainor may be available for your next special event!
Book Meghan Trainor, now!
For other great suggestions for booking music acts, look here.

For more suggestions, proceed to the next page.
Click here --
Rock Music Roster or R&B Music Roster
Or, click on one of the below links --
Music Menu
Fast Index
Entertainers Directory
Home