Hits include: "Seven Nation Army",
"Too Close", "Crazy", "The Show",
"Pity Party", "Carousel", "Soap",
"Training Wheels", "Cry Baby",
"Alphabet Boy", "Pacify Her",
"Mrs. Potato Head", "Fire Drill",
"The Bakery".
Melanie Martinez is an American singer and songwriter.
Born in Astoria, Queens, New York, and raised in Baldwin, New York, Martinez rose to prominence in 2012 after appearing on the American television vocal talent show, The Voice. Following the show, she released her debut single "Dollhouse", followed by her debut EP of the same name (2014), through Atlantic Records.

Melanie Martinez later released her debut studio album, Cry Baby (2015), which went on to be certified double-platinum by the Recording Industry Association of America (RIAA). Martinez's songs "Sippy Cup", "Mad Hatter", "Mrs. Potato Head", "Cry Baby", "Pacify Her" and "Soap", were all certified gold in the U.S., and her songs "Dollhouse" and "Pity Party" received platinum certification from the RIAA.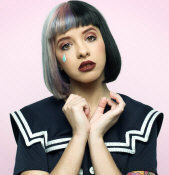 Martinez's music has been described as pop, alternative pop, art pop, electropop, emo pop, and dark-pop.

The subject matter of Melanie Martinez's songs is typically based on personal experiences. Martinez describes her own music as "very dark and honest" and "hip hop/trap inspired beats with creepy nostalgic childlike sounds such as baby pianos, music boxes, and toys".

Melanie Martinez has cited the Beatles, Neutral Milk Hotel, Feist, Kimbra, Zooey Deschanel, Regina Spektor, and CocoRosie as influences of hers. Specific albums which have influenced her music include The Idler Wheel... by Fiona Apple and Ariana Grande's albums, Yours Truly and My Everything.
She attributes the "heavy hip-hop influence" in her music to her father playing hip-hop music in the family's house often during her childhood.
Hire Melanie Martinez for your party or event!
Melanie Martinez may be available for your next special event!
Book Melanie Martinez, now!
For other great suggestions for booking music acts,
look here.
Watch videos
YouTube