How To Book MEN OF STANDARD For Your Event!
Men of Standard may be available for your next special event!



In the year 1995, Isaac Carree and Lowell Pye were young men highly gifted in music and deeply rooted in their faith, with a passion to serve God in song, and in search of the means to fulfill that calling. Joining their talents with those of two other similarly skilled seekers, they found both a sound and a soul connection, and became a gospel vocal group. But they didn't truly lock into their exact purpose until they were given a name.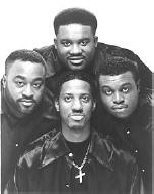 "My mother was a very devout woman, and she called us together one day," Isaac recalls. "She was very serious. She said, 'I have a name for you all, and with this name there will be no compromise. You will have to stay focused, and be an example to others. You will be Men of Standard.'"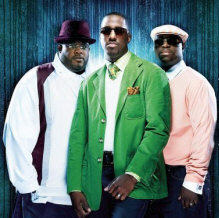 The young foursome - Isaac, Lowell, Bryan Pierce and Michael Bacon - not only took her seriously, and seriously loved the name, but in one auspicious, almost simultaneous moment, took on that name that over the next decade would carry them to the top of the gospel charts, traveling the country singing for thousands upon thousands of people, and emerging from the '90s into the 21st century as one of gospel music's hottest and most popular young acts. With each member both a distinctive and experienced solo vocalist as well as ensemble member, Men of Standard quickly developed a reputation they maintain to this day for seamlessly moving into and out of lead and background parts, creating a variety of vocal sounds and arrangements.
Today, Men of Standard are now three in number with the amicable, 2005 departure of Michael Bacon.
"We've just entered into a new season," says Bryan. With the solid support of Sony Gospel/Sony Urban Music, and steered by the master's touch of red-hot producer Warryn Campbell (Kanye West, Missy Elliott, Mary Mary, Michelle Williams), Men of Standard are poised to move to an altogether new and infinitely higher plateau in their already formidable career.
All the Men of Standard were raised as classic "church boys," with lives that revolved around preaching, music, or other ministries and activities of their local congregations. In fact, all three had abundant gifts that manifested themselves at extraordinarily young ages. Brian was preaching by the age of nine. Lowell was singing with a gospel quartet of grown men when he was four, dressed in a miniature version of their matching suits and ties, and Isaac - albeit at the strong prodding of his mother - was standing before the congregation singing solos by his fifth birthday. Each man has maintained those childhood commitments into their adult lives, with Brian pastoring his own church today, and Lowell and Isaac praise & worship leaders at their respective home churches.
The three grew up in entirely different parts of the country - Isaac in North Carolina, Lowell in Detroit, and Bryan a native of New Orleans. Isaac and Lowell first crossed paths in their late teens, under the auspices of gospel great, John P. Kee, who was working on putting together a male vocal group to perform with his choir. Though the group never quite made it to realization, the two young men formed a fast friendship, and cut their teeth in the business of music during the four years they spent with Kee.
Upon leaving John P. Kee, both took on routine "day jobs" for a while, in a process that Isaac now reflects on as a time of preparation and molding by God for the ministry He had in store for them. After only two months, Isaac got a part in the road company performing several of popular gospel playwright Michael Matthews productions, where he met and became friends with Bryan. While John P. Kee's vision for a male vocal group had fizzled, the idea still had roots in the spirit and imaginations Isaac and Lowell. Bryan was both a good vocal match and a willing volunteer. When a mutual friend in Dallas introduced Isaac to Michael, the last musical piece was in place, and though Isaac laughs today at the recollection of that group's early days of "living life on a wing and a prayer," it was little more than a year before they had signed a major label recording deal.
That association led to four albums between 1996 and 2004, with the group's second effort, the J Moss-produced "Feels Like Rain," scoring big in 1998, peaking at No. 11 on the Billboard magazine gospel chart, and landing two Stellar Awards. Men of Standard experienced continued success through the ten-year tenure of that contract, with their final effort, 2004's "It's A New Day" beating their previous chart high by a point, peaking at No. 11. Still, the group felt frustrated. Beginning to write and produce more and more of their albums, from one to the next, they increasingly felt like a young, progressive vocal group not fully understood by those for whom they worked. When their contract finally expired in 2004, Isaac says the group felt a sense of creative freedom simply being an unsigned act for the year of 2005, before finding the "perfect fit" they were seeking, at Sony Gospel/Sony Urban Music.
Men of Standard received massive national exposure as a featured act on the second leg on Kirk Franklin's Hero tour, playing to packed coliseums and arenas across America.
"Our albums, and all our songs convey positive messages…that there is a better way," Isaac concludes. "We are out here as messengers to show people that Jesus is real. Living right is real and crucial. When you see us in the malls, in our homes with our families, in our churches, we want people to see that we live the life style we sing about. We are faithful to our wives, take care of our kids, and take care of our homes. We are faithful to our local ministry, pay our tithes; we do community service work. And we do those things because we love people, and we love God. It's not just something you'll see on stage or videos, or hear on a CD. It's the life we live."
Hit songs include --
Other notable songs include --
An Anointed Song
Christ is the Answer
Pressing On
Trust in God
Will You Believe
Change is Gonna Come
Cover Me
Everybody
I Need You
Men of Standard may be available for your next special event!
Watch videos:
YouTube

Genre: Gospel
Styles:
.Contemporary Gospel. / ContemporaryGospel
.CCM. / xCCM
.Urban Contemporary Gospel. / UrbanContemporaryGospel

Years active:
x90s, x00s, x10s, x20s
1996-present

Based: ..in US
Based: ..in Georgia / based nGeorgia
Based: ..in Atlanta / based AtlantaGA
Based: and
Based: ..in North Carolina / based nNorthCarolina
Based: ..in Charlotte / based CharlotteNC