How To Book MICHAEL BUBLÉ For Your Event!
Michael Buble' may be available for your next special event!




How to Hire MICHAEL BUBLÉ For Your Event!
Popular requests:
BOOKING FEE (booking price, booking cost).
GRAMMY AWARD winning Michael Steven Bublé OC OBC (born September 9, 1975) is a Canadian singer. A four-time Grammy Award winner, he is often credited for helping to renew public interest and appreciation for traditional pop standards and the Great American Songbook. His musical influences include Frank Sinatra, Dean Martin, Sammy Davis Jr., Tony Bennett, Nat King Cole, Bobby Darin, and Elvis Presley, and Sam Cooke.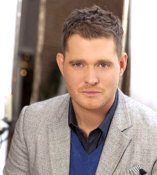 Hire Michael Bublé for your festival or concert plans!
Beginning in 1997, Michael Bublé became a frequent guest on Vicki Gabereau's national talk show on the CTV network. During its first season, the Vancouver-based programme aired live, which ultimately worked in Bublé's favour. When a scheduled guest was forced to cancel, the show's music producer often asked Bublé to fill in at the last minute. The Gabereau appearances provided Bublé with great exposure, but they also helped the singer hone his television skills as a performer and as an interview guest. In a mutual show of gratitude, Bublé appeared on the final Gabereau show in 2005, along with Jann Arden and Elvis Costello.
Michael Bublé was introduced to David Foster, a multiple Grammy Award–winning producer and record executive who previously had worked with artists such as Madonna, Brandy Norwood, Whitney Houston, Michael Jackson, Céline Dion, Barbra Streisand, Kenny G, Cher, Josh Groban, and Andrea Bocelli.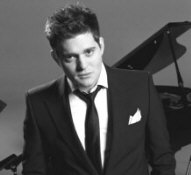 Hire Michael Bublé for your very special event or occasion!
Bublé collaborated with the Barenaked Ladies for "Elf's Lament", a song on their 2004 Christmas album, Barenaked for the Holidays.
He was nominated twice for a Grammy in the category Best Traditional Pop Vocal Album in 2006 (It's Time) and 2007 (Caught in the Act), but lost both times to Tony Bennett. In 2007, Bublé received one Juno nomination, for Fan Choice, but lost to Nelly Furtado.
Michael Bublé's introduction to the music of the swing era came to him through his grandfather, who filled his grandson's ears with the sounds of the Mills Brothers, Ella Fitzgerald, Frank Sinatra, and others. As Michael Bublé [boo-blay] eagerly absorbed the recordings, he began to realize that he wanted to be a singer and that this style of music, virtually foreign to his own generation, was what he wanted to perform. With his grandfather's assistance, Michael Bublé soon learned a whole catalog of tunes and gained experience and exposure by singing as a guest with several local bands.

Hire Michael Bublé.
While still in his teen years, Michael Bublé won the Canadian Youth Talent Search, released several independent albums, and performed in a musical revue titled +Swing that traveled across the U.S. It wasn't long before he was introduced to Grammy-winning producer David Foster and signed his first major recording contract with Reprise Records.
The two Canadians began work on a debut album that would incorporate Michael Bublé's aptitude for pop standards into songs that spanned several decades. His self-titled debut disc was released in early 2003, and featured jazzy takes on old standards like "Fever" and "The Way You Look Tonight", as well as newer classics like Van Morrison's "Moondance" and the Bee Gees' "How Can You Mend a Broken Heart."
Further exposure ensued with a world tour and appearances on several television programs like NBC's Today Show, in which Michael Bublé sang a duet with host Katie Couric. He finished off 2003 with an EP of holiday material, "Let It Snow", and began 2004 with the live CD/DVD set "Come Fly With Me". In 2005, "It's Time" was a number one hit in Canada, Japan, Italy, and Australia, and made the top ten of both the UK and US.
His discography includes eleven studio albums, three live albums, nine EPs, eighteen singles, and fourteen music videos.
Hits include:
Hollywood
Haven't Met You Yet
Everything
Home
Let It Snow, Let It Snow, Let It Snow
Lost
Sway
Save The Last Dance For Me
Spiderman Theme
The Christmas Song
How Can You Mend A Broken Heart
Kissing A Fool
It Had Better Be Tonight
Hold On
Don't Get Around Much Anymore
All I Want For Christmas is You
It's Beginning to Look a Lot Like Christmas
White Christmas
It's a Beautiful Day
Close Your Eyes
You've Got a Friend in Me
Baby, It's Cold Outside
Nobody but Me
I Believe in You
Love You Anymore
Forever Now
Hire Michael Bublé for your party or event!
Michael Bublé may be available for your next special event!
Book Michael Bublé, now!
For other great suggestions for booking music acts, look here.

Genre: Jazz
Genre: Vocal
Styles:
.Adult Contemporary. / AdultContemporary
.Vocal Jazz. / VocalJazz
.Vocal Pop. / VocalPop
Traditional Pop / TraditionalPop
.Standards. / xStandards
.Stage & Screen. / Stage&Screen
.Pianist. / xPianist


Years active:
x90s, x00s, x10s, x20s
1994-present

Born: ..in Canada
Born: ..in British Columbia
Born: ..in Burnaby
Born: Sep 9, 1975

Based: ..in Canada
Based: ..in British Columbia
Based: ..in Burnaby area

Tag: .Orchestra charts available. / OrchestraCharts