How To Book MICHAEL ENGLISH For Your Event!
Michael English may be available for your next special event!



When Michael English launched his solo career, he feared he had no Christian testimony to share with others.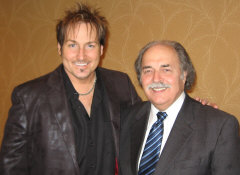 Michael English with
Richard De La Font
Now, few of his peers have faced as many tribulations. Michael English confessed an extra-marital affair that nearly destroyed his life. His beloved and always supportive grandmother died when he began to rebuild his music career. His only brother was diagnosed with multiple sclerosis during the production of "Heaven to Earth." He spent 30 agonizing days in treatment to overcome an addiction to prescribed pain medication.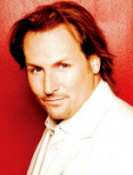 "I've got so much to tell, so many stories to share with people. I can equate myself to a mechanic. I've been under the hood of a car: My fingernails are nasty, but I know how to fix one now. I would never want to go through what I've been through ever again. But I know that God has a plan – I've never believed that more than now."
The North Carolina native was raised in a strict religious environment. He was on stage by the time he was in grade school, performing in his family's Singing Samaritans group between 1972 and 1980. He spent the next two years in the Southern-gospel ensemble The Singing Americans, then joined the Happy Goodman Family's troupe in 1982-83. After a six-month stint with the Couriers Unlimited he returned to The Singing Americans in 1983-84.
Michael English rose to fame as a member of The Gaither Vocal Band in 1984-91; and Gospel Music Hall of Fame member Bill Gaither has remained his friend and mentor ever since. The young powerhouse vocalist never sought a solo spotlight, but the size of his talent could not be denied. He signed his first solo recording contract in 1991.
His solo debut, "Michael English," created a sensation when it was released in 1992. It included the landmark performance "In Christ Alone," as well as such unforgettable songs as "Mary Did You Know," "Solid As The Rock," and "Heaven," the last named of which became his debut video. In 1993 his "Hope" album spawned the memorable "Message of Mercy," "Love Moves In Mysterious Ways" and "Holding Out Hope To You."
During his "exile" from Christian music English lost his recording contract. But Curb Records was quick to sign him as a pop artist, by releasing his "Healing" duet with Wynonna and his 1995 album "Healing." The company followed through with English's pop album "Freedom" in 1996. From it, "Your Love Amazes Me" became a top-10 hit on the Adult-Contemporary charts. To his surprise, Michael English found that although he felt the Christian industry had turned its back on him, Christian Music fans never did. They showered him with love and forgiveness when he toured in support of "Freedom" in 1996-97.
In gratitude he went back to his roots with a 1998 album titled simply "Gospel." Containing favorites he has sung all his life, the album was originally recorded as a personal project to sell to folks who came to his concerts. Again to his surprise, the demand for it was so strong that in early 1999 it became his third Curb release. It also won CCM Magazine's Favorite Contemporary Gospel Album award.
The Michael English Show debuted on cable's TBN network and was for its second season. The talk/variety series has featured such guests as Larry Gatlin, The Martins, Natalie Grant, Virtue, Selah, Michael's family, and his personal pastor, Topper Council, as well as backstage footage from English's tours. The tapings helped prepare the singer for the production of "Heaven to Earth" as his comeback album.
"I have learned a lot of things," says English. "I'm not sitting here and telling you that I am strong and ready, because I don't know if I'll ever be the person that I know I can be. I'm just taking little baby steps toward that. My goal is just to make it down that narrow path so that one day I'll hear Jesus tell me, 'You've done a good job.'"
"Not so long ago I fought a battle with prescription medicine. I think about those times when I held the pills in my hands and tried to drop them down the toilet. But I couldn't do it because I was scared. I was scared what it would do to my faith if God did not help me. But now I know that I can live the rest of my life without anything like that. And if I had to go through that hell again to build up my faith to where it is now, I would."
Hit songs include --
Your Love Amazes Me
Feels Like Redemption
Other notable songs include --
Solid as the Rock
Heaven
Holding Out Hope to You
Do You Believe in Love
Mary, Did You Know?
In Christ Alone
Let's Build a Bridge
Healing
Love Won't Leave You (Out in the Rain)
Save Me
Michael English may be available for your next special event!
Watch videos:
YouTube

Genre: Gospel
Styles:
.CCM. / xCCM
.Christian Rock. / ChristianRock


Years active:
x90s, x00s, x10s, x20s

Born: ..in North Carolina / born nNorthCarolina
Born: ..in Kenansville / born KenansvilleNC
Born: Apr 12, 1962

Based: ..in US
Based: ..in Tennessee / based nTennessee
Based: ..in Nashville / based NashvilleTN

Tag: FormerMemberOf