How To Book Entertainment For Your Event
Midnight Oil may be available for your next special event!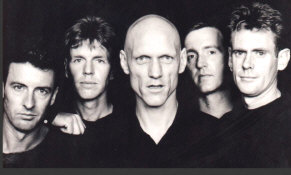 Hits include: "Run by Night",
"Don't Wanna Be the One",
"Armistice Day", "Forgotten Years",
"Power and the Passion",
"Beds Are Burning", "Dreamworld",
"Put Down That Weapon",
"Blue Sky Mine", "The Dead Heart",
"US Forces", "Redneck Wonderland",
"Bedlam Bridge", "One Country",
"Sometimes", "Truganini",
"In the Valley", "Drums of Heaven",
"Outbreak of Love", "My Country",
"Underwater", "Surf's Up Tonight",
"White Skin Black Heart", "Land",
"The Real Thing", "No Man's Land",
"King of the Mountain".

Booking Midnight Oil:
Serious requests only.
For more suggestions, proceed to the next page.
Click here --
Alternative Music Roster
Or, click on one of the below links --
Music Menu
Fast Index
Entertainers Directory
Home