How To Book MIDNIGHT OIL For Your Event!
Midnight Oil may be available for your next special event!



Hits include: "Run by Night",
"Don't Wanna Be the One",
"Armistice Day", "Forgotten Years",
"Power and the Passion",
"Beds Are Burning", "Dreamworld",
"Put Down That Weapon",
"Blue Sky Mine", "The Dead Heart",
"US Forces", "Redneck Wonderland",
"Bedlam Bridge", "One Country",
"Sometimes", "Truganini",
"In the Valley", "Drums of Heaven",
"Outbreak of Love", "My Country",
"Underwater", "Surf's Up Tonight",
"White Skin Black Heart", "Land",
"The Real Thing", "No Man's Land",
"King of the Mountain".
Midnight Oil (known informally as "The Oils") are an Australian rock band composed of Peter Garrett (vocals, harmonica), Rob Hirst (drums), Jim Moginie (guitar, keyboard) and Martin Rotsey (guitar). Midnight Oil have sold more than 20 million albums worldwide as of 2022.

Midnight Oil garnered worldwide attention with 1987 album, Diesel and Dust. Its singles "The Dead Heart" and "Beds Are Burning" illuminated the plight of indigenous Australians, with the latter charting at number one in multiple countries.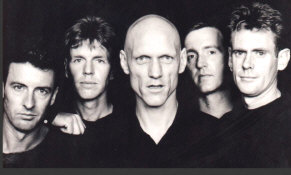 The band's music often broaches political subjects, and they have lent their support to multiple causes. They have won eleven ARIA Awards and were inducted into the ARIA Hall of Fame in 2006. Midnight Oil's legacy has grown since the late 1970s, with the outfit being cited as an influence, and their songs covered, by numerous popular artists. Aside from their studio output, the group are celebrated for their energetic live performances, which showcase the frenetic dancing of Garrett. Guardian writer Andrew Street described Midnight Oil as "one of Australia's most beloved bands".

Through a long and distinguished career, Midnight Oil became known for its driving hard-rock sound, intense live performances and political activism, particularly in aid of anti-nuclear, environmentalist and indigenous causes.
Hire Midnight Oil for your party or event!
Midnight Oil may be available for your next special event!
Book Midnight Oil, now!
For other great suggestions for booking music acts,
look here.
Watch videos
YouTube

For more suggestions, proceed to the next page.
Click here --
Alternative Music Roster
Or, click on one of the below links --
Music Menu
Fast Index
Entertainers Directory
Home