How To Book MIKE JONES For Your Event!
Mike Jones may be available for your next special event!



There's a common misconception that as an artist, you are inferior without the backing of a major label. You aren't supposed to be able to garner enough attention to gain shouts from Jay-Z or DJ Clue during an episode of MTV's Direct Effect. Nor are you supposed to have a deal with Reebok, duets with stars like Usher and Mya, a clothing line, or be able to move 250,000 units of your product.
But one man has done this and more: Meet the accomplished Mike Jones.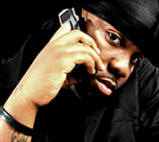 Born and raised in Houston, Mike Jones has always had an eye on the future while laying the foundation to climb the ladder of success. Jones' first love has always been basketball, but when his hoop dream did not materialize, he realized that he had to make money to become his own man. As most hoods Biggie described, either you're slinging crack rock or got a wicked jump shot. Mike Jones began to hustle by squandering his money to create Ice Age Entertainment in 2001 to pursue his other love: rapping.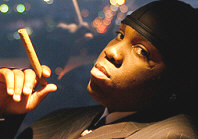 After creating his own label and studio to keep costs down, Jones ran into a problem whenever he needed music from a producer. "Back in the day," he reminisces, "I'd ask for a beat and they'd be like, 'Who are you?' I'd say, 'Mike Jones.' And then they'd be like, 'Who?' 'Mike Jones!'" A good businessman recognized a possible branding technique and his famous "Mike Jones, who? Mike Jones!" hook was born.
"I do it to throw it in their face. They helped more than they know," Mike states, happily.
Next, Jones began to circulate his music, hitting DJs and strip clubs to make sure his music was heard in the streets. He garnered such a buzz that the talented, chopped-and-screwed master Michael Watts, owner of Swisha house, took notice. In 2002, Mike Jones became an official resident in the house and signed to the label. The partnership has been blazing lanes ever since under the Mike Jones motto: "You don't work, you don't eat, you don't grind, you don't shine."
With the work he's put in, his future is brighter than Lil' Flip's smile in the sunshine. He has dropped four albums on Swisha house: Ballin Underground, First Round Draft Picks, Runnin' The Game, and Day Hell Broke Loose 2. The latter contains a high-quality video of his single, "Still Tippin'."
Meanwhile, the combination of freestyle verses with popular beats mixed in with original works like "Who is Mike Jones?" and "Got It Sowed" can be found on two discs per album (one at normal speed and the other chopped and screwed). They've already netted Mike Jones more than 250,000-units sold independently! Keep in mind that these are sales due to word of mouth, not through video and radio promotions. With all of his success, why is Mike Jones waiting to sign with a major label? There is a certain amount he feels he deserves. "Major [labels] will respect your hustle and will give you more when they see you grinding," he says. "Choosers pay. If you choose, you have to pay. It's different if you approach them rather than be approached because they know that you have value and will make their money back."
But, until that day, Mike Jones says, "I'm trying to be the first indie artist on the cover of The Source. I want to be on 106 & Park as an indie. If I keep grinding and building a buzz, I know good things will happen. I don't need to be on a major to get all of that. I want to show that you can do this as an indie."
Whenever Mike Jones gets tired and feels too weak to move, he looks at the tattoo engraved on his arm for inspiration. It reads: "If you don't work, you don't eat, you don't grind, you don't shine. Anything my routine, 90% grind, 10% sleep. I grind so much I hardly get sleep. I'm not comfortable sleeping, but I dream, Mike Jones." According to Jones, "If I'm at home sleeping, I'm doing nothing but dreaming. That's what got me here. If I'm awake, grinding, and putting effort into it, I'mma be alright. I'mma keep hustling and producing good music. I give the streets what they want to hear."
Hit songs include --
Back Then
Still Tippin'
Drop & Gimme 50
My 64
Flossin'
Mr. Jones
Next To You
Boi!
Cuddy Buddy
Mike Jones may be available for your next special event!
Watch videos:
YouTube

Genre: Rap
Styles:
.Southern Rap. / SouthernRap
.Hardcore Rap. / HardcoreRap
.Dirty South. / DirtySouth


Years active:
x00s, x10s, x20s
2001-present

Born: ..in Texas / born nTexas
Born: ..in Houston area / born HoustonTX
Born: Nov 18, 1981

Raised: ..in Texas
Raised: ..in Houston area

Based: ..in US