How To Book MIKE SHINODA For Your Event!
Mike Shinoda may be available for your next special event!



Hits include:
"Happy Endings",
"Crossing a Line",
"Make It Up as I Go".
How to Hire MIKE SHINODA For Your Event!
Popular requests:
BOOKING FEE (booking price, booking cost).
Grammy Award winning Mike Shinoda is an American musician, singer, rapper, songwriter and record producer. He co-founded the rock band Linkin Park in 1996 and was the band's collaborative vocalist while Chester Bennington was lead vocalist, as well as rhythm guitarist, keyboardist, primary songwriter and producer.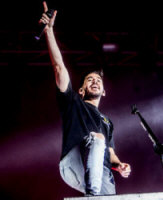 Hire Mike Shinoda for your festival or concert plans!
Shinoda was greatly inspired by both rock and hip-hop acts when he was a child. He grew up listening to Boogie Down Productions, Public Enemy, N.W.A, and Juice Crew, and later Nine Inch Nails, Deftones, the Roots and Aphex Twin. Other influences and favorites of Shinoda's include Run-DMC, the Beatles, Rage Against the Machine, Purity Ring, Arctic Monkeys and Santigold.
Various critics have compared Shinoda's rapping style to that of fellow rapper, Eminem.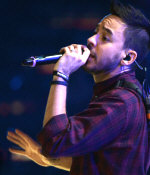 Hire Mike Shinoda for your very special event or occasion!
In 2004, Shinoda later created a hip-hop-driven side project, Fort Minor. Fort Minor's debut album, titled The Rising Tied, was released on November 22, 2005. The album featured musical collaborations with Lupe Fiasco, Styles of Beyond and the X-Ecutioners. Jay-Z, who had previously collaborated with Linkin Park on the 2004 album Collision Course, also served as the album's executive producer.
In August 2018, Mike Shinoda performed at the Reads and Leeds Festival along with Fallout Boy, Kendrick Lamar, Kings of Leon, Post Malone, Dua Lipa, and Brockhampton. The next day, Shinoda released two new songs, "Crossing a Line" and "Nothing Makes Sense Anymore," from his upcoming studio album, Post Traumatic which was released on June 15.
Mike Shinoda also remixed the Deftones song "Passenger" which earned him a Grammy at the 2022 Grammy Awards for the category of Grammy Award for Best Remixed Recording, Non-Classical.
Hire Mike Shinoda for your party or event!
Mike Shinoda may be available for your next special event!
Book Mike Shinoda, now!
For other great suggestions for booking music acts, look here.

For more suggestions, proceed to the next page.
Click here --
Metal Music Roster or Alternative Music Roster or Rap Music Roster
Or, click on one of the below links --
Music Menu
Fast Index
Entertainers Directory
Home