Visit new page >>>
MINISTRY
How To Book MINISTRY For Your Event!
Ministry may be available for your next special event!



Hit songs include: "N.W.O.",
"I Wanted To Tell Her", "The Fall",
"Cold Life", "Jesus Built My Hotrod",
"Work For Love", "Burning Inside",
"Everyday Is Halloween".
How to Hire MINISTRY For Your Event!
Popular requests:
BOOKING FEE (booking price, booking cost).
Ministry is an American industrial metal band founded in Chicago, Illinois in 1981 by producer, singer, and instrumentalist, Al Jourgensen. Originally a synth-pop outfit, Ministry evolved into one of the pioneers of industrial rock and industrial metal in the late 1980s. The band's lineup has changed frequently, leaving Jourgensen as the sole original member.
In 1992, Ministry was invited to headline the second Lollapalooza tour with Pearl Jam, Red Hot Chili Peppers and Soundgarden, among others, before commencing a tour of Europe and the US, with Helmet and Sepultura as supporting acts.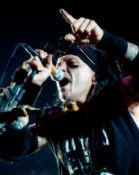 Hire Ministry for your festival or concert plans!
In the fall of 2023, Ministry, along with Filter, opened the Freaks on Parade tour, headlined by Alice Cooper and Rob Zombie. The tour spanned one month, lasting from August 24, 2023, until September 24, 2023, visiting 19 venues across the United States and Canada.
Ministry's experimentation, stylistic variation and changes during its career cross several genres of popular music. Alternative rock subgenres, such as industrial rock and industrial metal are umbrella terms predominantly used to describe the band's career in general. Ministry has been classified under many other genres, including EBM/industrial dance, techno-rock, hard rock, heavy metal, speed metal, thrash metal, and electro-industrial; their early output has been categorized as new wave, synth-pop, dance-pop, electronic dance, and dark wave.
Their discography includes fifteen studio albums, eight live albums, fourteen compilation and remix albums, thirty singles, five video albums (including video versions of live albums) and twenty music videos. Several tracks spanning from 1981 to 1994 in studio, live and cover formats have remained unreleased by the band.
Hire Ministry for your party or event!
Ministry may be available for your next special event!
Book Ministry, now!
For other great suggestions for booking music acts, look here.
Watch videos:
YouTube | Vimeo

Listen to music:
YouTube Music | Spotify

For more suggestions, proceed to the next page.
Click here --
Metal Music Roster or Alternative Music Roster
Or, click on one of the below links --
Music Menu
Fast Index
Entertainers Directory
Home